Back to top
What is a High Net Worth Mortgage?
A High Net Worth Mortgage is a specialist mortgage tailored explicitly for the needs of High Net Worth clients.
While some High Net Worth Individuals (HNWIs) can qualify for the property finance they need through a high-street bank or lender, many of our clients struggle to secure finance at the highest levels through these mainstream channels, and their true total wealth and affordability aren't taken into account with their applications.
Most mortgage providers are geared to process large volumes of standard, simple mortgage applications. They use template affordability checklists that are rigid and inflexible for the purpose of speed and efficiency from their administrators and underwriters.
Their teams don't have the expertise and enough time to suitably process a bespoke, complex mortgage application that contains multiple income streams and non-standard forms of wealth.
This is why HNW individuals looking for property finance at the upper echelons of their affordability, or simply more flexible and bespoke lending, typically speak to a high net worth mortgage adviser to access private banks and specialist lenders.
Specialist mortgage brokers can connect their high-value clients to suitable private lenders, as most private banks and lenders can't be approached by clients directly. You require an introduction from a connected broker or another intermediary.
A private bank can then take a holistic view of your total wealth and broader financial situation and offer financial solutions that truly represent what you can afford to repay.
This often means that you can secure a mortgage at a higher loan to income ratio via a private bank (for example, six times your salary or even higher) and at a higher loan to value ratio due to particular high net worth exemptions.
Our clients ask us a lot: What Exactly Qualifies as a High Net Worth Mortgage?
How much do you need to be earning? Can it be split between you and your partner? And how much total net worth do you need?
Our guide to what qualifies as a HNW mortgage answers these questions.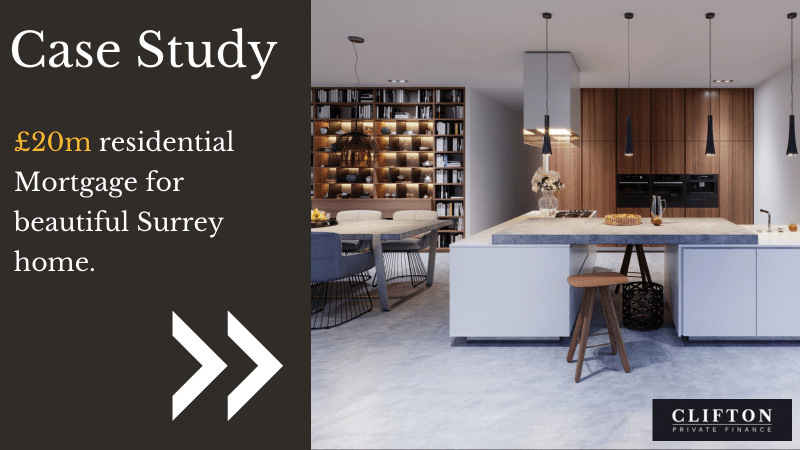 Complex Income Mortgages
High Net Worth individuals usually have a range of income streams that aren't commonly featured on standard mortgage applications.
But an HNW mortgage broker is familiar with more complicated income sources – we can navigate your tax returns, business accounts and foreign currency income streams, for example, and connect you to the private lender that's most appropriate for you.
Here's a quick list of some examples of non-standard income that we can work with:
Company profits
Long-Term Incentive Plans (LTIPs)
Contractor income
Dividends from stocks and shares
Foreign currency earnings
Rental income
A combination of multiple income sources
It's often difficult to validate some of these income sources to a standard mortgage lender. For example, you'll be providing documents that they likely haven't had exposure to before and could even be written in a foreign language.
This is where a specialist mortgage broker can liaise with your underwriter and your accountant to ensure your income is verified and fully leveraged towards the size of your loan.
For more information, see our detailed guide on securing finance against complex income streams: Complex Income Mortgages - How to Secure One.
And if you have an extensive income portfolio: How to get a large mortgage with multiple income sources.
Finally, many of our HNW clients have many self-employed income streams. For example, this could be earnings from shareholdings in many small businesses or ad hoc income from non-executive roles at various companies.
We can take a deep dive into your company or your private business investments - looking at their longevity, the potential for growth and expansion, cash flow, etc., to understand their true worth and potential and ensure this is understood by your lender factored into your affordability.
Our complete guide on self-employed mortgages goes into more detail: Self Employed Mortgage - How to Improve your Chances of Getting One in 2022.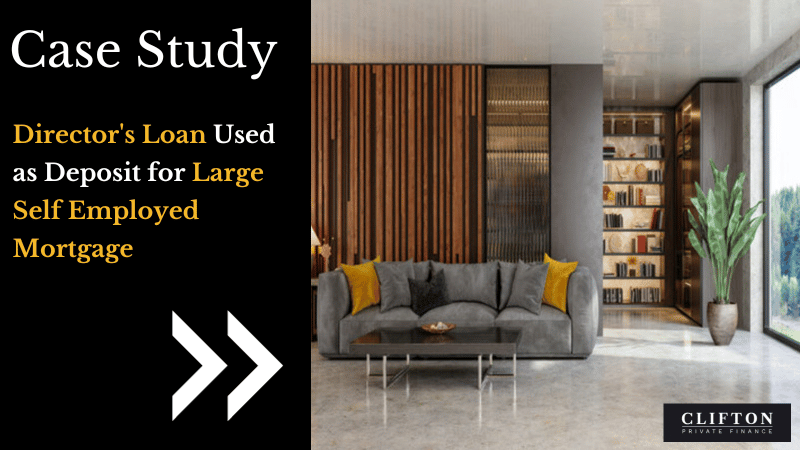 High Value Interest Only Mortgages
Large interest only mortgages are a unique lending solution for our High Net Worth clients. Their main selling point is that they provide superior flexibility for repayments and affordability compared to standard repayment mortgages.
Interest-only mortgages come with a very low monthly repayment commitment, as you only repay the interest your loan generates each month and not your borrowed capital.
This gives you the financial freedom to utilise your wealth without liquidating other assets or worrying about your cash flow being disrupted.
Here are some example scenarios for which interest-only mortgages provide a flexible lending solution:
You have other valuable assets that you don't want to sell to fund your property purchase
For example, this could be an existing buy to let property portfolio providing you with rental income, a private investment you see great potential in and want to hold on to, or even just a stocks and shares portfolio providing investment growth.
As long as you have an excellent solution to repay your interest-only mortgage as a lump sum at the end of its term( for example, by liquidating other assets), we can source large scale property finance that's cheap to maintain.
Your income is ramping up or consists of bonuses and commission
Let's say you've just made a partner at your accountancy firm. Your income is set to scale up massively, but it will take a few years to get there through your annual bonuses. And as you're technically self-employed as a partner, you might need 2 years' worth of bonuses for them to qualify for a standard mortgage.
An interest-only mortgage provides you with the finance you need to purchase your new property at an affordable repayment rate while you build wealth. Once your higher salary has gained traction, you can make capital repayments later down the line when it fits in with your cash flow.
Read our complete guide for more examples and information on how interest only mortgages work: Large Interest Only Mortgages - How to Get One.
And to find out how much your monthly mortgage repayments would be on an interest only mortgage, use our free calculator tool: Interest Only Mortgage Calculator.

Multi Million Pound Mortgages
You may think that mortgage lenders would jump at the opportunity to offer million-pound loans to High Net Worth customers. The larger the mortgage, the more money the bank will make in interest payments, and you're likely to be a reliable high earner with significant wealth if you're applying for such a large loan.
However, many banks and building societies have an issue with multi-million-pound loans:
It puts a lot of eggs in one basket for the lender instead of spreading their lending capacity, and the subsequent risks of defaulting, across lots of smaller mortgages
A unique, multi million pound property will likely be more challenging to sell than, say, a buy to let portfolio of affordable houses with plenty of potential buyers.
However, specialist lenders and private banks are genuinely willing to lend at higher levels. This means they're more likely to accept an application for a large loan, and they don't price their large mortgages defensively to compensate for additional risks.
Please read our complete guide: How To Get A Multi Million Pound Mortgage
And see our services on mortgages up to £25m: Million Pound Mortgage - Finance From £1m to £25m

What are the benefits of using a private bank or private lender?
One of the main advantages of speaking to a High Net Worth mortgage adviser is getting connected to a private bank or lender.
Most private banks require an introduction from a third party to commence business with an individual, so approaching one directly will be a challenge. Additionally, each private bank has different specialities and expertise in place – the right one for you will depend on a range of factors. A specialist mortgage broker with the right connections to a portfolio of private lenders can connect you to the most appropriate lender.
Here's a summary of the main advantages of private banking:
Consolidation of wealth management services – savings, retirements, financial advice, wealth management, protection, etc.
A tailored, personalised service – your adviser on hand to support your broader financial questions and long term plans
Tax advice, including IHT, international tax, bonds and trusts, etc.
For borrowing, a private bank can comprehend complex income portfolios
And consider alternative repayment strategies, from selling property or other assets to exercising share options
And they can offer bespoke finance solutions where mainstream lenders can't - it's often the only solution of funding for our HNW clients.
We have a complete guide on How To Get A Private Bank Mortgage.
And you can also read our consolidated services available through the private lenders we work with: Private Mortgage Lenders - Our Services.

Mortgages for High Earning Professionals
Some mortgage lenders can take a more rounded and holistic view of your career path and incorporate your future earnings trajectory into your borrowing capacity.
A recently qualified chartered accountant, for example, is likely to be on a high salary within a few years of completing their exams.
And although your income may not justify it quite yet, the right lender could take into consideration the stability of your career options with your qualifications behind your belt, coupled with your potential for high earnings relatively soon, and offer you a bigger mortgage or lower interest rates than you'd usually qualify for.
Our complete guide goes into more detail: How to get a professional mortgage.
This also applies to accountancy firm partners and other executive roles in which your salary is mainly comprised of annual or quarterly bonuses or other forms of commission-based income.
Most mainstream lenders are not equipped to sufficiently factor in bonuses and ad hoc income streams to their affordability calculations, and you can find that your income isn't going as far as you'd expect.
However, we work with specialist providers familiar with specific high earning vocations, such as firm partners. We can undertake a bespoke analysis of your wider wealth potential and offer you finance that reflects this.
We source mortgages for a wide range of professional clients looking to borrow more than 5 times their salary, looking for bigger mortgages at lower rates, or just getting a better loan to value ratio than is available through standard providers.
Here's a quick list of some of the primary professional mortgages we can source:
Law Partners and law professionals
Read our complete services here: Mortgages For Law Firm Partners - Specialist Broker
And check out our complete guide for mortgages for new partners here: How to Get a Mortgage as a New Law Partner
And for other legal professionals: Mortgages For Solicitors: Finance to Suit the Legal Profession
Mortgages For Doctors: Finance To Suit The Medical Profession
How to get a large mortgage as a contractor: 5 top tips
Mortgages for entrepreneurs, angel investors and venture capitalists
Mortgages for Entrepreneurs and Venture Capitalists
Mortgages for Forex Stock and Crypto Traders
Mortgages for Company Directors
Mortgages for company directors: how to use company profit to get the size of the loan you need
See similar: A Guide to Offset Mortgages - Are They Still a Good Idea?
Second Home Mortgages
Purchasing a second home for the family can be an efficient application of your wealth. You can use the property as a base in the countryside or another city or as a holiday home for you and your family and friends.
And you can be confident with a second home purchase from an investment perspective, with the reliability of the housing market in the UK.
However, while buy to let mortgages are prevalent, mortgages for second residential properties are less so. They can be more challenging to obtain because you have no rental income to bolster your affordability.
You'll need a high income that justifies a large loan on top of any existing debt against your first home. Or a combination of earnings and assets can reassure a lender of your ability to make repayments comfortably.
This is the scenario for which our clients often require bespoke finance from a private bank or lender.
For example, an interest-only mortgage, repayable through liquidating other assets in the long term, maybe more appropriate.
Or, a private bank may offer a higher loan to value mortgage than a high street bank, understanding that you'll make significant capital repayments early on to get the LTV ratio down and reduce their risk. They'll use different affordability calculations for this type of niche finance based on your other assets and income, so you can secure finance when you usually wouldn't be able to.
A private lender will take a comfort charge to cover their costs and risks, but the flexibility of finance at this level is the main attraction. Private lenders know that having flexibility with your wealth adds to its value - you can spend it in the right ways and at the right time that suits you and your family.
Lombard Loans – Borrowing against other assets
In some situations, we can raise finance secured against assets other than property to save you from disinvesting valuable or sentimental investments.
For example, we work closely with private banks that can lend against a large stocks and shares investment portfolio, a fixed source of income, an offshore bond, or similar types of assets – the more liquid and secure, the better.
However, this type of finance can be difficult to arrange due to the risks involved on behalf of the lender. We are currently only able to source Lombard loans over £1m, and other boxes need to be ticked for a successful application.
Our complete services are detailed here: Borrowing Against Investment Portfolio
For HNW & UHNW clients, we work with select high street and private banks on a bespoke basis.
We can offer you options providing:
Bespoke lending solutions from £500,000 to £25m
Large mortgage loans up to 95% LTV (Loan to value) - see case study
An uncomplicated approach to income & wealth - see our article on complex income
Large loan interest only mortgage options
Mortgages for residential and investment properties
Options for short term finance (bridging), buy to let, commercial and development
Mortgage solutions for complex income arrangements, e.g. onshore and offshore trusts
Lombard lending from £2m
Offshore solutions for UK expats, non-domiciled UK residents, UK residents earning in a foreign currency and foreign nationals
Independent service & expert advice
2 Year Tracker
Up to £2m
5.39% APR
2 Year Tracker

Subsequent rate 8.74%

LTV - 60%
APRC 8.4%*
Product Fee £999

Free valuation

No Early Redemption Charges

As of 20th September 2023
5 Year Fixed
Up to £1m
4.97% APR
5 Year Fixed

Subsequent rate 9.24%

LTV - 60%
APRC 7.60%*
Product Fee £1,295

Free valuation

Early Redemption Charges - Yes

As of 20th September 2023
10 Year Fixed
Up to £750k
5.04% APR
10 Year Fixed

Subsequent rate 7.99%

LTV - 85%
APRC 6.1%*
Product Fee £999

Free Valuation

Early Redemption Charges - Yes

As of 20th September 2023
Contact Us
Thank You for your interest - please complete the form below and a member of our team will be in contact.
*Overall Cost For Comparison
Call our large mortgage loan team on 0203 900 4322 to discuss your requirements or request a call-back at a time that suits you.
Get in Touch
If you have any questions about our services or want to start making things happen please contact us