Categories
How To Get A Private Bank Mortgage
30-September-2020
30-September-2020 3:00
in Private clients
by Jennifer Stevenson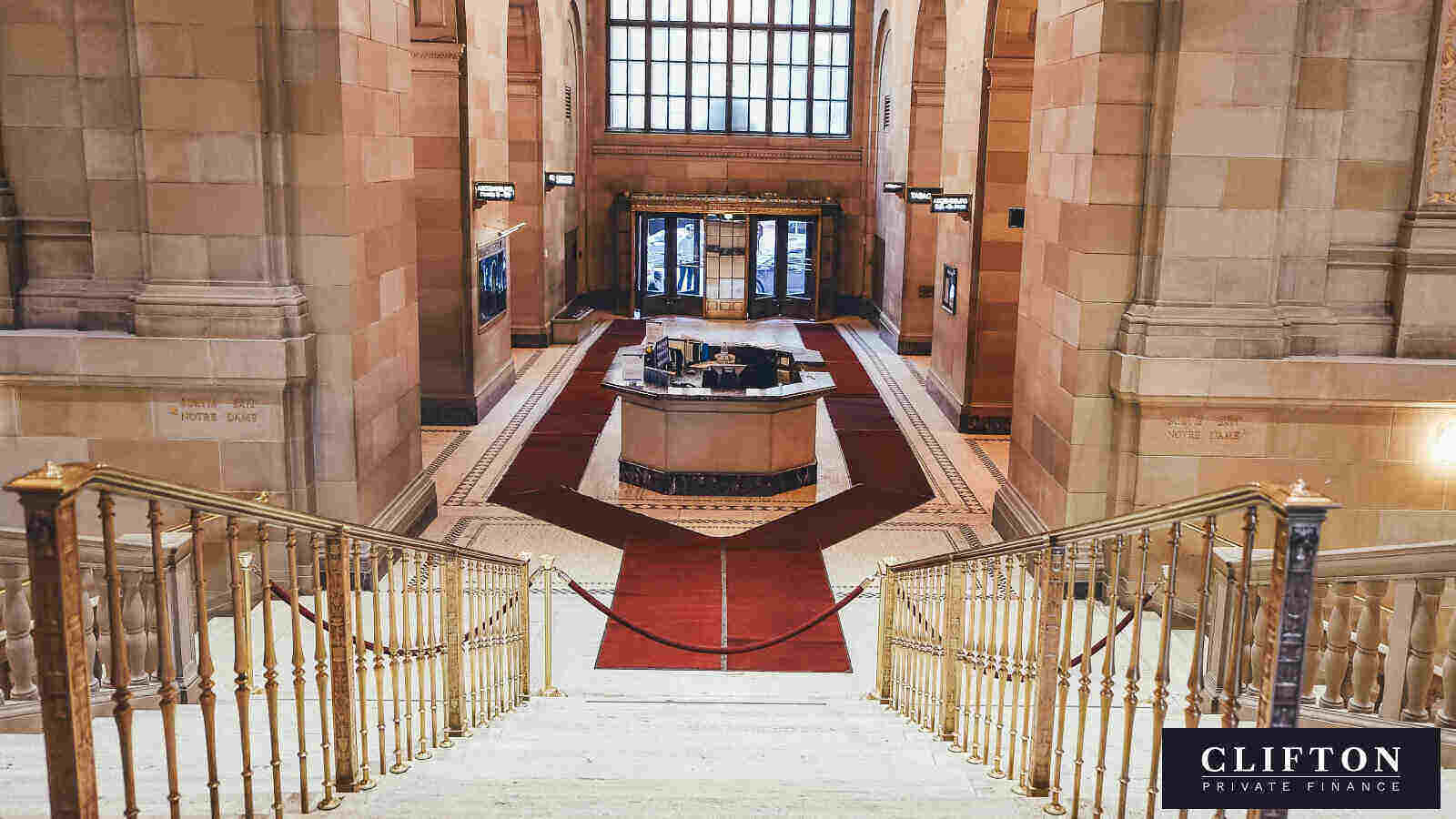 Footballers, artists, entrepreneurs and young professionals…These marble halls now offer flexible terms and extended borrowing to a far wider range of HNW clients than the landed gentry.
Their services have traditionally been shrouded in hushed secrecy. But their rates, and the relationship they can offer, are worth considering.
In this blog we'll open the doors on:
What is meant by a private bank mortgage
The advantages of finance from a private bank
Do you qualify for private banking
How to become a private bank client
How a mortgage broker can introduce you
And don't forget to see our full guide and services for HNW Mortgages.
What is a private bank mortgage?
Just to clarify the terminology – this is not a "private" mortgage from a high street bank, but a mortgage offered by a private banking institution.
Which begs the question: what IS a private bank?
Strictly speaking, private banks are not incorporated, but are privately owned by an individual or partners – such as the 11th generation of the Hoare family at C Hoare & Co, or the seventh generation of the Weatherby family owning Weatherbys Private Bank and Weatherbys Racing Bank.

But other well-known British private banks are now owned by larger banking corporations, such as 300 year-old Coutts & Co., which is now part of the NatWest's wealth management division.
And many high street banks, including HSBC, Lloyds and Barclays have separate entities providing "private banking" or "premium banking services" for High Net Worth (HNW) and Ultra High Net Worth (UHNW) clients.
And Sweden's Handelsbanken (more than 200 branches in the UK) is one of the retail banks that combines its retail role with the level of service provided by private banks.
What distinguishes all the "private banks" are their capacity to work with individual clients' requirements for substantial finance.
Unlike many retail banks, they have the capacity to write multi-million pound mortgages against a single property.
They are experienced in the complexity of many HNW clients' income streams, including dividend and investment income, expat or non-dom tax status, onshore or offshore trusts, and Special Purpose Vehicles.
What are the advantages of property finance from a private bank?
1 Lending capability and advantageous rates
Not all private banks are the same, or will necessarily offer the lowest rates on the market. But an astute broker should be able to use your high current income, income growth potential or substantial assets to negotiate discounted mortgage rates.
2 Relationship banking
First and foremost, private banking is based on tailored, personal service with a dedicated private banker as your direct contact.
This goes beyond Earl Grey tea and handmade biscuits. The complex earnings and investment portfolios of wealthy clients require continuity of management and properly "bespoke" decision-making.

Busy, wealthy people expect a high standard of service.
A 2015 Deloitte survey of private banking concluded that "in many cases, when clients leave an institution, it is because of a lack of understanding with the relationship manager and not investment performance."
3 Wealth management services
What used to distinguish all of these "private banks" from retail banks were their one-stop-shop total wealth management services, including:
lending and investment services
portfolio management
early-investment opportunities
international tax advice
inheritance tax planning
financial planning for clients' children and heirs
philanthropy consultancy
There are many advantages to holistic management of your financial affairs, where an advisor can be expected to be across all the related issues. And HNW clients can make substantial savings on multiple consultancy fees.
In return for these total management services, it was common for private banks to require that clients transfer over all their assets and borrowings. The financial power of the banks is measured by their total Assets Under Management (AUM).
That's less likely nowadays. Many HNWIs are financially experienced, astute money managers in their own right, who don't want to be told what to do with their money.
Asian clients often prefer to spread their assets across a number of institutions. And modern private banks are more responsive to their clients' preferences, knowing that high-value customers can take their business elsewhere.
4 Privacy and discretion
For private banking clients who want to protect the details of their financial holdings from business competitors, or family members, the privacy of private banking goes beyond the protection of client data assured by high street banks.
A private bank usually won't share your financial details with credit rating agencies, which would in turn share your information more widely in order to update their credit reporting.
This means your mortgage or bank account doesn't "exist" outside of the bank's own internal systems.

Private banks can also lend in different formats, such as structuring property ownership via an offshore company. Scrutiny of land registry details will reveal the name of the overseas holding company and any bank lending on the property, but the identity of the individual behind the ownership structure is protected.
Do I qualify as a HNW client for private banking?
Whether you will be considered a High Net Worth Individual (or HNWI – pronounced as "Henry" with a W…) depends on who's asking the question.
HMRC currently defines HNW for tax assessment purposes as individuals with a net worth of £20M or more.
Boston Consulting Group, which studies global wealth, defines HNW as total financial wealth of more than $100M.
Individual banks apply their own criteria for accepting clients, but in accordance with the much-vaunted "discretion" of private banking their requirements are not widely advertised.
HSBC's Premier clients need to have an annual income of at least £100K, plus a mortgage of at least £300K with the bank, or another product taken out through the HSBC financial advisory service. Or savings or investments of at least £50K with HSBC UK.
HSBC's Jade clients will maintain a "total relationship balance" equivalent to US$1M with the bank.
Brown Shipley's private clients need to have "investable assets" of at least £500K.
Arbuthnot Latham HNW clients need to have investable assets of at least £1M.
Coutts clients need to earn £500K a year, or to invest or bank approximately £1M.
"New money" is welcome
You're a young entrepreneur with a valuable software patent in your back pocket? Or a talented footballer just signed to an international brand for an endorsement deal?
Some of the private banks are on the lookout beyond the pinstripe professions, keen to welcome younger clients – entrepreneurs, musicians, sportspeople and artists – who show strong earnings potential.
Progressive banks are willing to lend against intellectual property rights.
Clifton Private Finance can introduce you to the right private bank
In theory the doors are open to walk-up clients who meet a private bank's criteria. In practice, these institutions are more accustomed to clients coming to them by way of personal introduction.
And that's they way many HNWIs themselves prefer to work: by recommendation, and via personal networks.
You will not be able to assess the quality of these banks' services, their investment preferences and client relationships on a compare-the-market site. And the personal introduction process is not something you'll want to go through repeatedly.
For some of our HNW clients a private bank lender will offer the best solution not ony for their immediate borrowing needs, but for their longer-term wealth management. This should be a long-term relationship that lasts for many years, so it makes sense to get an introduction to the private bank that will suit you best.

Luther Yeates, Senior Finance Broker, Clifton Private Finance
Contact us to set up a discussion of your particular circumstances, and we will use our contacts to research the best solution for you:
More about our HNW client service
More blogs relating to private clients
And if this blog has been useful to you, please do share it