Categories
The 8 Best Ways to Finance Home Improvements
29-June-2023
29-June-2023 14:22
in Development
by Sam Hodgson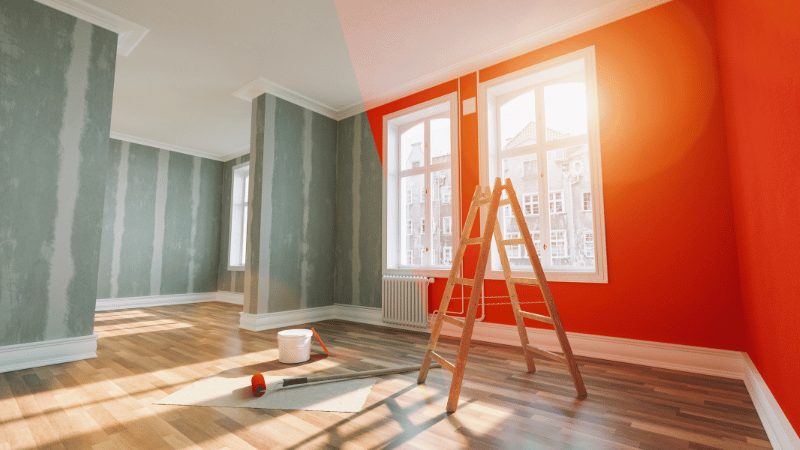 The time has come in your journey as a homeowner - you're refurbishing your house and looking for the best ways to finance your home improvements.
You might be giving your property a total makeover, or you might be a landlord anticipating the upcoming EPC changes. Either way, refurbishment costs can add up, and in a sea of funding options, it's important take the time to evaluate which finance solution is right for you and the project you're undertaking.
In this guide, we'll explore the eight best ways to finance your home improvements, and the advantages and considerations of each option. We'll also offer some quick tips on how to choose the right financial solution for you.
In this guide:
What are the best ways to finance home improvements?
---
When would I need a home improvement loan?
---
Is it worth getting a loan for home improvements?
---
Advantages of a home improvement loan
---
---
How can I borrow money for home improvements?
---
Need funding to make home improvements?
---

What are the best ways to finance home improvements?
There are a variety of ways you could fund property refurbishments. The best way to fund your home improvements will depend on your personal circumstances and the type of refurbishments you want to make on your property.
The eight main ways to finance property refurbishments are:
Remortgaging: Remortgaging can allow you to release equity from your current mortgage by taking out a new mortgage on your property. This has the potential for lower interest rates and can allow you access to a lump sum of funds that can be used flexibly. It is important to note that upfront fees and costs are involved, and extending the loan term may increase the total repayment amount. If you're using a new lender, existing mortgage penalties and creditworthiness assessments by the new lender should also be considered.
Second charge mortgages (including HELOC loans): Second charge mortgages, also known as second mortgages or secured loans, allow homeowners to borrow against the equity in their property while retaining their existing mortgage. A HELOC loan provides a revolving line of credit that homeowners can access as needed. The loan amount is usually based on the available equity in the property. Second charge mortgages generally come with higher interest rates compared to primary mortgages. As well as this, taking on a second charge mortgage means adding another loan repayment to your financial obligations.
Equity Release (for over 55s): Equity release schemes are specifically designed for individuals aged 55 and older who own their homes. These schemes provide a way to access the equity tied up in their property without selling it. Like remortgaging, this finance solution allows homeowners access to a flexible sum of money. Some equity release schemes, like lifetime mortgages, typically do not require monthly repayments. The loan, including accrued interest, is repaid when the homeowner passes away or moves into long-term care.
Using your savings: If you have the means, using your savings to fund your home improvements could cost you less overall because it won't have interest rates or arrangement fees. In some cases, it may also present less of a financial burden, as you won't be taking on additional debt.
Personal loan: Personal loans are unsecured loans that allow individuals to borrow from a lender for various purposes, from home improvements and financing a wedding to covering medical expenses and consolidating debt. Lenders will usually consider your credit score when applying for a personal loan, so while you may still be able to take out a personal loan with adverse credit, you may be subject to significantly higher interest rates.
Credit card: If you're making smaller changes to your property, a credit card can provide a convenient and flexible way to fund your project. While finance options like bridging loans or second charge mortgages will usually be suited for larger borrowing amounts, you can usually only borrow between £2500 and £4000 at one time. In cases where you're funding most of the refurbishments yourself or only making light refurbishments, this smaller borrowing amount can allow you the financial flexibility you need during your project. However, when credit card debt isn't paid off in a timely manner, it can result in high interest rates and is likely to affect your credit score.
Bridging finance: A short-term loan that can be used to purchase and/or renovate property. Bridging finance is a popular choice for its flexibility. However, eligibility for bridging finance usually requires proof that you can repay the loan within the repayment terms (which tends to be around 12 months). Interest rates also tend to be higher for this type of finance, but this may vary depending on the lender and your circumstances.
EPC Loan: This type of loan is designed for landlords looking to refurbish their rental properties in accordance with the proposed EPC changes. There are a range of deals like this available, but because a smaller pool of lenders offer these loans, you may be subject to more scrutinous eligibility criteria.
Which of these options will be suitable for you depends on a variety of factors, such as your credit score, how much funding you'll need, and what sort of changes you want to make to your property.
Read blog: How to Get Finance to Buy an Uninhabitable Property
When would I need a home improvement loan?
If you want to make improvements to your property, there are several reasons why a home improvement loan could be suitable for you. You may be looking to start a large refurbishment project quickly and don't have that cash readily available, or you might not want to dip into your savings to fund your home improvements.
So why might you want to refurbish your property to begin with?
The main reasons are usually:
Property Value: Refurbishing your property can increase its value, and upgrades like kitchen renovations, bathroom remodels, or improving energy efficiency can make your property more desirable to potential buyers or renters, leading to a higher market value.
Increased rental income: If you're a property investor, refurbishing can help attract tenants who are looking for more high-end homes and command a higher rental income. Updated properties with improved amenities and modern features are typically more appealing to renters, which could allow you to increase your rental income and potentially have a wider pool of tenants to choose from.
Maintenance and repairs: Over time, properties may require repairs and maintenance to address wear and tear or any structural issues. Refurbishing provides an opportunity to address these problems proactively, preventing further deterioration and potentially reducing long-term maintenance costs.
Compliance with regulations: Refurbishing your property allows you to ensure compliance with current building codes and regulations. This is particularly important if your property is outdated or lacks certain safety features. Meeting these standards can enhance the safety and legal compliance of your property.
Energy efficiency and cost savings: Refurbishing your property allows you to incorporate energy-efficient measures such as insulation, double-glazed windows, efficient heating and cooling systems, and smart technologies. These upgrades can reduce utility bills, decrease your carbon footprint, and make your property more sustainable. If you rent out your property, the government is introducing new regulations regarding energy efficiency ratings in rented accommodation that will require many landlords to invest in energy efficiency improvements.
Improved functionality and comfort: Refurbishments can provide an opportunity to take a step back and see what works about your home and what doesn't. Many homeowners will reach to a time when they simply want to switch things up and give their homes a more modern look. And these refurbishments can cover anything from redecorating to knocking down walls or building an extension.
Is it worth getting a loan for home improvements?
Unfortunately, there isn't a straightforward answer as to whether a home improvement loan is right for you. This decision relies on many factors, namely your current financial circumstances and any loans you are already paying off.
For instance, if you're looking to refurbish your property out of necessity but don't have the funds immediately available, it would still be difficult to say whether a home improvement loan is the right answer without first understanding your overall financial health.
Depending on what improvements you're making, home improvements can cost thousands of pounds, especially if you are looking to add an extension or conservatory.
And if you are experiencing financial difficulties, any kind of additional debt could complicate your financial issues. However, in other cases, you may not have the money immediately available, but a home improvement loan would be completely manageable for you.
It's always important to take time to consider whether or not you have the capacity to commit to additional financial responsibility before you apply for any loan. As well as this, in cases such as remortgaging or taking out a second charge mortgage, it's unlikely that lenders will approve a loan when there are indicators that you may struggle to keep up with this added debt.
A specialist broker can evaluate your circumstances and advise you on the best options. At Clifton Private Finance, we have relationships with a wide range of lenders and can get you the best deals on the market.

Advantages of a home improvement loan
One of the primary advantages of using home improvement finance is that it can allow you to invest in upgrading your property while still allowing you a level of financial flexibility.
Refurbishing your home can be beneficial for your own wellbeing, and it also increases your property's value. So, if you do decide to sell your property or rent it out, it's likely that renovating it will improve your ROI.
Home improvement loans can be useful because they can allow you to:
Invest in refurbishment projects & make a profit (such as property flipping)
Increase your property's value
Make the changes you want to your property without dipping into your savings
And in some cases, split your renovation costs into more manageable chunks (if you're repaying monthly)
What to consider before getting a home improvement loan
Home improvement loans can empower you to make the required changes to your property, but as with any finance solution, they can have drawbacks to consider.
Some of these include:
Interest rates: Interest rates will increase your total cost of borrowing and can lead to higher monthly payments, potentially straining your budget and limiting your borrowing power. It's important to take this into account when contemplating taking out a loan that may have higher interest rates. Some loan types that are generally associated with higher interest rates are personal loans, bridging loans and credit cards. But this depends on your lender and can be judged on a case by case basis.
Additional debt: Taking out a loan means adding another financial obligation to your existing debts. If you already have other loans or credit card balances, the home improvement loan could increase your debt burden and affect your overall financial health.
Collateral requirement: Some home improvement loans are secured by your property, meaning your home acts as collateral. If you're unable to make payments, you could risk losing your home to foreclosure.
Loan fees: Lenders may charge fees associated with processing your loan application. These costs can add up and increase the total amount you'll pay overall.
Eligibility criteria: Lenders have specific criteria for approving loans, including credit score, earnings, and debt-to-income ratio. You could face difficulties obtaining a loan or higher interest rates if you don't meet the requirements.
Repayment terms: Depending on your loan terms, you may have to repay the loan over a relatively short period, which can lead to higher monthly payments. This could strain your monthly budget, making it challenging to manage other financial responsibilities.
Additionally, if you're making improvements to your property with the aim to increase your property value or rental income, it's important to evaluate how far your investment will reach before you apply for a loan.
Elements like the local property market could potentially limit your property value, so it's important not to overinvest in modernising your property if rental and purchase prices for other homes in the area are generally quite low.

How can I borrow money for home improvements?
There are different eligibility requirements for different types of home improvement loans. Equity release and remortgaging, for example, will generally have less of a focus on your income or credit score and will focus more on how much of your mortgage you've paid off already.
Bridging loans are a well-known option for their convenience and speedy application process. However, because it's a short-term loan, you will need to show how you plan to repay the loan when the terms are up (usually around 12 months).
For this reason, bridging loans can be especially useful for flipping houses that you plan to sell in a relatively short space of time. But there is always the option to refinance to a mortgage if you don't plan to sell.
Working with a specialist finance broker can make your application process smoother, and can use their market knowledge to boost your chances of success.
A good broker can advise you on your options and get you the best rates available for your circumstances.
Need funding to make improvements to your property?
At Clifton Private Finance, we have relationships with high street and private banks, specialist lenders, family offices and wealth managers. This can allow you options that you may not otherwise have access to.
Our industry knowledge means we can connect you with lenders who fit your specific needs. Our brokers can also guide you through the application process, complete the paperwork for you, and liaise with lenders on your behalf.
Call us on 0203 900 4322 to discuss your requirements.
Or you can book a free consultation with one of our expert advisors at a convenient time for you, below.

FAQs
Can you add renovation costs to a UK mortgage?
Yes, it is possible to add renovation costs to a UK mortgage. One common approach is to consider a renovation or home improvement mortgage, such as a "purchase plus improvements" or "remortgage plus improvements" loan.
These types of mortgages can allow you to borrow additional funds on top of the mortgage amount to cover renovation expenses.
However, eligibility criteria and requirements can vary among lenders, so it's important to consult with mortgage providers to understand their offerings and determine if adding renovation costs to your mortgage is feasible for your circumstances.
Do I need to tell my lender about renovations on my property?
It is generally advisable to inform your lender about any renovations you are undertaking on your property. When you make significant changes or improvements to your home, it can affect the value and condition of the property, which may be relevant to your mortgage agreement.
Notifying your lender helps maintain transparency and compliance with any terms or conditions associated with your mortgage.
Additionally, some renovation projects may require permissions or permits, and your lender may need to be aware of these factors. It's always best to consult with your lender and discuss any planned renovations to ensure you are complying with your mortgage agreement.
How do I release equity in my home?
There are a few ways you can release equity in your home. Firstly, you can remortgage your home, which involves switching to a new mortgage deal with a higher loan amount to access a portion of the equity as cash. Alternatively, equity release schemes are available for homeowners aged 55 and older, such as lifetime mortgages and home reversion plans.
Lifetime mortgages allow you to borrow against your home's value without monthly repayments. In contrast, home reversion plans involve selling a portion or all of your property in exchange for a lump sum or regular payments.
Another option is a home equity loan, also known as a second mortgage, where you borrow a lump sum against your home's equity and repay it over a fixed term. Lastly, you can consider selling your home and downsizing to release equity from the sale proceeds.
It can be beneficial to go through your options with an adviser who can assess your eligibility, as well as any financial implications, and get you the best rates.
Can you get a home improvement loan after buying a house?
Yes, you can get a home improvement loan after buying a house. These loans are available from various financial institutions and can be used to fund renovations, repairs, or upgrades on your property.
Depending on what type of loan you choose, lenders will consider factors such as your credit history, income, and the estimated value of your property after the improvements.