Categories
Bridging Loan To Buy A House - Example Of How It Works
26-April-2022
26-April-2022 18:59
in Bridging
by Jennifer Stevenson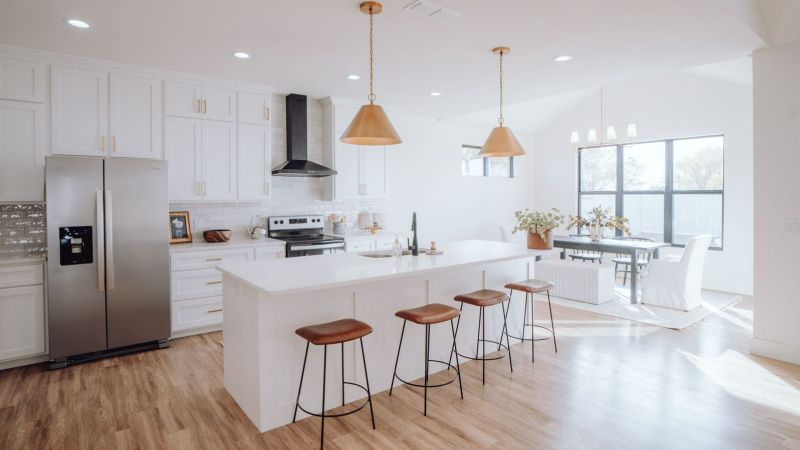 If you've found the property you want to buy and need to move quickly, a bridging loan is now considered mainstream and used by many buyers to help them make a house purchase. Here, we look at examples of bridging loans and how you can use bridge finance for different property purchase scenarios.
What is a Bridging Loan?
In the video below, our Head of Bridging, Sam O'Neil, summarises everything you need to know about bridging loans and how they work:
Buying a house with a bridging loan
When you need to move fast - a bridging loan can be set up quickly and allows you to act like a cash buyer.
It's flexible - because it's secured against the value of bricks-and-mortar, lenders will consider borrowers whose credit record is less than perfect.
Different property types - Bridging loans can be secured against commercial and residential property, building plots or even land that doesn't yet have planning permission.
While you're here, don't forget to check out our complete guide to bridging finance.
Examples of when bridging loans are used
You can use this type of flexible short-term finance for:
Purchasing a new property before your existing home has sold could be when downsizing, upsizing, moving abroad, or moving closer to a family member.
Breaking a mortgage chain - bridge finance effectively turns you into the kind of cash buyer given preferential treatment by estate agents.
Landlords who need to buy an investment property quickly - affordable properties that offer the prospect of good returns attract buying competition from other investors and owner-occupiers.
Buying property at auction - is often the most profitable hunting ground for bargain-priced properties, but the requirement to complete payment within 28 days makes ordinary mortgage finance impossible.
Cash flow restrictions - bridge finance secured against property can also be used for personal and business purposes when cash is tight.

Bridge finance to downsize from 5-bed house to 3-bed apartment in Grade II mansion
Our clients had moved out of their family home to refurbish it before selling and needed short-term finance to bridge the gap between completing the sale and finalising the purchase of their "rightsize" new home: a wing of a historic Yorkshire mansion.
Having planned, we could find them the best rate rather than the fastest lending. Read more»
What's different about a bridging loan?
Most people looking for property finance will approach a traditional lender such as a high street bank or building society to arrange a mortgage.
However, bridging loans have several features that make them a beneficial way of financing a house purchase when a standard mortgage might not work.

1. Bridging loans are short term
Mortgages are designed for long-term property finance, with terms usually ranging from 20 to 35 years (and their cost structures and interest rates are priced accordingly).
A bridging loan is specifically designed for the short term: the maximum period for a "regulated" bridging loan (secured against or used to purchase a residential property) is typically 12 months. However, up to 24 months is possible. There are also bridging loan alternatives available based on your circumstances, e.g. if you earn £100k pa.
The aim is to temporarily "bridge" the gap when there is a shortfall in funding, say between the deadline for completion of a purchase and the sale of a previous home. Or between buying an unmortgageable property at auction and doing the necessary renovations that will make it possible to arrange mortgage finance or sell it on.

2 Bridge loans can be arranged very quickly
As most purchasers know, standard mortgage finance can take two to three months to arrange, particularly during the busiest buying "seasons" of the year.
Bridge finance is secured primarily against the value of a property rather than the full range of your finances so that lenders can make decisions more quickly.
We work with some lenders who can process an application and release funding within seven working days (depending on your circumstances and eligibility).
Bridging loan to rescue a purchase when a buyer pulls out
Our client had an offer to buy his Lancashire home, his offer on the house he wanted to buy had been accepted, and the purchase chain was proceeding. Until his buyer pulled out at the last minute.
He came to us, and we had bridge finance set up within three days so he could complete it on schedule four weeks later. Read more »

3 Monthly bridge loan interest rate payments can be deferred
Bridging loans come with the option to "roll-up" interest to be paid at the end of the finance term. This could be advantageous for buying a house because it enables you to avoid monthly interest payments and use the loan entirely to purchase your new property.
If you choose to roll up the interest on your loan, it will be repaid at the end of the finance term and the principal loan amount by your agreed exit strategy. This means that your total loan amount must include the interest cost - meaning you will have less available for the purchase or the renovation works you're funding.
4 With a bridge loan, high loan-to-value lending is available
Not only can bridging loans provide funding quickly, but you can secure a substantial amount of finance through a bridging loan. Most lenders will lend up to 75% loan to value (LTV).
We work with some lenders willing to grant bridging loans up to 80% LTV to property developers on a non-regulated basis (which does not involve your residential property), depending on the set of circumstances and the assets used as security for the loan.
The most effective way to arrange a bridging loan of the maximum value is to secure the loan against both a property being purchased and an existing property. A single property can be used as security on a bridging loan, but the interest rate charged may well be higher with less "security" for the lender.

Flexible hybrid lending
Recently we've been doing good work for a group of clients who suit a new "residential" bridging loan product for higher-income owner-occupiers.
It offers the same regulatory security as standard regulated bridging lending but without the restrictive 12-month lending term and at a much lower interest rate.
Lending extended to 24 months gives a welcome breathing space to clients who will be using the funds for renovations.
It also suits borrowers in these COVID times, who might be concerned about being able to get their home ready to sell, marketed, a buyer found and a sale completed within a year.
It's available to borrowers with income over £100K who want to borrow more than £500K
They have to be able to pay the interest on the lending monthly rather than paying it "rolled up" at the end of the term.
The borrowing works out much cheaper for clients whose monthly earnings can support servicing their loan because interest isn't compounded.
It also allows them to access the total amount of their agreed borrowing sum for their purchase or renovation (rather than having the cost of borrowing subtracted from the funds available to them).
What's more, clients can borrow up to a generous 80% LTV.
And one lender will consider proposals with a light-commercial element, such as a client buying a home with enough land to build an office/dental surgery / veterinary surgery.
"Hybrid" short-term finance to buy unmortgageable London home
Our client's London "dream home" came without a kitchen or hot water supply: it was "unmortgageable" until essential renovations could be completed.
A 12-month bridging term would have been a very tight schedule. And the cost of borrowing more than £850K was an issue.
Standard bridging finance wouldn't suit them. But their level of income qualified them for a specialised product at a third of the cost. Read more »
You need to have an exit route agreed upon...
You need to have an exit plan agreed upon with your lender to access bridging finance. This is the achievable strategy you intend to use to repay the loan at the end of the finance term, such as the sale of your house or the arrangement of long-term mortgage finance.
A realistically achievable exit plan reassures both the lender and you, the borrower. Usually, three months away from your exit deadline, your lender will be in touch to ensure that your exit strategy is proceeding to plan. They may propose changes to the marketing plan, or it may be possible to arrange a short extension to achieve a realistic price on a property sale.

There are no early repayment fees...
Long-term mortgage lenders are usually reluctant for borrowers to repay a loan in full before the agreed deadline: their interest rates have been calculated with a view to long-term, ongoing repayments. There will usually be Early Repayment Charges within a specified minimum term (often at least two years) which could add up to thousands of pounds.
Bridging loans are designed for short-term finance: the minimum term is usually one month or three months. And most lenders only charge interest on the actual duration of the loan. So if you take out a bridging loan for 12 months but repay it entirely within six and a half months, you will only pay interest on the exact number of days the loan was outstanding.

Unmortgageable properties...
Traditional lenders will not finance properties they deem "unmortgageable" - Examples include:
Valued under £50,000
With structural issues
Without a functioning bathroom or kitchen
That is derelict
Bridging lenders are much more flexible in their criteria, provided sufficient security is offered in some other property holding. If you need finance for an unmortgageable building, then a bridging loan is likely your most viable option.
Example of the bridging loan process
The bridging loan lending process can be swift and efficient. A typical bridging loan application will play out as follows:
Initial call: This is where our brokers find out precisely what you need. This will usually require you to provide details of the loan size you want and the asset you intend to use as security.
Indicative terms: Documentation will be sent to you, providing a breakdown of our terms and conditions and a quote for the costs you will incur.
Lender search: Our brokers scour the marketplace to find the lender that will accommodate your financial needs.
Decision In Principle: Lenders provide a document to show they are happy to give the loan size based on their information.
Client confirmation: Upon receipt of the Decision In Principle, you send notification that you want to proceed with the loan application.
Valuation: Our brokers instruct a professional surveyor to value your property and send it to the lender.
Lender confirmation: The lender will send the surveyor's report to their credit community team for proof that the loan is an appropriate size based on your property's value.
Offer: The agreed loan amount will be sent to you.
Solicitors instructed: Solicitors will send all the offer documentation to you to sign.
Funds released: Once you have signed and returned the documentation, your funds will be released.
The time it takes to complete an application and secure the finance will vary from lender to lender and depend on your circumstances.

Example of a bridging loan
Our clients, a retired couple, wanted to downsize and move house to live closer to their family in Wales.
They put their residential property on the market and searching for their next home. They found an ideal house in Newport, which was within a suitable distance of their family.
Unfortunately, the couple could not raise funds through traditional high street lenders.
Their existing home had not yet been sold, and they needed some additional finance to secure their perfect home near their family. As well as fees incurred for arranging the loan, there will be valuation fees for the property or properties on which the finance is secured and legal fees to ensure the correct legal charges are put in place, and necessary checks on title are carried out.
Current property valuation
£300,000
Outstanding borrowing on existing property
£0
New property valuation
£300,000
New loan required
£260,000
A bridging loan was secured against both properties, which enabled the couple to complete the purchase of their new home without waiting for the sale of their existing property.
Net Loan amount required
£260,000
Arrangement fee @ 2%
£5,200
Interest generated per month @ 0.59%
£1,534
Our clients' sold their existing home after 6 months, and they were able to pay off the bridging loan.
Sale price
£300,000
Net bridging loan to be repaid
£260,000
Arrangement fee @ 2%
£5,200
6 months interest @ 0.59%
£9,204
Total to repay
£274,404
Balance to client
£25,596
Once our clients repaid the bridging loan in full, the charge was removed from both properties. This enabled our clients to purchase their desired home before any other buyer.
See what the costs might be for you with our bridging loan calculator

Contact us at Clifton Private Finance
If you want to complete a property purchase quickly, we have strong relationships with lenders offering bridging finance to suit various circumstances.
We can identify and secure the best financial solution for you through our connections with private banks, specialist lenders, family offices, and wealth managers.
Call us to arrange a convenient time to discuss your needs: