Categories
5 Ways To Get Into UK Property Development For The First Time
13-April-2022
13-April-2022 11:14
in Development
by Jennifer Stevenson
You're ready to join the 2.5 million property investors in the UK and start building your share of a sector that has delivered reliable returns for the past 20 years.
Getting into property development has real appeal if you're looking to make a good return on your investment; demand from would-be homeowners and property investors continues to outstrip supply. And property development will offer you two distinct and compelling advantages if you're willing to take the plunge:
Capital appreciation: the value of your property holdings rises over time. At a later point, you can sell your properties individually or as a whole portfolio and realise a substantial capital gain.
Income generation: if you decide to hold onto your property and rent it out, you gain a steady income from tenants.
But how do you get into property development for the first time? Here are 5 proven strategies our clients use to make a good property development profit margin.
The 5 most popular ways to get into property development and make a profit: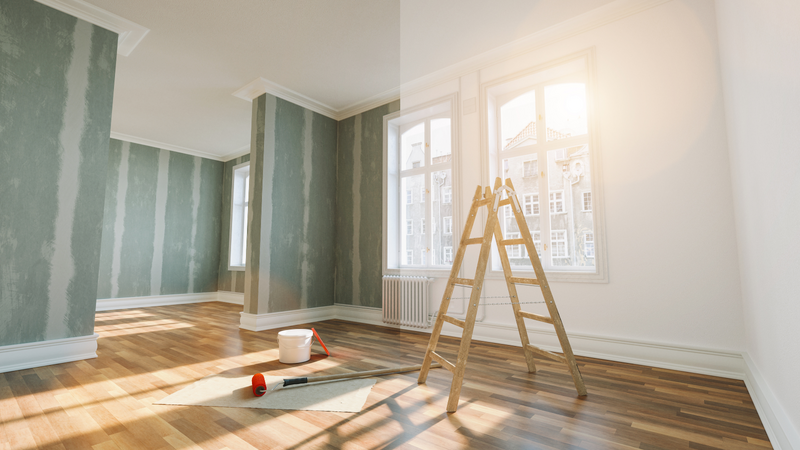 1. Buying residential property to renovate: for sale or rental
First time property developers are often drawn to run-down, outdated houses and flats crying out for a quick fix-up and cosmetic makeover.
If you're new to property development, this type of residential property is an excellent starting point: it draws on your home-buying and renovation experience without calling for specialist market knowledge in commercial property, storage units, offices or student accommodation.
Plan to make a good profit margin: at least 20% on a fix and flip.

Be prepared to walk away if the profit margin isn't good enough.

Profit is decided right at the beginning according to your purchase price: you can control how much you pay; the market decides your sale price.
Expert advice for first-time developers:
Every property has a "ceiling value": the highest amount that the property can be sold for on the open market.
Even the most high-end fittings and finishes won't achieve a price above the ceiling.
Rather than buy the proverbial worst-house-in-best street, identify the next best street, the next up-and-coming area.
Take advice from estate agents: open-plan living spaces may add more value than an extension.
Be clear about your investment purpose at the outset: selling on or renting out.
Letting out your investment property
Unless you plan to retain the property, you'll probably be looking for a buy-to-let mortgage to fund the purchase unless it needs major structural renovations.
The area you've bought in and your projected rental income will be shaping your development decisions:
is this a property that will appeal to families,

students,

or young professionals
Single tenancy
For first-time investors, the most popular choice is one contract with a single tenant, a couple, or a family group.
Monthly rental income pays for your buy to let mortgage and other management and maintenance costs, with some profit on top for you.

One tenant relationship to manage, low management costs and a good chance they will stay long-term.

The risk of void periods when the property is empty and receiving no income can wipe out your annual profitability.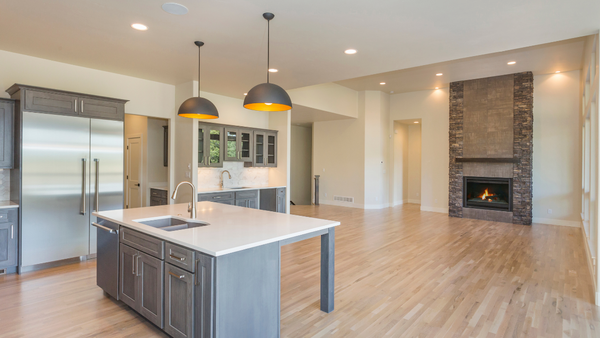 House of Multiple Occupancy (HMO)
Letting out individual rooms in a house where the occupants share the living room, bathroom, and kitchen.
Individual tenancy agreements.

Opportunity for much greater monthly rental returns.

But with higher management and maintenance costs.

A Large HMO rented to five or more individual tenants offers even greater profitability (with greater management responsibilities).

With an HMO or Large HMO, even if the house isn't fully occupied, you continue to receive some rental income.

But arranging necessary repairs and upgrading can be more complicated.
Selling the renovated property.
Long-term mortgage lending isn't suitable if you're intending to sell the property after you've refurbished it. Early repayment charges (ERCs) if you exit the mortgage early could wipe out much of your profit.
You'll be looking for short-term funding in the form of a bridging loan or bridge finance, which can be repaid at any time – as soon as your works are completed.
What is a bridging loan? Watch our video to get the basics of bridging finance.
Funding for residential renovation projects
Successful development involves focusing as much on your borrowing as your building works.
In many cases, high street banks won't be set up to finance this type of project: you're likely to be charged significantly higher interest rates, and they won't be able to be as flexible in their lending criteria as private and specialist lenders.
An experienced finance broker will be able to find you the right borrowing for what you're doing – looking at the options available right across the market, including from private banks not open to approaches direct from borrowers.

2. Buying commercial property to convert to residential
Commercial property is any building that is being used or has been used for business purposes: anything from office spaces to factories.
Conversions of commercial property to residential use have been popular with central and local government, mainly when the property has been vacant for a while: they're currently (in 2019) less likely to face planning permission obstacles than other types of conversion.
These conversions offer developers exciting opportunities to create a much larger number of residential units because of the sizes of the buildings involved.
A disused factory bought for £1.25M could potentially be developed into 10 residential apartments valued at £300,000 each.
The larger number of units also offers greater security for lenders and an opportunity to leverage more affordable finance.
3. Building a second home or commercial premises on your property
If you have the space available, you may be able to build an additional property on your land – either another residence or an office or commercial space.
Subdividing shouldn't significantly reduce the value of your existing home if you have a larger-than-average garden (as a rule of thumb: roughly three times the size of your home).
The significant advantages of this type of development:
You can save up to £100,000 or more on the cost of purchasing land: money that you can spend on the development.

You may avoid some of the costs of connecting services to the second property: utility companies won't need to dig up roads for access to water and gas pipes.
Viability depends on securing planning permission.
And take advice from an experienced property solicitor about any existing covenants on your home.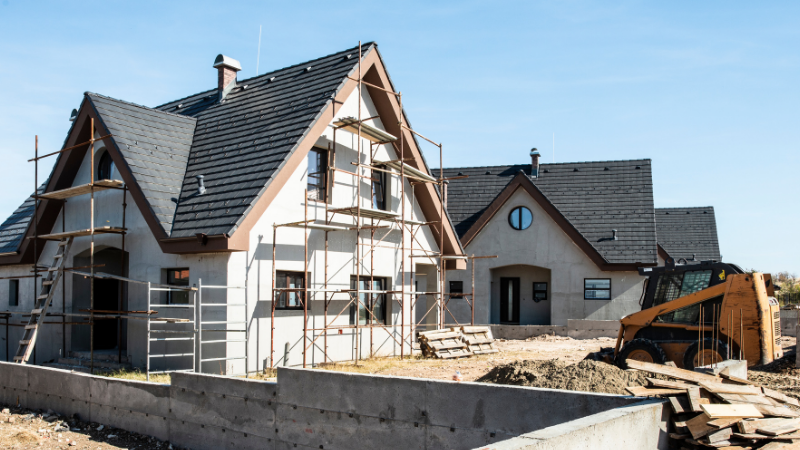 4. Buying land to do a ground-up development
It's the eyes-on-the-prize of every developer: a vacant plot that could a take a small block of apartments, or a couple of executive homes, with exciting profit potential.
This is an ambitious first project for a first-time developer – and the lender considering their application. The potential gains reflect the greater risk to both.
Ticking the boxes on key criteria will ensure your project gets off the ground instead of languishing behind a hoarding for years.
Skin in the game: it's not enough just to have identified an opportunity and expect a lender to bear all the risk – they will expect you to put up money of your own.
It may be possible to borrow 100% of the build costs if you own the land.
The critical factor will be the loan-to-value (LTV) required on the projected gross development value (GDV).
Most lenders will consider a maximum of 65% LTV for a first-time developer – occasionally more if everything else is in your favour.
Land with planning permission or without?
A speculative purchase of land without planning permission is a considerable risk, no matter how much pre-research you've done with the local planning authority.
Very few lenders will want to join you in the waiting period for a planning application.
Land with outline planning permission already granted will be more expensive but will usually be worth the price premium for the greater availability of development finance.
After designs are complete and planning has been approved, build time will have the most significant impact on the cost of your finance.
If you have little or no experience in construction project management, get an experienced project manager on your team.

Hands-on coordination of contractors and the build schedule will pay for the fees in cost savings and managing budget overruns.
These are complex financial arrangements, and the best way to obtain the most appropriate funding for your project is to engage a private finance specialist.
5. Buying land to get planning permission and sell to a developer
This is a bold strategy that offers potentially high returns for considerable risk. The potentially significant capital gains are driven by developers continually seeking to build up their "land bank" of sites with planning permission they can build on in the future.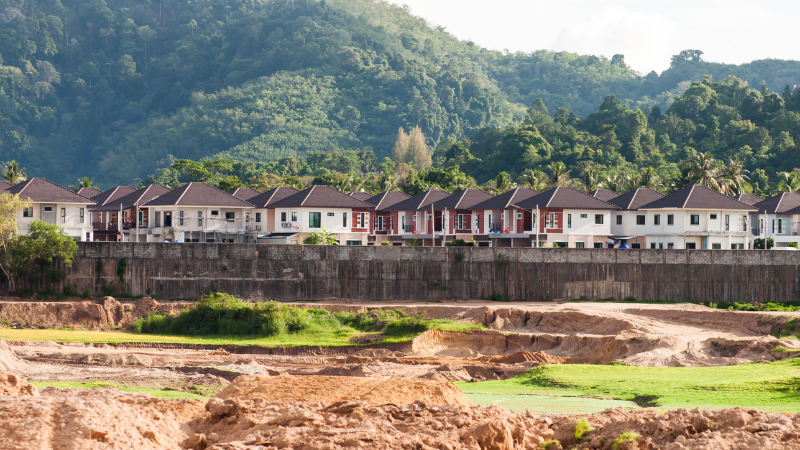 What to watch out for:
You can make enquiries about potential planning consent before you purchase land, but the owner will be alerted to your enquiry.
Once you've acquired a parcel of land, obtaining planning permission can take many months and even years – during which time you will be paying for the finance on your purchase (or the opportunity cost of that capital).
Local authorities' willingness to grant planning permission varies and is strongly influenced by local politics, local and regional plans and agreed development priorities.
Success depends on:
Local knowledge: being able to spot a potential opportunity and persuade a landowner to sell

A thorough understanding of the planning process

An ability to hang on and take your (considerable) potential profit later rather than sooner
Find the right finance partner for your property development venture
Your property finance's speed, cost, and flexibility will be crucial to your success.
The finance cost is more expensive for first-time developers, reflecting lenders' understandable caution when you don't have an established track record.
This first project aims to keep costs well under control and make a reasonable profit which will buy you cheaper finance for your subsequent development.
A good finance broker will finesse your application and find you the best finance deal available to you in the market.
Clifton Private Finance has broad experience sourcing and securing finance for inexperienced developers. We work with leading banks, private lenders, and specialist institutions across the finance market in the UK. We will be able to arrange the most affordable and flexible finance for your project.
Book a Free and no-obligation telephone consultation with one of our experts at a time to suit you:
Or call us now to discuss your needs:
More about development funding at Clifton Private Finance
And if you've found this blog helpful, do share it: