Categories
How to get a loan for an unmortgageable house
05-September-2019
05-September-2019 16:55
in Mortgage
by Jennifer Stevenson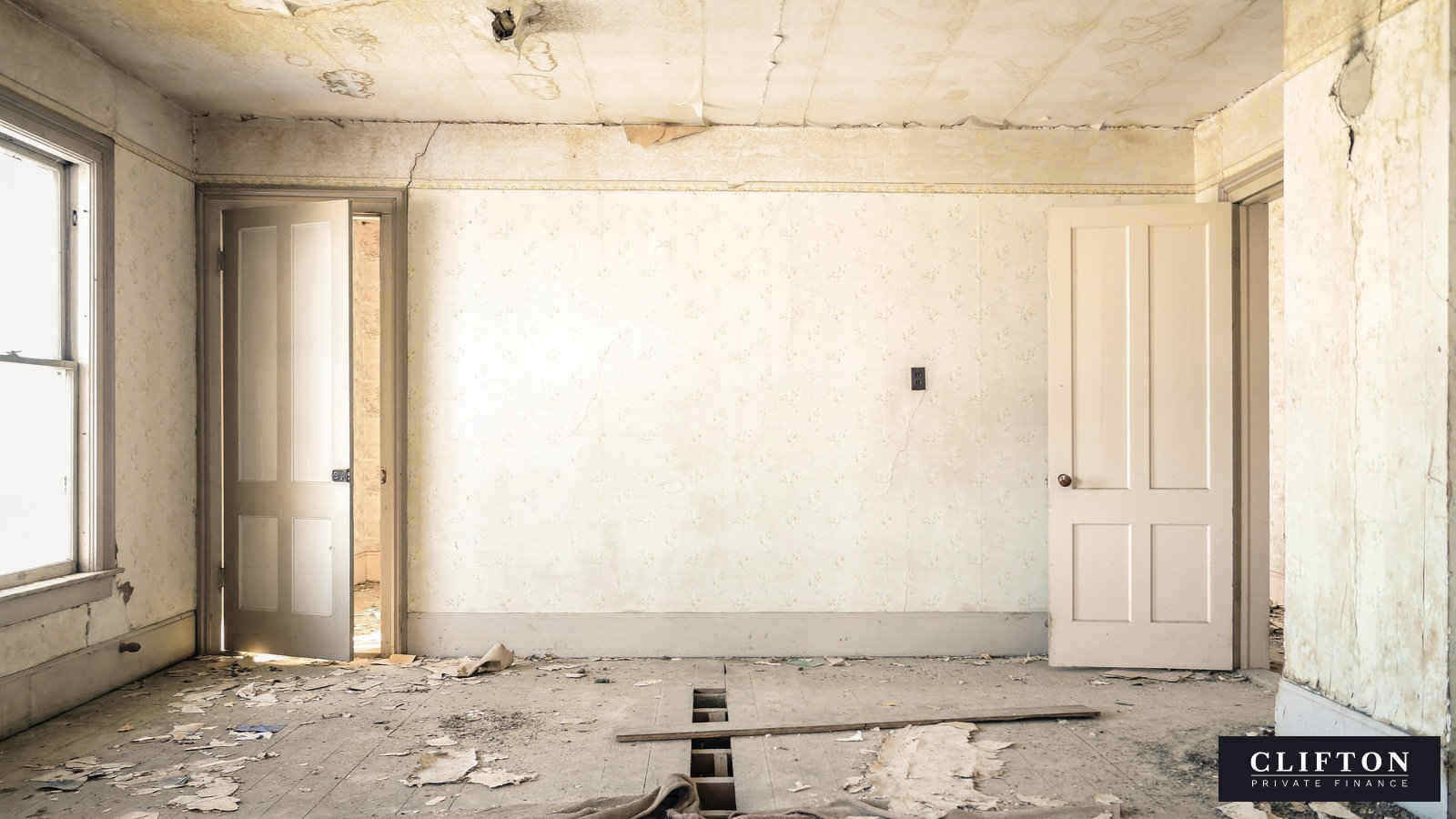 Bargain-hunters love unmortgageable properties, packed with potential: competing buyers are frightened off by the difficulties in getting hold of finance.
But how can you make sure you don't get caught in the same trap – committed to buying a house you can't get a mortgage on (or only at punitive rates)?
Lots of property buyers are put off avocado bathroom suites, Formica kitchen tops or aubergine bedroom walls.
Others (the core audience of tv home-improvement programmes) see a dream home where others see a leaky barn, an overlooked workshop or a rat-infested boarded-up terrace.
For the entrepreneurial optimists, we're going to flag up in this blog all the warning signs you need to be aware of, and then give you the solutions:
What makes a property unmortgageble?
How to get finance
1 What makes a property unmortgageble?
It's derelict!
You know (and mortgage lenders know) what derelict looks like: run-down, empty, boarded-up, not in "habitable condition". It can't be lived in… hygienically or safely.
The technical definition of a property "not in habitable condition" is that it's derelict, needs conversion, or doesn't have a working kitchen or bathroom.
Most high street banks and building societies won't offer mortgage on properties like these.
You're buying at auction
These properties are unmortgageable by dint of time constraints.
Property auctions are great places to pick up bargains, including deceased estates, derelict and reposessed properties. But you need to pay 10% of the sale price on the fall of the hammer, and the remaining purchase cost usually within 28 days.

That's too soon to get standard mortgage arranged – assuming the property is considered "mortgageable" and it meets the lender's valuation criteria.
Most high-street lenders will say it takes around "four to six weeks" to set up a mortgage, but experienced buyers will tell you to allow at least a couple of months, to allow for the special circumstances that seem to crop up in most mortgage applications.
Don't be led astray by assurances of mortgage offers within 48 hours: that's not a full application approval.
The "auction finance" offered by auction houses will be bridging finance, secured loans, or possibly buy to let mortgages, not necessarily at the most competitive market rates.
An experienced property finance broker will be able to arrange competitive bridging finance for you, for an auction purchase (see below).
No kitchen or bathroom
You may be a happy to make do with a camping toilet and Primus stove while you do renovations, but a mortgagor won't be so willing.
The lack of a proper working bathroom or hygienic kitchen renders a property technically uninhabitable – and unmortgageable.
The same goes for a new-build property that's come onto the market as a forced sale because the developer has run out of finance, if it doesn't have a finished, usable kitchen.

An extra kitchen!
At the opposite extreme, too many kitchens can be a red flag to mortgage lenders.
If a property has more than one kitchen (like Ed 'Two Kitchens' Milliband's north London house) it may signal to a mortgagor that you intend to subdivide it into two separate units.
Structural damage
The signs are usually glaringly obvious: bowed walls, sagging ceilings or door lintels, leaning chimneys, walls separating at the corners, large horizontal cracks…
Rotten joists and subsidence don't just indicate that you're looking at heavy renovation rather than light renovation finance.
The costs of these repairs are often hard to estimate and may mean that mortgagors will be unwilling to lend, or that your field of prospective lenders will be severely limited.
Proximity to commercial property
Flats above commercial premises, houses in streets with pubs, garages or supermarkets…
You might be happy to overlook any shortcomings in a property's location in order to buy somewhere affordable.
A mortgage lender will be concerned with the next buyer: will there be enough equally-willing purchasers to ensure that the property will sell quickly if for any reason you default on the mortgage and they need to reclaim their investment.

Low value
Ironically, you'll struggle to get mortgage finance for an absolute rock-bottom bargain property valued at less than £50K.
The reason is (to put it bluntly) CBA: the loan size is too small to justify the mortgagor's administrative work.
Short lease
In terms of leasehold properties, anything less than an 80-year lease is considered a "short" lease and considerably devalues a property.
Properties with less than 60 years on the lease will be virtually unmortgageable.
Anyone who's owned a leasehold property for at least two years is legally entitled to get 90 years added to their lease for a fair market price.
(Extending leases with less than 80 years to run is considerably more expensive, due to the effect on the property's value.)
Purchasing a property with a "short lease": if the vendor has owned the property for more than two years they can instigate Section 42 proceedings to start the lease extension process, assigning the benefit to you.
It may be feasible to use a bridging loan to finance the purchase and lease extension costs, and then remortgage taking advantage of the uplift in value of the property.
In June 2019 the government announced its intention to ban the selling of newbuild houses as leasehold properties: sharply escalating ground rents were damaging the resale value of newbuild homes.
High-rise
Historically, lenders have been concerned about high-rise flats retaining their value in a downturn. And they voice concerns about the maintenance of communal areas in high-rises being out of homeowners' control.
Lenders can be reluctant to grant mortgages on high-rise flats.
Criteria vary, but can range from above the fourth to above the 20th floor.
The number of surrounding units owned by one landlord.
It can be argued there's possibly a dose of prejudice behind this, associating high-rise with local authority housing. Especially considering the high-spec high rise developments such as Manchester's Deansgate and Jackson's Row, and London's Diamond Tower and Mapleton Crescent.

Ex local authority housing
Another housing type that lenders can be reluctant to lend on.
If you have difficulties finding finance, the pool of future buyers who will purchase from you may be equally restricted.
Lenders' criteria may include the concentration of rented local-authority housing in the surrounding area
Non-standard construction
Mortgage lenders like easy-to-sell properties, and non-standard construction materials and prefabricated construction types can be difficult to get lending for.
Construction materials which have fallen out of favour include:
Concrete (despite the high value of apartments in London's iconic Barbican complex)
Traditional thatched roofs
Cornish Units
AGM Modular
Reema Hollow Panel
Woolaway House
Tarran Clyde House
Strictly speaking, these properties are usually hard-to-mortgage rather than unmortgageable.
The pool of lenders is more limited, but a well-connected property finance broker should be able to connect you with a lender experienced with your property type.
Environmental issues
It's vital to look beyond the walls of the house you want to buy.
The plantlife and geology of the property, your neighbours' properties, and the surrounding area have a significant bearing on whether you may get mortgage finance.
Adverse factors:
Invasive Japanese knotweed
Subject to flooding or land erosion
Near a landfill, waste location or any large-scale excavation

2 How to get finance
Is the work you need to do a light renovation or heavy renovation?
A light renovation or refurbishment
A smaller project where no planning permission is required
Building regulations do not apply
There's no change to the nature of the premises (you're not converting a barn into a house, for example)
A heavy refurbishment
The works will cost more than 15% of the property's value
Structural work is required
Planning permission will be needed
Building regulations apply
The criteria for light and heavy refurbishments vary from lender to lender. If you're turned down for a light refurbishment loan you may need to apply for heavy refurbishment lending, which will entail additional survey fees.
If there's a chance of this, a good mortgage broker will take your application to a lender who handles both types of lending.
Do you need a mortgage straight away, or a bridging loan?
Even if it is possible to find a mortgage lender for your house, the rates offered on a dilapidated property will be high and this may not be the best route to take.
Bridge finance has a reputation for being an expensive, specialist finance tool. But used appropriately it can work out cheaper for you. And it's fast and flexible to arrange.
If you purchase your property with bridging finance, the ability to "roll up" the interest on the loan (to be repaid at the end) leaves you maximum working capital to fund your renovation.
The maximum term on a residential bridging loan is usually 12 months, and there are no early-exit fees.
As soon as you've completed the essential works to bring the property up to "mortgageable" standard, you can exit onto a mortgage, taking advantage of the uplift in value of your property to gain a more favourable long-term mortgage rate.
A lower LTV gives you access to cheaper borrowing as soon as the work is completed - without paying the early repayment penalty charges which standard mortgage finance would incur.

Speed
Bridging loan approvals depend chiefly on a straightforward valuation of the property being offered as security for the loan, rather than an assessment of your earnings and credit-worthiness.
Short-term bridging finance can be arranged quickly – within a matter of weeks, and occasionally literally within a week.
Flexibility
Bridge loans can be used for:
Buying property at auction, and the cost of renovations
Self-build projects
Residential property conversions
Finance can usually be repaid any time after a month's duration, and you only pay (by the day) for the amount of time you've had the loan.
Why traditional lenders probably can't help you with renovation finance
First port of call for many home renovators will be their own bank, or another high-street bank or building society. For a variety of reasons, they're seldom the most best sources of finance for renovation projects.
Unsympathetic to inexperienced applicants: high-street lenders operate to strictly defined lending criteria. Applicants who don't have the required building experience are unlikely to be given the green light.
Picky about properties: traditional lenders' definitions of properties they classify as unmortgageable include):
Anywhere valued at less than £50,000
Properties with structural issues (problems with foundations, load-bearing walls, roof framing etc)
Properties that are derelict or without a functioning bathroom or kitchen
Lack of urgency: conventional high street mortgage applications can take up to three months to be approved; more complex renovation projects are even more of a challenge for their underwriters.

Finance from specialist lenders
Private banks and independent finance groups take a bespoke approach to their lending decisions. They're able to consider each application on its merits, and if it doesn't meet their criteria in one area they may be persuaded that other factors are more favourable.
This sort of flexibility works well for borrowers with non-standard financial circumstances, or unusual project set-ups. But flexibility doesn't work well on templated price comparison sites.
As a result, many specialist lenders can only be approached through broker intermediaries, who can be expected to have a detailed knowledge of the variety of finance products across the whole property finance market.
They're able to recommend to you the lenders which are most likely to approve your application and offer the most favourable terms. Which saves you time on arranging lending, and money over the lifetime of your borrowing.
Contact Clifton Private Finance to discuss finance for your renovation
No two property renovation projects are the same, so you need finance that works for your particular circumstances and building plans. It's easy for renovations to run over time and budget, at which point the cost of your finance becomes a critical success factor.
We're experienced in advising on the type of finance most suitable for a wide variety of renovation projects. Call us any time to arrange a suitable time to discuss your plans:
For more information, read our blog on How to get a renovation mortgage
And if you've found this blog useful do pass it on...