Categories
A Full Guide To Financing Your Next Property Renovation: Refurbishment Bridging Loans
19-May-2022
19-May-2022 17:44
in Development
by Sam Hodgson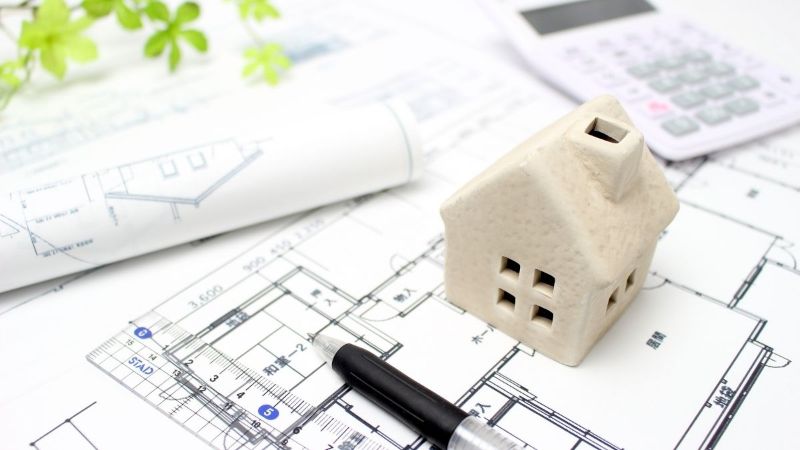 Whether you're an established developer or landlord with a large property portfolio, or a first-time investor just considering property investment, refurbishment finance can be an extremely useful tool to help you take advantage of opportunities that come your way.
Refurbishment finance (sometimes known as a refurbishment mortgage or refurbishment loan) is a short-term loan you can use to fund a property purchase as well as any development work that needs doing.
A significant amount of refurbishment finance can be raised quickly to 'bridge' the gap in the funding of your project, and when you either sell the property or refinance it through a mortgage, you can repay the loan.
The application process for refurbishment finance is much simpler and faster than a traditional mortgage loan. With a refurbishment loan, you can access the funds you need to start your property renovations in a matter of days.
Refurbishment loans explained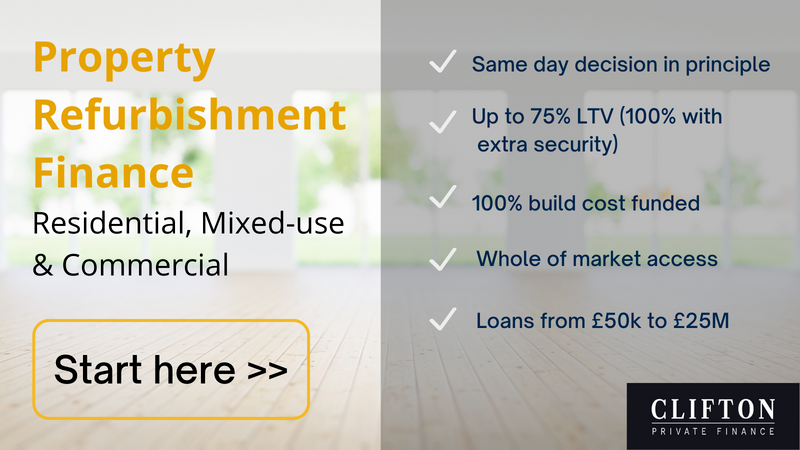 Who can get refurbishment bridging finance?
You can get a refurbishment bridging finance as an individual, a sole trader, or through a limited company.
Refurbishment finance is often used by property developers and first time property investors, for house flipping - when you purchase and renovate a property in order to sell it for a profit. They are also commonly used by landlords to finance the purchase and refurbishment of a buy to let property.
You don't have to be an experienced property developer or landlord to get finance for your property refurbishment. If you have a solid exit strategy to repay the loan at the end of the loan term, most lenders will approve your application.
Every lender varies in terms of their lending criteria, but if you can meet the following requirements you should be able to access the refurbishment funds you need within days rather than weeks.
Lending criteria for a refurbishment finance
The address of the property - its build, location and suitability for raising finance against.


Net wealth - to determine other assets you own in case you cannot repay the loan.


Is there a solid, realistic plan on how to get your property from A to B with the refurbishment finance?


What is your exit strategy - will it be easy to get a long-term buy-to-let mortgage or to sell the property?


Some lenders stipulate 'light refurbishment' for first-time landlords and investors.
No credit or adverse credit is not usually an issue, as the loan is secured against assets.
Our guide explains how to use a renovation bridging loan to buy and renovate a house for a profit
What can refurbishment bridging finance be used for?
Refurbishment finance is designed to support smaller development projects, compared to property development finance, which is another ball game, normally applying to ground-up developments. So if you're a landlord or looking to flip a property, you can apply for refurbishment finance for the following:
Refurbishment costs on commercial or residential property
Minor cosmetic alterations such as redecoration, a new bathroom, or kitchen
Plumbing and drainage work
Rewiring and electrical work
Light refurbishment and heavy refurbishment loans - what's the difference?
Depending on the type of work you plan to do, you will be offered either a light or heavy refurbishment loan. They come with different rates and application criteria.
Light refurbishment loan
This is the type of work that doesn't need planning permission or building regulation checks. The intended use of the building remains unchanged and you don't need to have experience in completing previous refurbishments. The work can be done by either you or a contractor of your choosing.
You can borrow up to 85% of the property value and some lenders will also allow you to borrow 100% of the amount you need to complete the refurbishment costs.
Heavy refurbishment loan
Heavy refurbishment loans are available for properties when planning and building regulations are required. This includes structural works like an extension, or if the work will lead to a change of use such as when a 5 bedroom house is converted into a 9 bedroom multi-occupancy home.
Lenders will often want to see that you have some property refurbishment experience.
They will also want to check the list of works, time schedules and costings, and the contractors you have in place to make the project a success.
Your planned exit will also be assessed (sale of property or refinance through a mortgage).
Book a free and no obligation telephone consultation with one of our specialist renovation loan advisors to discuss your refurbishment finance requirements.

How much can I borrow to refurbish a property?
Loan size: Most refurbishment finance lenders will consider loans from between £25,000 up to £25m.
Loan To Value: The maximum loan to value is 85%; meaning on a house worth £100,000 you can borrow £85,000.
It is possible to borrow 100% LTV if you can provide extra security.


How quickly can I get refurbishment finance?
You can expect to get a decision in principle within 24 hours of applying.
You can expect to have the funds in your account from 7-14 days. In some cases, the cash can be released within a few days.
How do I apply for property refurbishment finance?
Within 5 easy steps, your property refurbishment finance application can be processed and the funds released. Our team of expert brokers will match you with the best lender offering the most competitive loan for your property.
Step 1: Contact our property finance experts for a discussion of your requirements. We will assess your application and connect you with the right lender for your situation.
Step 2: We will give you an offer in principle within 24 hours.
Step 3: At this point, your chosen surveyor can value the property to meet everyone's expectations.
Step 4: We will send your solicitor a checklist of requirements. If the valuation report is acceptable for the agreed loan terms, we will confirm this with your solicitor and then issue the mortgage deed for your witnessed signature.
Step 5: As soon as the lender's solicitor is in receipt of all crucial information and supporting documentation, we are ready to go! Within 24 hours of receipt of the report on title, we arrange the transfer of funds to your solicitor to get the funds released to your bank account.
Why use a property finance broker?
Clifton Private Finance - refurbishment finance is our speciality
Our property finance broker team has expert knowledge and access to the short-term lending market meaning we can meet a huge variety of needs for property investors and landlords.
In many cases, high street lenders will turn an application down. Our brokers know which lenders to approach to get you the terms and conditions you need.
If you're a first-time property investor or landlord, you may find it difficult to get the loan you need on attractive terms. We know which lenders to approach.
From start to finish, your dedicated broker will guide you through the process outlined above, be readily available to answer any questions, and take much of the stress and hassle away from you
Our strength is our ability to access a wide range of funding solutions from high street and private banks, specialist lenders, family offices and wealth managers. We also have connections with private investor fund groups.
Call us on 0203 900 4322 to discuss your requirements.
Or book a free and no-obligation telephone consultation at a time to suit you:
Read our complete guide to bridging finance here