Categories
The Ultimate Guide to Buying Property in South Kensington
05-April-2023
05-April-2023 16:35
in Mortgage
by Sam Hodgson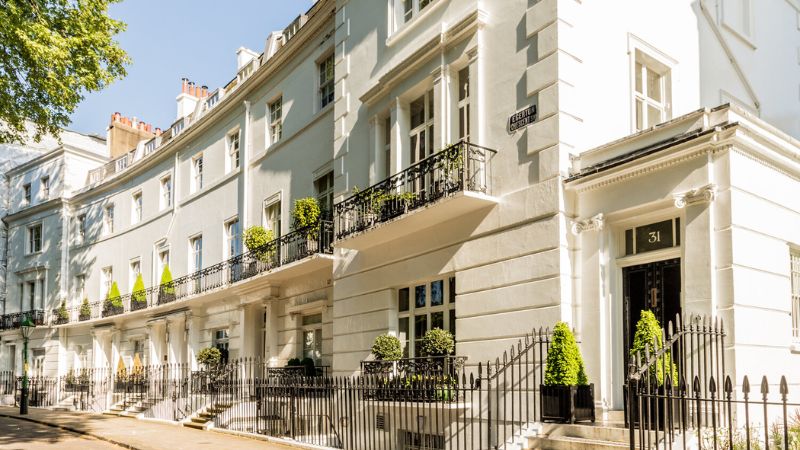 If you're looking to buy property in South Kensington, read our guide on how to get started. The Royal Borough of Kensington and Chelsea is one of the most sought-after areas in London for plenty of reasons...
South Kensington is one of London's most affluent and costly neighbourhoods, home to the Natural History Museum, the Royal Albert Hall, and many historical attractions.
A few streets in South Kensington are popular for the prestige of their postcodes alone (e.g Phillimore Gardens), driving up property and rental value in the area.
Properties in these postcodes can be valuable investments for long-term rental income.
It goes without saying that buying any property in South Kensington is going to be a large investment, so what do you need to know before buying property there?
This blog post explores the current property market in South Kensington, tips for finding the right property, and what sort of finance options may be available to you.

Skip to:
Is Kensington a good area to buy property?
---
---
---
Tips for Finding the Right Property in Kensington
---
Finance Options for Property Investors in Kensington
---
Is Kensington a good area to buy property?
Kensington is one of the most popular areas to buy property in Central London, but some parts of this prominent district are more sought-after than others.
Kensington's most popular postcodes, such as W8 (Kensington Palace Gardens & Phillimore Gardens), SW1X (Knightsbridge), and SW7 (South Kensington), are home to some of the wealthiest people in the world. Kensington Palace Gardens, for example, is known as 'Billionaire's Row'.
Kensington is home to 12 of the UK's most expensive streets in England, and for good reason:
South Kensington is full of grade I & II-listed buildings which attract tourism by themselves, and its signature Victorian townhouses have become a staple part of the London image.
While these areas in Kensington draw investors and visitors for their reputation alone, their proximity to shops and cafes and their great transport links to other regions of Central London also contribute to their popularity.
South Kensington is home to a number of elegant Victorian and Georgian terraces and is a well-known focal point of architecture and culture in London.
Factors like these certainly make South Kensington a pleasant place to live, but the feeling of exclusivity keeps property value at astronomical heights in this area.
In 2022, property in Kensington's most popular (and expensive) postcode, W8, sold for an average of just over £3.5M. The largest portion of these properties were flats, selling for over £2M each. Semi-detached properties in this postcode sold for an average of over £24M last year.
Celebrities, royals and billionaires can all be spotted in this borough, fueling its prestige and keeping rent in the area high. Which promises the potential for high ROI for landlords looking to invest in the neighbourhood.
It is also common for many properties in this area to remain empty, recognised as valuable assets by overseas buyers - enticed by the competition that drives up house prices in these postcodes.
Areas like Kensington and Chelsea are considered fairly recession-proof, in that their property value rarely drops, and when it does, it's often not by much.
What do the experts say?
You could compare the Prime Central London market to a bag of pick & mix. Some sweets are more popular, and buyers will fight over them, as they are few and far between. Whilst others are more plentiful and less appealing to buyers.

Generally, the Prime Central London market is reluctantly adjusting. However, many equity-rich sellers are choosing to withdraw from the market and waiting for prices to pick up.

For sellers who just want to get on with it because they either want to downsize, divorce or release equity, property is selling, but it requires realism from both sides to get a deal across the line
Emma Fildes
Founder of Property Buying Agent Brick Weaver
According to the results of Brick Weaver's first quarter, average flat prices in Kensington and Notting Hill are 8.9% higher than they were 5 years ago.
Prices per square foot have increased by 3.9% for flats in this area in the past year, and have increased by 0.8% overall for houses.
What do you need to know before buying property in South Kensington?
Considering Central London is a highly competitive property market, it's definitely worth knowing what other buyers you're up against.
South Kensington tends to have a fairly low percentage of first-time buyers, and a large portion of buyers purchase property in this area outright.
So, buyers looking for property in South Kensington tend to have a substantial amount of equity already, or it's likely that many of them have the funds to purchase property in this area without a mortgage.
However, while property in this area is considered pretty weather-proof economically, factors like Brexit, the cost-of-living crisis and high mortgage interest rates have caused a drop in South Kensington's house prices. The average house price in Kensington dropped by around £29,000 between June – September 2022.
But due to Kensington's winning combination of being a prime Central London location, its average building quality, and proximity to some of London's biggest cultural attractions, many of these properties are still selling for well over £1M.
This means that those looking to purchase property in the area currently could be in an excellent position to get a good deal on a high-value Kensington property.
Tips for Finding the Right Property in South Kensington
It goes without saying that the London property market can be highly competitive. It can certainly help to be strategic in your approach and be aware of what to expect when it comes to finding a suitable property in the South Kensington area.
With many properties in Kensington costing over £1M, you may need to have a large budget in mind when approaching property investment in this borough.
However, with the recent price drops due to a slew of economic and political factors in the UK, you could likely find a great deal on the market in 2023.
If you are looking to make a large investment in this area, it's likely that you won't have the funds available to buy the property outright.
And if you're looking to secure a mortgage for a property in this area, you may want to use other means of income on top of your salary to show that you can afford a mortgage for a property like this.

A lot of high street lenders won't be able to facilitate a mortgage large enough to purchase a multi million pound Kensington property.
And those that can will only factor in your main income - which may not be enough to show your affordability for a high-value property.
This is where working with a specialist mortgage broker can give you a huge advantage. At Clifton Private Finance, we have connections with a wide variety of specialist lenders who may be able to accept alternative income structures in a large mortgage application.
What else?
If you're an international buyer looking to acquire UK finance for a property in Kensington, you may have your own set of obstacles.
But while it can be tricky to get property finance in the UK from abroad, the actual purchase of the property has very little to do with your nationality or residency.
This means that once you have the funding to purchase the property, buying a house in Kensington as a foreign national can be relatively easy.
If you're looking to secure UK property finance from the US, read our guide on London property investment.
Finance Options for Property Investors in Kensington
Residential mortgage: If you're looking to secure UK finance to purchase a property, residential mortgages can be cheaper than buy to let mortgages, and the criteria can be less strict in some cases too. However, the biggest issue with securing a residential mortgage, as previously mentioned, can be affordability.
Because you can't rent out a property with a residential mortgage, there won't be a rental income to help you pay back your loan. So you'll only be able to use your salary or main income to prove that you can keep up with your mortgage payments, which can be more challenging to get approved.
That being said, if you're looking for a second home or somewhere to holiday in a picturesque part of London, this could be a suitable finance option for you.

Buy-to-Let Mortgages: A buy-to-let mortgage is designed for those investing in rental properties. The lender considers the potential rental income from the property when deciding how much to lend. This is a great property investment option because London especially offers the potential for high ROI.
However, it's important to note that the criteria can sometimes be stricter for residential mortgages, and they can also be more expensive, especially if you're looking for UK finance from overseas. But if you are eligible for a buy to let mortgage to invest in a Central London region like Kensington, it may be worth the extra costs because the rental income in these areas can be so high.
Interest-only Mortgages: If you're looking to buy property in a sought-after area like South Kensington, you might have the wealth to buy the property outright. However, it's likely you don't have the money in the bank to buy the property because your wealth is tied up in assets. In these cases, the lender may be able to offer you an interest-only mortgage.
An interest-only mortgage can finance your property purchase, and you'll only have to pay back the mortgage interest each month instead of repaying the capital plus interest like you would with a traditional mortgage.
So instead of selling your assets to fund the purchase, you can take out an interest-only mortgage against your assets. And then, at the end of the mortgage term, you can sell the property or your other assets to pay the mortgage amount back.
Private Lending: If you're looking for a large property loan for a high value property, you may need a flexible lender who can judge your circumstances more accurately than a traditional lender can offer.
These more personalised finance deals are usually only available from private lenders who are familiar with working with high value mortgages. This can be especially helpful if you're looking to invest in a property from outside the UK, as a specialist lender will be more equipped to process a property loan of this size for your circumstances.
Achieving an investment like this can be stressful, so working with a specialist broker that understands the market can help you get a favourable outcome. As well as this, a specialist broker like Clifton Private Finance has relationships with private lenders who are able to offer competitive rates and flexible financing options.
Overall, financing your property investment in Kensington requires careful consideration and research. By exploring these financing options and working with a specialist broker, you can find the solution that best meets your investment goals in this prime London location.
Get the finance you need to buy property in South Kensington
High street lenders will treat your case individually, but if you're an overseas investor, there is a higher chance that your mortgage application won't be successful.
There are private banks and lenders who are prepared to take on the additional administrative and regulatory work that's required.
To get access to them, you'll need experienced, highly qualified, and regulated professional support from a UK finance broker.
At Clifton Private Finance, we can identify lenders who are ready to work with your particular criteria, take care of the paperwork, and negotiate on your behalf to get you the best deal for your circumstances.
Call us on 0117 959 5094 or click here to make an online enquiry with us.