Categories
How to Get a UK Mortgage If You're A UK Expat In Japan
15-July-2019
15-July-2019 16:37
in International
by Jennifer Stevenson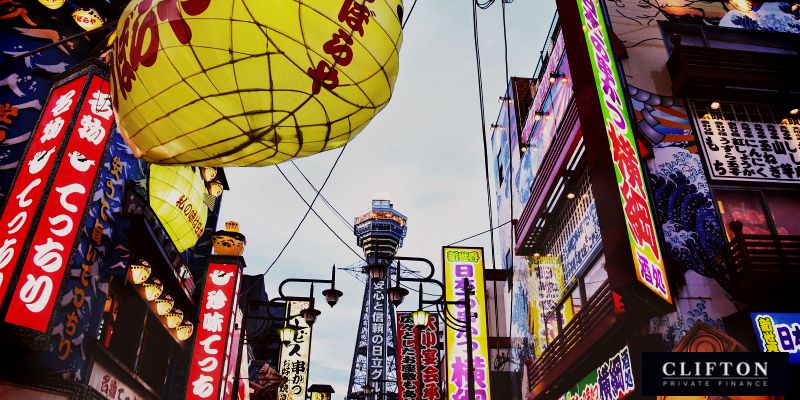 The numbers of expats living and working in Japan are growing every year (two million of you now: the highest since the late 1950s). If you want a foothold in the property market there are mortgage solutions for buyers living abroad getting into the UK.
Investing in Japan is a daunting prospect for gaijin: you'd need to pay north of £700K for a two-bed apartment in Minato City – and you'd need to be sure that you own the land it's built on as well, and Japanese homes devalue as much as 10% a year.
The UK market, by contrast, is familiar territory. And while prices are strong in the major metropolitan areas, there are some good deals to be found, and good rental returns for investors.
While you're here, check out our complete guide on UK mortgages for expats.
What are you wanting a mortgage for?
A mortgage advisor will want to understand your current needs and also your future plans:
Is this property to be a home for yourself or your family - now, or in the future?
Is this your first property investment?
Is this a re-mortgage -your fixed-term deal has ended and you're now on your lender's standard variable rate?
Are you changing the use of the property: from residential to a rental property, or from commercial premises to residential?

First-time buyers
If you're looking to buy your first home back in the UK, you will need guidance on providing all the information you'll need on the source of your income to establish its stress-testing against currency fluctuations.
And a lender will need to know if you intend to rent out the property while you're in Japan, and when you intend to return.
Upsizing or downsizing
Are you looking at a house-move for your partner and family still living in the UK (closer to schools or a partner's job)?
Is your expat salary giving you the opportunity to upsize?
Would a smaller city-bolt-hole suit you better now than a big family home - or is the upkeep of a big home more than you want to manage from afar?
Re-mortgaging
You may be looking to remortgage your UK property because your fixed rate mortgage is about to revert to a standard variable rate.
Or you could be looking to release equity for an investment project.
Investing in rental property
Rental investments in the UK have been giving steady returns. Specialist lenders for expats are prepared to offer flexible and attractive mortgages usually up to 75% or value for single-tenancy buy-to-let properties and for houses of multiple occupation (HMOs) such as student housing.

5 Things you need to know about applying for a UK mortgage as an expat in Japan:
Japan is part of the Financial Action Task Force (FATF)
This is good news for you. FATF was set up to protect the integrity of the international financial system by tracking money transfers and preventing money-laundering and the financing of terrorism. The tighter restrictions make lending to residents of countries that haven't signed up to FATF more complicated.
Lenders can be wary about income earned outside the UK
Overseas incomes will be affected by fluctuating exchange rate.
Some lenders will be additionally hesitant about self-employed or freelance income earned in Japan, and may quote higher rates or fees to compensate for their additional work and risk.
A specialist broker will be able to tailor your application to suit a non-traditional lender experienced in expat mortgages.

Regulations have made things more complicated
New rules governing the financial institutions that lend to you, and mortgages which have been affected by those rules, affect all expat borrowers.
The EU's Mortgage Credit Directive (MCD) was implemented in 2016 with the aim of providing some protection from currency fluctuations to home-owners with expat mortgages. (Purchasers have the right to convert an MCD-regulated mortgage into an alternative currency under specified conditions.)
But it has made lenders more cautious about providing local mortgages to those living and working outside of the UK. So you'll need a broker who can take your application to specialist lenders who don't' need to protect themselves with punitive rates.
You can read more about the MCD here.
Good returns on buy-to-let investments in the UK
Strong demand for buy-to-let mortgages has been fuelled by expats developing their portfolio of assets.
Multi-tenanted HMOs are increasinlgy popular with overseas investors: they can offer roughly double the yield of single-tenant properties.
Similar stress-testing is required for HMOs, and assurances about how the property will be managed long-distance.
For unregulated mortgages such as these there are now new lenders offering attractive rates for expats.
Get advice from a specialist broker
Time is money, and not least when you are trying to arrange finance on a brief visit back to the UK, or from a different time-zone.
Many specialised lenders won't be accessible to you as an individual borrower.
An experienced broker will package together all the information a prospective lender may need, and will take your application to the right lender to suit your circumstances – resulting in a speedier process and more advantageous terms.
For example, most mortgages available to expats will be limited to a loan-to-value (LTV) of 75%, but a well-connected broker may be able to secure 85% LTV for you.

Tips for applying for an expat mortgage
Don't be led astray by quotations for UK rates
Before you do your sums on a UK property investment, be aware that many lenders will charge a higher interest rate to a non-resident (reflecting the greater risk they bear in lending to a client outside of the UK, should anything go wrong). Again, a specialist lender, accessed through a broker, could be less cautious.
Find the lender best suited to your situation
As an expat you may have complex sources of income. Some high-street lenders will not take the full range of your assets into consideration (such as stocks, shares and pensions). Again, an experienced broker will find the most appropriate offer for you.
How much can I borrow?
Clifton Private Finance works with a variety of trusted lenders who are able to provide expat mortgages with a higher LTV. Any offer will depend on your particular circumstances, but this is an approximate guide:
Call Clifton Private Finance to speak to our expat broker team:
More about our expat finance service »
And if you've found this blog useful, please share it