Categories
How to get a joint mortgage with a non-UK national partner or spouse
31-January-2023
31-January-2023 16:10
in International
by Jennifer Stevenson
Getting a joint mortgage where one partner is not a UK national can be challenging. We have a strong track record in matching international clients with the lending they need.
This guide explains why it can be difficult and what you can do to improve your chances.
Skip to:
Why is it difficult? 3 Reasons
Should you leave your foreign national spouse off your mortgage application?

Get expert advice
What are the difficulties for mixed-nationality couples applying for UK mortgages?
1 Residential history in the UK
To the surprise of some of our clients, the nationality of the non-British partner is almost immaterial. The critical factor is how long you've been living in the UK – which of course relates to your visa status.
Spouses and civil partners of UK citizens are eligible to apply for British citizenship by "naturalisation" after they have lived in the UK for three years:
with settled status under EU regulation
with indefinite leave to remain"
or "permanent residence status"
Most mainstream lenders stipulate a minimum of at least three years' established residence in the UK.
Case study: Read our case study below on how we secured a UK mortgage for a British expat earning in Cayman Islands Dollars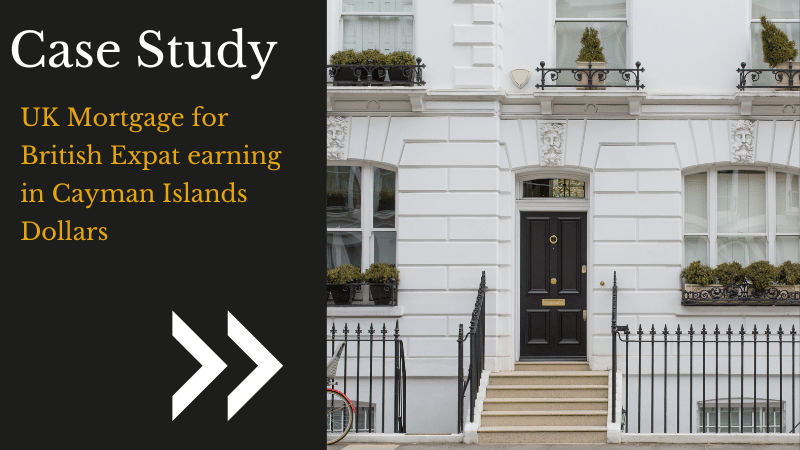 Related: Check out our complete guide on mortgages for expats.
Many would-be borrowers are still in the early stages of establishing their visa status but are keen to regain some of the stability they've left behind and get settled in a home.
A number of the clients who come to us have been turned down at the outset for their lack of residency qualification. But we can find lenders if other circumstances are favourable.
UK mortgage finance for mixed-nationality couples
For clients where one partner does not have permanent "right to reside", we can source property finance up to 70% of the property value on a Capital & Interest repayment basis only.

For clients on a Tier 1 General Visa/Highly Skilled Migrant Visa, we can access lending up to 90% of the property value.
2 A ceiling on lending
Many "high street" UK lenders look to limit their exposure to riskier mixed-nationality borrowing partnerships by putting a cap on ending at 75% LTV (Loan to Value).
This can be problematic if you're looking to buy in higher-priced London, the southeast, or other major cities around the country.
Cases are often sent for review by the lender's panel if the non-UK spouse is the main or only earner.
Again, we may still be able to source the finance you need, but clients often need guidance through the tighter credit policies for lending over 75% LTV.
3 Your credit history
Unfortunately, UK lenders are concerned with UK credit history.
You may have a settled residency and substantial financial resources in Sydney, Singapore or Seattle, but that's of little reassurance to a mortgage provider committing to finance on a UK property with a co-owner who looks more able to "disappear" overseas in adverse financial circumstances than a settled UK national.
Your residential status is a key factor in your UK credit history, relating as it does to your employability, your ability to open a bank account, sign a tenancy agreement and take out credit.

We advise all our foreign-national clients to check their credit ratings with all three UK credit agencies: Experian, Equifax and TransUnion.
We have access to the same credit analysis software many lenders use. And we often spend considerable time advising clients on the proactive steps they can take to improve their credit ratings.
Not including non-resident spouses on mortgage applications
Some clients ask us if it's best for an application to be submitted in just the British partner's name - leaving out the foreign national spouse.
In fact, lenders are less comfortable if both partners are not included on the mortgage documents, even if the UK citizen is the main earner.
The reasoning is that their lending is more secure if both the main tenants of the property bear joint responsibility for the mortgage finance. In the unfortunate circumstance of a default, a forced sale to recoup their lending will be much more complicated if a spouse not a party to the finance has the right of residency in the home.
We are able to source finance for single-name mortgages, but the greater degree of risk is reflected in the lower LTV lenders are willing to commit to: usually a ceiling of 70% (compared with the up to 95% we can otherwise source).
Case study: Read our case study below on how we secured finance for a Mauritian business owner with an overseas self-employed income.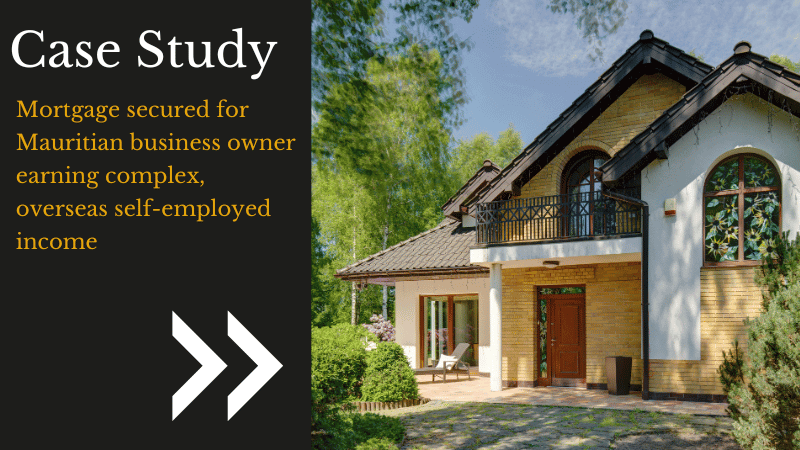 Call Clifton Private Finance for the specialist experience you need
Our international client brokers have seen – and solved – the trickiest of mortgage situations. Give us a ring any time that suits you, and we'll set up an appointment with one of our experienced advisors. Or, book a consultation through the button below.
Our international mortgage service