Categories
3 ways to break a property chain
15-November-2016
15-November-2016 15:20
in Mortgage
by Jennifer Stevenson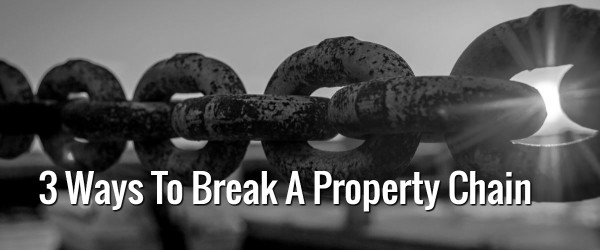 If you are in a property chain and it collapses you may think there is nothing you can do.
Property chains collapse on a regular basis through events out of your control - there are numerous factors that cause a chain to break down including people in the chain struggling to get finance in place at the last minute through to property survey issues which result in offers being withdrawn which can take the chain back to square one etc
So you can either sit on your hands and hope things work out or you can consider taking action.
So what are your options?
There are 3 main ways in which you can break a property chain:
sell before you buy
don't sell but increasing your existing mortgage to use as deposit on a new property
get bridging finance
Sell before you buy?
You could consider going into rental accommodation before you buy. This may work for you but you need to consider a number of points.
Moving into a new house takes time and money. Most landlords will want at least a 6 month commitment if not 12 months
Is there a suitable rental property in the area you want - if not this may have consequences on commuting to work, schools if applicable, access to amenities and if the property is not big enough you may have to consider storage options which can be expensive
The advantage of selling your home and moving into rental accommodation is that you will be in a much better position to move quickly when you find your next property.
Don't sell but increase your existing mortgage to use as deposit on the new property
Another option if you have enough equity in your current home is to increase the mortgage and use the capital raised as a deposit on the second property.
You could either:
Do what is known as a "Let to Buy" – this is where you let out your existing home to tenants and use the rent to pay the mortgage. The additional capital raised on the mortgage can be used as a deposit on your new home where you take out a second mortgage.
Alternatively you don't let out the property and you run two mortgages for a period of time until you sell your first property in your own time. This buys time to ensure you get the price you want. The downside is the cost of servicing two mortgages. In both scenarios mortgage lenders will want to know you can service the debt on two mortgages so this option may not be possible – speak to our mortgage team to discuss your options here.
Get bridging finance
Bridging finance can be used in the purchase of a residential property.
This form of short term finance does what it says on the tin – it bridges a gap in funds between when a debt becomes due and when you'll have the monies to repay that debt.
So if you are in a property chain and need the money from the sale of your home in order to fund the purchase of your next one – but there has been a delay down the chain and you could lose your dream home if you don't complete the buying transaction now
Bridging finance could give you the temporary funds you need quickly. Compared to some other forms of finance, while bridging finance may not always be the cheapest way to borrow money it can be very convenient.
How does bridging finance work?
Bridging finance provide a short-term loan solution (typically lasting up to 12 months until a more permanent form of funding becomes available (e.g. a residential mortgage).
A bridging loan is generally quicker to arrange than a more traditional mortgage, with a typical turnaround of 2 to 3 weeks although this can be quicker depending on the circumstances.
As with a mortgage the finance is secured against the property, so it is important that you fully understand the agreement you have as well the cost of the interest and any associated fees.
What does bridging finance cost?
The cost of bridging finance will depend on the individual lender as well as how much you wish to borrow.
Bridging finance is typically charged on a monthly basis - normally in the range of 0.6% to 2% per month depending on the loan criteria (which, in some cases, is higher than other forms of medium and longer term borrowing).
You'll also be charged an arrangement fee as well (typically from 0.66% - 1.50% of the loan value).
In some cases you may be able to 'roll up' your interest - meaning you don't have to pay it every month but instead pay the amount at the end of the arrangement.
Alternatively, you may be able to 'retain' the interest from the loan amount in advance, to cover the interest payments. Do note that interest will still be charged on this retained amount.
How much finance can you borrow?
This depends on your own unique financial circumstances.
Using our services we can help you based on your circumstances borrow from £50,000 upwards depending on the equity that you have in your property (ies).
Summary
In summary, if you are looking for immediate short-term finance to help with a property transaction, then turning to an alternative finance offering such as bridging finance may offer the most suitable solution for you.
Otherwise you could consider moving into rented accommodation or look at a second mortgage depending on your personal circumstances.