Categories
How Commercial to Residential Conversions Work | Change of Use
27-September-2023
27-September-2023 17:22
in Development
by Sam Hodgson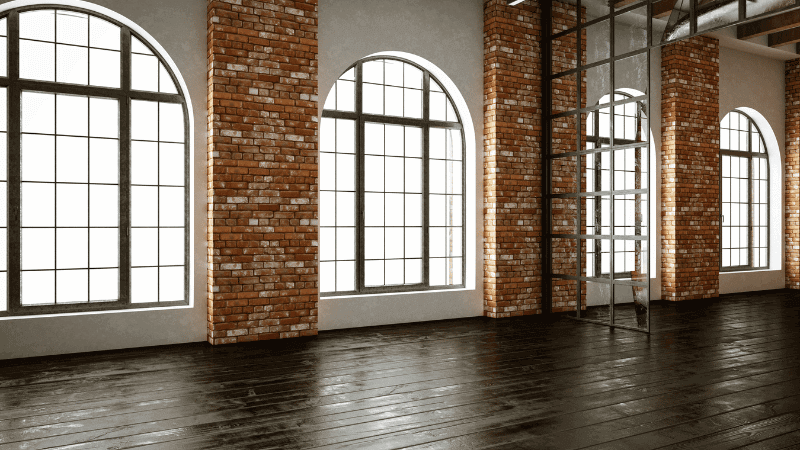 Commercial to residential property conversions present an exciting opportunity for SMEs and property developers in the UK.
For over a decade, the country has not built enough homes to meet the ever-growing demand.
This grim reality has various ramifications—from skyrocketing property prices to a decline in the quality of living for many.
But with remote working forcing the sale of commercial properties across the country, change of use developments from commercial to residential can be particularly lucrative for smaller developers. While PLCs and medium to large homebuilders are traditionally focused on ground-up projects, conversions present a market with less competition for Property Developers to reap the benefits.
Especially when they're able to take advantage of Permitted Development Rights (PDRs) to sidestep planning permission hurdles and get conversion development projects underway double-quick.

Commercial to Residential Conversions: What This Article Will Cover
This article aims to serve as a guide for SMEs and Property Developers interested in commercial to residential property conversion. It offers a deep dive into:
Permitted Development Rights (PDRs), which significantly reduce planning times and costs.

Identifying conversion opportunities in towns and cities, ranging from changing commercial spaces into residences to having a mix of both in a single building.
Why conversions can be more lucrative than ground-up developments, specifically regarding utilities, funding aspects and unique, characterful property types.

5 tips to ensure the success of a conversion project.

How working with a specialist broker can increase your chances of securing funding for these projects
Skip to:
Housing Crisis & The Role of SMEs
---
---
Finding Opportunities for Conversion
---
5 Tips for a Successful Conversion Project
---
The Housing Crisis and the Role of SMEs
The Gravity of the Housing Crisis
The UK's housing crisis isn't just a buzzword; it's a severe problem with tangible impacts.
Estimates suggest that the country is currently undersupplied by hundreds of thousands of homes, though the precise figure fluctuates depending on the data source.
This shortfall has led to an inflation of property prices, making it increasingly difficult for people to enter the housing market.
See similar: Airspace Development Loans - The Comprehensive Guide
Slow PLCs
Public Limited Companies (PLCs) in the property development sector have noticeably slowed down the production of new homes.
One of the key challenges is the planning process, often cited in numerous reports as a significant bottleneck.
Time-consuming and intricate planning hurdles can lead to delayed projects and increased costs, causing many PLCs to be cautious about launching new ventures.
And this hesitancy is compounding the problem, contributing more to the housing supply gap.
SMEs and Property Developers to the Rescue
This is where Small to Medium Enterprises (SMEs) and Property Developers come into play.
They are more agile and better positioned to manoeuvre through planning complexities and can be more flexible in their approach to bespoke developments and conversion projects.
This includes taking advantage of Permitted Development Rights (PDRs), which streamline the planning process and make it easier to convert commercial properties into residential spaces.

Permitted Development Rights for Commercial to Residential Property Conversions
What are Permitted Development Rights (PDRs)?
Permitted Development Rights, commonly known as PDRs, are a set of regulations that allow certain types of development to proceed without the need for a full planning application.
These rights are generally granted to speed up the development process, particularly for projects that align with broader community and housing goals.
For SMEs and Property Developers, PDRs are a valuable tool, particularly in the realm of commercial to residential conversions.
Local Authorities and Urban Development
For years, the trend in the UK has been to build outside towns and cities, leading to the development of retail parks to service these outlying areas.
Unfortunately, this shift has had a detrimental impact on our high streets, which have been steadily declining.
Recognising this, Local Authorities are increasingly promoting development within towns and cities to revitalise urban centres and better utilise existing structures.
This policy shift opens up a multitude of opportunities for SMEs to make use of PDRs and contribute to urban regeneration.
6 Advantages of Converting Property and PDRs
Utilising PDRs in the commercial-to-residential conversion sector brings a host of benefits, most notably the massive reduction in planning times and associated costs. But there is plenty more to talk about surrounding the benefits of converting commercial to residential vs. ground-up developments.
1. Utility Advantages in Conversions
One of the significant advantages of opting for a conversion project over a ground-up development lies in the existing infrastructure. In a conversion, utilities such as water, gas, and electricity are already connected, thereby saving time, effort, and financial resources.
Cost and Time Efficiency
Setting up utilities for a new building in a ground-up development can be both time-consuming and expensive. You'll need to deal with utility providers, negotiate contracts, and possibly even lay new utility lines. In contrast, a conversion project usually involves updating or upgrading existing connections, which is generally quicker and less costly.
2. Reduced Risk for Lenders
This also helps from a lender's perspective for your financing. Conversions often carry reduced risks compared to ground-up developments. Since the existing structure is generally already wind and watertight, there's less chance of a project being derailed by unforeseen complications, such as adverse weather conditions.
Some lenders are also willing to offer higher Loan-to-Value (LTV) ratios for conversion projects compared to ground-up developments, depending on the level of the work involved. Higher LTV ratios can mean that you may need to put down a smaller initial investment, making it easier to get your project off the ground.
3. A Changed Market Landscape
The COVID-19 pandemic has also played a role in making conversions more attractive.
As many people have transitioned to working from home or adopted hybrid working models, the demand for office spaces has decreased.
Consequently, many commercial buildings are being marketed for sale, as maintaining them has become financially unviable.
An added incentive for looking at conversion opportunities.
4. The Allure of Architectural Character
The UK is fortunate to be replete with a wealth of older buildings that are rich in architectural history and character—features that simply can't be replicated in modern, ground-up developments.
In a sea of new-builds that often look indistinguishable from one another, converted properties stand out for their unique architectural elements.
Whether it's exposed brick walls, high ceilings, or intricate detailing around windows and doors, the character of an older building often lends itself to creating homes with personality.
What Makes Them Special
Period Features: Think sash windows, ornate cornices, and original fireplaces.

Unique Layouts: Older buildings weren't designed with modern living in mind, leading to unusual and charming room layouts that defy the uniformity of new builds.

Historical Significance: Residing in a converted property often means living in a building with a story to tell, adding an extra layer of appeal.
5. A Nod to Sustainability
The 'reuse and recycle' ethos is more relevant than ever today. Converting an existing structure into a residential space is, in itself, an eco-friendly act. Instead of demolishing a building and sending tonnes of waste to landfills, you're giving it a new lease of life.
6. Market Appeal
The uniqueness of converted properties often translates into real market value. There's a certain cachet that comes with living in a home that blends modern amenities with historical charm, and many buyers or renters are willing to pay a premium for these features.
For SMEs and Property Developers, this can mean higher sale or rental prices, making conversion projects potentially more profitable than standard new builds.
Read blog: Converting a Care Home into Residential Flats or HMO
Finding Opportunities for Conversion
Scouting for Potential Properties
When it comes to spotting opportunities for commercial-to-residential conversions, the first step is often the most traditional one: a simple walk around towns and cities. It's a low-tech approach that reveals opportunities that might be invisible via an online search or scanning property databases.
Pay attention to vacant commercial properties or spaces that appear underutilised. Use your intuition—sometimes a space that doesn't seem commercially viable might be an excellent candidate for residential conversion. Here are some tips:
Location: Is the property in a well-connected area, close to amenities and public transport?
Building Condition: Does it look like the building structure is sound, or would it require significant refurbishment?

Surrounding Area: What's the neighbourhood like? This could impact the sort of residential units that could be developed, as well as their potential value.
Types of Conversion Possibilities
Commercial on the Ground Floor with Apartments Above
One common and often lucrative conversion opportunity is to maintain a commercial space on the ground floor while converting the upper floors into apartments.
This approach allows for a diversification of revenue streams and makes excellent use of buildings in prime high-street locations.
It can also contribute to the revitalisation of city centres, where ground-floor retail can benefit from the increased footfall that residential properties bring.
Full Commercial to Residential Conversion
In some cases, a complete conversion from commercial to residential use might be more feasible and profitable, particularly for buildings that are not well-suited for modern commercial use but could offer spacious residential units.
Serviced Apartment Schemes
Another potential project could be the creation of serviced apartments, especially in areas with high tourist traffic or business visitors.
A commercial unit on the ground floor, such as a café or convenience store, could complement the serviced apartments and cater to both residents and the public.
Mixed-use Creative Spaces
If you come across larger industrial buildings or warehouses, consider the potential for creating mixed-use spaces that blend residential, commercial, and creative or community uses. These kinds of developments are increasingly popular and can attract a vibrant mix of tenants.
5 Tips for a Successful Conversion Project
Converting commercial properties to residential use offers numerous advantages, but it's not without its challenges and potential pitfalls. Keep these 5 factors in mind when planning and executing your project.
1. Due Diligence and Cost Estimation
One of the cardinal rules in property development, especially in conversions, is to know your costs before you purchase the property. Accurate cost estimation is vital because unexpected expenses can quickly derail a project.
What to Look for in Due Diligence
Structural Assessments: Are there any issues that could affect the integrity of the building?
Legal Checks: Make sure that there are no zoning or land-use restrictions that could halt or complicate your project.

Utility Infrastructure: Evaluate the existing utility connections to ascertain their condition and suitability for residential use.
2. Assemble an Experienced Team
Property development is a collaborative effort, and the importance of working with a qualified, experienced team cannot be overstated.
The Architect and Engineer Partnership
Ensure your Architect and Engineer are in sync.
Both professionals offer unique but complementary skills. While the architect focuses on design and aesthetics, the engineer ensures that the structure is sound and functional.
Make sure to instruct your Architect to provide detailed construction drawings early on to your engineer. This specificity allows your contractor to offer a more accurate quote.
3. Early-Stage Drain Test
Drainage issues can lead to significant, unexpected expenses. Conduct a drain test at the earliest stage of your project and it could save you thousands later on.
4. Engage with Utility Providers
Utility setup and modification costs can be significant in conversion projects. To avoid unpleasant surprises, directly engage with utility providers or hire a professional to handle these negotiations for you.
5. Financing
Speak to a development finance broker who knows the industry. Drawdown facilities, interest roll-up options and competitive interest rates are just a few important aspects of your development loan that you need to get right – a good broker can arrange a tailored product from the right lender.

Work With Us
It can be difficult to secure funding for complex projects like this from high street banks. There are a variety of specialist lenders who have the experience and resources to offer these kinds of finance products, but they can be challenging to access if you don't know where to look.
At Clifton Private Finance, we have long-standing relationships with private and mainstream lenders across the market. Our team of expert brokers can advise you on the best route to take, guide you through your application and get you the best deal on the market for your personal circumstances.
To see what we can do for you, call us on 0203 900 4322 or book a free no-obligation consultation below.