Categories
Finance for your barn conversion Q&A: Class Q and full planning
14-November-2019
14-November-2019 17:28
in Development
by Jennifer Stevenson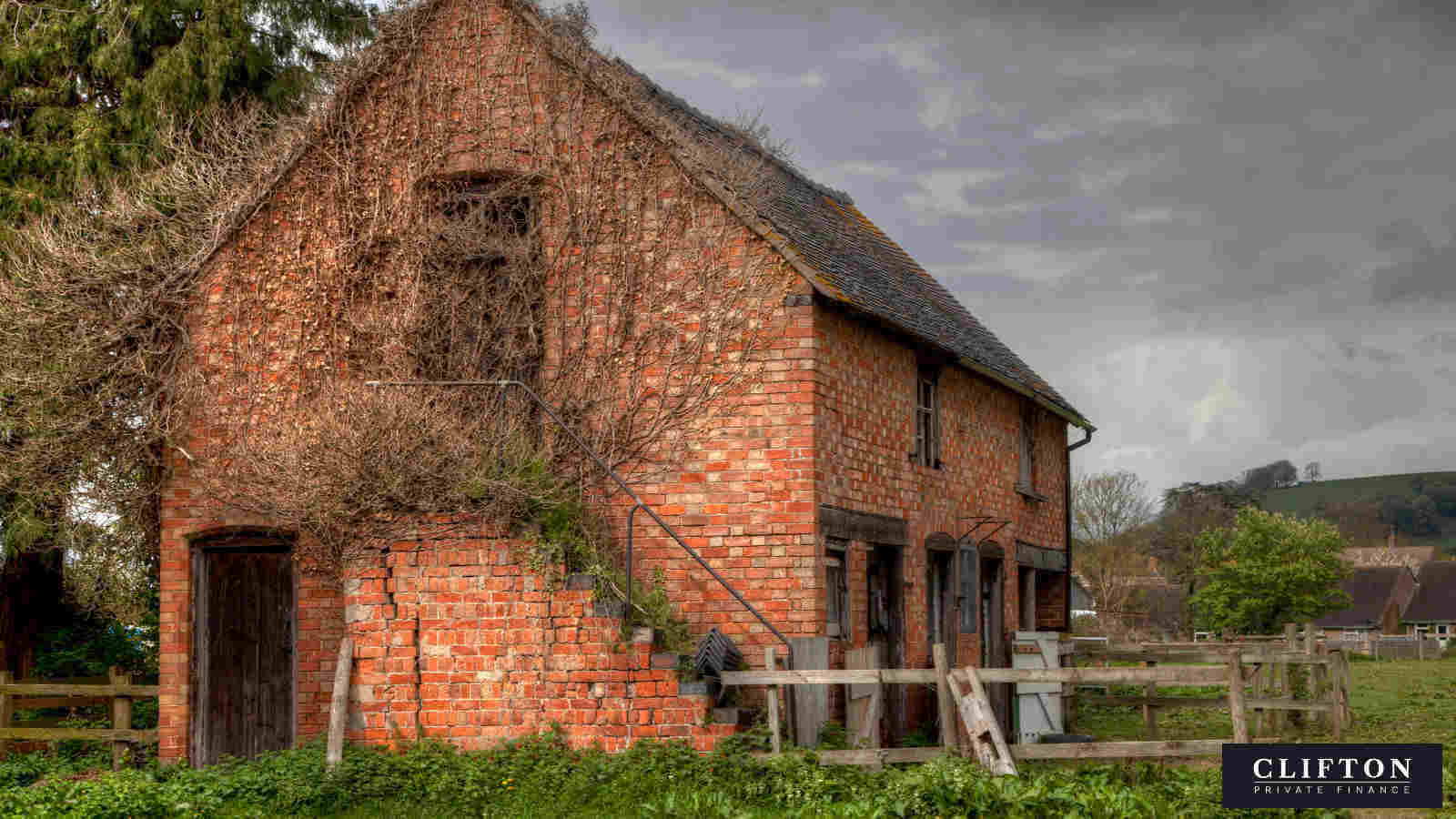 The words barn conversion are now real estate shorthand for "wow-factor" homes in highly desirable rural locations.
Imaginative design, big rural views, a combination of heritage structure with modern building aesthetics: open-plan, double-height ceilings, big windows, exposed building features.
Plus the opportunity to add some of the best of modern sustainability design with low-energy features and heat recovery systems.
Demand for both the finished properties and development opportunities is unabated.
The fact that many of the heritage rural buildings in convenient locations have been snapped up has spawned new-build imitations. And also a new focus on converting other types of agricultural building – which we'll discuss further below.
Q: What are the new farm building development opportunities?
Q: How can Class Q permitted development help me?
Q: What kind of barn development can I get finance for?
Q: What are my finance options?
Q: What are the new farm building development opportunities?
A: Possible fast-track through planning, and new life for steel-frame barns.
Modern steel-framed barns have been widely regarded as the Cinderellas of the rural landscape.
Not pretty, but hard-working. But with changes in the farming industry many of them are similarly redundant and in need of repurposing.

Steel barns don't offer the same oak-and-stonework charm as historic buildings. But their locations are often similarly attractive: farmers have seldom been shy of including a practical modern structure in a farm courtyard, or in a convenient field.
And they offer the same scope for high-ceilinged, open-plan style living.
Specialist design practices have taken on the challenge of converting metal barns into practical, energy- efficient small-industrial units and storage facilities. And into homes and holiday lets with the same kind of big-space appeal as conventional barn conversions.
The challenges of barn conversions
Barn conversions can be a money-pit: with old buildings, preserving character and working with exposed features comes at a price.

In many cases it would be cheaper per square foot to do a ground-up new build – but the finished GDV of barn conversions is far more impressive.

Over-finished conversions can lose the elements that made the building so appealing in the first place.

The planning process has been legendarily difficult – and in recent years has deterred owner-occupier developers. Which has been to the advantage of professional developers with greater patience or deeper pockets.

The Class Q process was introduced to address the problems of long-drawn-out planning applications.

By their nature, most barns and rural outbuildings are set within a cluster of farm buildings – often an L or U-shape in close proximity to the main farmhouse. But shared spaces and semi-communal living isn't to everyone's taste, particularly at the £800K+ price range.
Q: How can Class Q permitted development help me?
A: It sidesteps the need for specific planning permission.
Restrictive planning criteria, a wearyingly long application process, and plans turned down at the last minute – seemingly arbitrarily – were the blight of farm building developments.
Class Q permitted development was introduced in 2015, covering the conversion of certain buildings from agricultural to residential use.
Landowners only had to submit simple plans, and local authorities had a time limit of 56 days to decide on a property's eligibility. Failure to respond resulted in permitted development being granted automatically.

But was a development a conversion, or a rebuild that would require planning permission?

Different authorities were interpreting the regulations differently, and by the end of 2016 46% of Class Q applications were being refused: about 3,000 applications altogether.
So amendments to Class Q were introduced in April 2018, allowing a greater floorspace to be converted and increasing the number of homes that can be created. Either:
Up to 3 "larger" homes with combined floorspace up toe 465 sq m.

Up to 5 smaller homes, each less than 100 sq m.

Or a mix of both, with no more than 3 larger homes.

You still need to submit a notification to your planning authority before you start work, so the site can be checked flood risk, noise, highway safety etc.
Multi-unit barn conversions: ideal for boutique professional developers rather than private individuals
Farm buildings are usually arranged in an L or U-shape close to the main farmhouse – giving scope for a number of dwellings rather than one owner-occupier home.

The size of modern steel-frame barns allows for economies of scale in creating more units plus access, parking and landscaping.
Q: What kind of barn development can I get finance for?
A: Everything from a holiday let to a dream home for yourself
The broker organising finance for you will need the whole picture in order to source the most appropriate lending. The "exit" from your development lending is an essential part of finding the right loan for your circumstances. (Finance advisers aren't just being nosy when we ask these questions…)
1 Convert as a home for yourself
If a property has ever been, or will be, a home for yourself, the lending against it will be regulated. Which does restrict the number of available lenders and means the competition for your business isn't as strong – which may be reflected in the rates you're offered.

2 Convert to sell on
If you own the entire farm you may be aiming to sell off one of more of your converted barns to recoup capital.
3 Convert to let out for rental income
The different stress testing for a buy-to-let mortgage as your exit will be a factor to be considered.
Read our blog about redeveloping Scottish barns as buy to lets »
4 Buy to convert
If you don't yet own the property but are planning to purchase and develop, your finance will need to cover purchase costs as well, and your adviser will need to know how far along you are in your planning investigations and projected costings.
Q: Paying for my barn development: what are my finance options?
A: The structure of your borrowing is as important as the bottom-line interest rate
Unexpected costs come as standard with barn conversions: rotting beams, crumbling brickwork, the need for structural underpinning…
Barn conversions can involve significantly higher-than-average build costs before you stand to gain that impressive GDV. And for that reason it's essential you have the right type of lending, with a repayment term that's achievable, and funds available when you need them, as well as the best rate available.
1 Bridge finance
Short-term bridging loans, or bridge finance, is often used by developers who need fast finance or funding for a property that's not yet in "mortgageable" condition.
It's the type of borrowing that most first-time developers think they need, but it's not necessarily the right option:
The total amount of your agreed borrowing is drawn down on Day One, and the clock starts ticking on your interest.
If you're converting the property to be a home for yourself (or it has been your home in the past) the terms of the bridging loan will be regulated, and the loan period limited to a maximum of 12 months.
Your exit: usually onto a residential mortgage, or sale of the property. (If selling, you need to allow 3-6 months for marketing and sale completion, which can be tight on a maximum regulated loan term of 12 months.)
The number of lenders is more limited for regulated lending – depending on the scale of your project we can probably find you alternative finance with more favourable terms.
2 Refurbishment finance
Light or heavy refurbishment finance are tailored short-term lending for investment properties:
Light refurbishment lending: for cosmetic improvements and smaller-scale works costing less than 15% of the property's value, including rewiring / repainting / installing a new bathroom.
Heavy refurbishment lending: more likely to be needed for barn conversions –for major structural work costing more than 15% of the property's value, which could need planning permission / need to comply with building regulations. Rates are generally slightly higher than for light refurb lending – reflecting the lender's greater exposure.
Loan terms: usually 12 to 18 months.
Most refurbishment finance is 100% draw down on Day One.

Our detailed knowledge of different lenders' criteria allows us to take your application to the lender who can offer the best terms for your project.
For example, if planning permission / building regs aren't an issue, we may be able to find a lender who will class your works as a light refurbishment rather than a heavy refurb.
More about refurbishment finance »
3 Development finance
This type of lending is structured with staged drawdowns.
After the total amount of lending is approved, you can access it in the form of an initial advance followed by agreed tranches at specified points of project progress.
You only pay for the borrowing you've drawn down.
Lending rates are better, and you have the option to extend the term to two years.
Contact us to set up the right finance for your project
Our specialist development finance department will dig into the detail of your plans to identify the best kind of finance for you: with the right structure as well as the cheapest rate, to give you the lowest cost and the flexibility that you will need.
Call us to speak to one of our experienced advisors:
Our development finance service »
More about how a specialist broker can help you »
And if you've found this blog useful do pass it on...