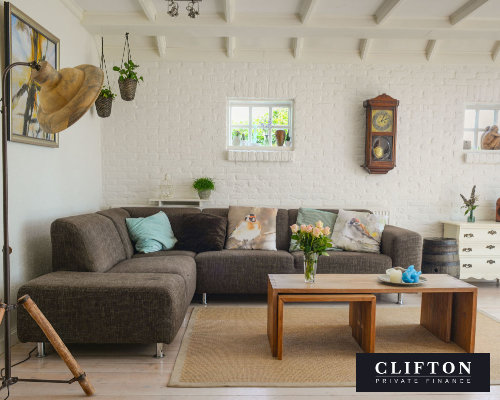 Short-term finance to complete Lancashire barn conversion
The Scenario
We were called in at the end of this self-financed barn conversion development, to arrange short-term finance that would cover the last four months to get the two adjoining dwellings from first-fix to completion.
The mum and dad had bought the barn on a hilltop outside Stockport two years earlier for a bargain £275K. Their plan was to convert it into two handsome 3-bedroom homes: one for themselves, and the other for their daughter and her partner.
The father is an experienced property developer who had funded the project to this stage. But now they needed a final cash injection of £90K to get the kitchens and bathrooms installed, decoration and landscaping work completed, plus repay £100K to the father's company.
The Solution
The daughter and her partner were currently living on-site in a static home: we needed to get them into their barn as soon as possible.
The properties were wind and watertight, which was a bonus, and in their current state were valued at just over £400K each. When completed their GDV was projected to be more than £600K each.
Setting up the lending took a little longer than usual, as there were four signatories who didn't live together, but we got it arranged in time for them, for a competitive 0.78%.