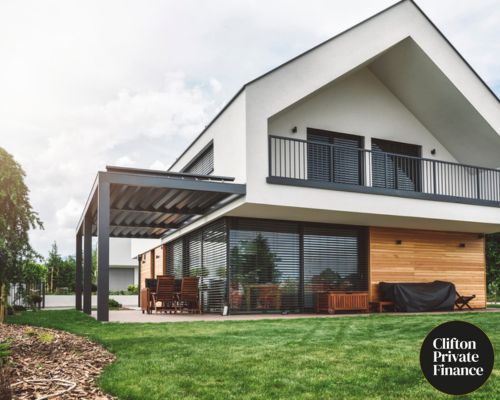 Development Loan to Refinance New Build House
Development exit finance is a crucial component in the property development toolkit, offering a solution for developers to transition from higher-cost development loans to a more economical option once the bulk of the project is complete an risk is reduced.
This case study demonstrates how it works, and showcases how our brokers negotiate finance options despite complications and tight deadlines.
The Scenario
Our clients found themselves in need of development exit finance as their original senior debt was nearing expiry.
The property in question was a unique new build: a 5-bedroom detached executive dwelling developed in a barn conversion style, located in Daventry, and valued at £2,125,000.
With the property recently put on the market, their exit strategy was clear: the sale of the asset. However, the unique nature of the property (a high-value single dwelling in a fairly rural location which could be slow to sell) coupled with a significant time pressure, presented a unique challenge.
They had a tight window of just 5 weeks to raise the exit loan and repay their existing finance on time.
They were also coming off the back of a recent down valuation that would reduce their loan to value (LTV) to 75% for their application – which is generally the maximum limit for this type of development finance.
And a further complication was the absence of any background assets for Personal Guarantees (PGs). A PG is a commitment made by an individual, typically a director or shareholder of a company, to personally repay the bridging loan if the business cannot (in this case, the development company).
They'll typically put down their own personal assets as security in addition to the property owned by the limited company.
The Solution
We approached two lenders offering specialist development exit products, and put forward a comprehensive application to quash any uncertainties around the lack of PGs, high LTV and fairly illiquid asset.
From initiation to completion, the entire process was wrapped up in the crucial 5-week timeframe, showcasing our ability to deliver under pressure when it matters.