Categories
How To Get A Bridging Loan In Scotland
05-January-2023
05-January-2023 18:01
in Bridging
by Jennifer Stevenson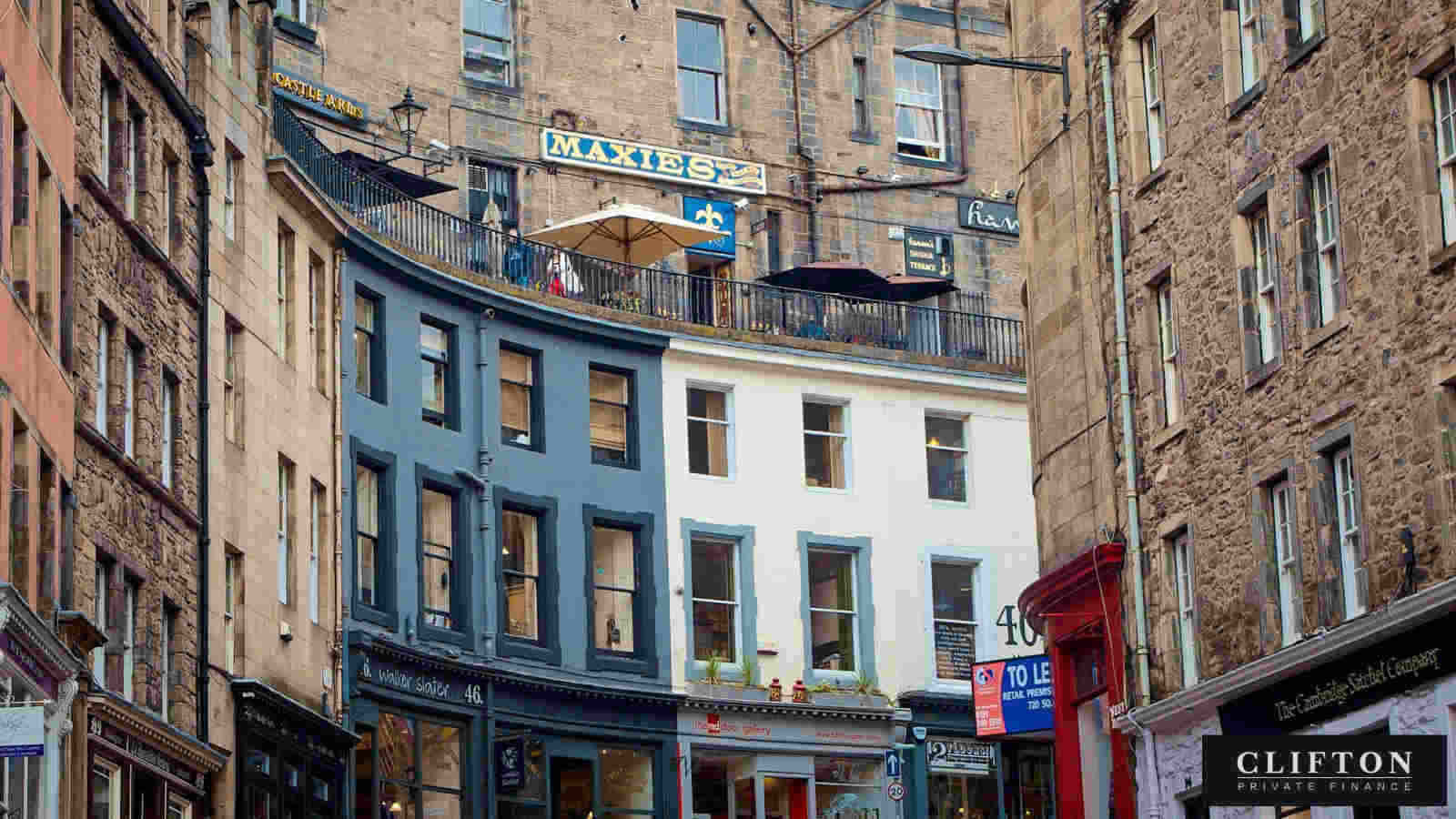 Acting quickly when opportunities arise is essential to closing deals in Scotland's property market. And this is where bridging finance comes in.
Whether you're looking to buy Scottish property for commercial or residential purposes, having fast finance in place will save you from losing an opportunity to another buyer.
This guide breaks down the basics of bridging loans and how to use them to buy property in Scotland.
Skip to:
---
How much can I borrow with a bridging loan in Scotland?
---
The issues with mortgages from traditional lenders
---
How bridge finance for property purchases works
---
5 advantages of using a bridging loan
---
What can a bridging loan be used for?
---
How can I get a bridging loan in Scotland?
What is a bridging loan?
A bridging loan is a type of short term property finance.
They're often used to bridge the gap between buying one property and selling another, but their uses are much more varied than this.
What they ultimately offer is flexibility in the market. For example, you can get a bridging loan in a matter of weeks (or even days), secure the purchase of a property, and then refinance later with no time pressures.
And although they can be expensive compared to standard mortgages, you won't be using bridging finance for long - the typical terms are 12 or 18 months, but you'll only pay interest for as long as you're borrowing.
How much can I borrow with a bridging loan in Scotland?
For a quick calculation of how much you could access with a bridging loan, use our bridging loan calculator:

The issues with mortgages from traditional lenders
The first port of call for many borrowers is a high street bank or building society with a history of arranging mortgages and unsecured loans.
But it's very possible that trying to arrange a mortgage with a traditional lender is not the most suitable finance for your situation. Especially if you need to move quickly or you're buying an unmortgageable property.
Firstly, traditional lenders assessing mortgage affordability will ask for detailed information to establish whether they are happy to lend in principle.
If you're buying property for an investment, such as a buy to let, traditional lenders will require full sight of your property portfolio and income to ensure you have the experience and affordability to take on a commercial property venture.
Depending on the lender, this assessment process can take many weeks - and time may not be on your side.

Secondly, traditional lenders may be unable or reluctant to provide finance for certain property types. For example, high street lenders will not grant a mortgage to buy an "unmortgageable" property.
A property is classified as unmortgageable by a bank if its value is under £50,000, has structural issues, doesn't have a bathroom or kitchen, or is defined as derelict.
But for the adventurous Scottish investor with experience in extensive building works looking to renovate-to-rent or renovate-to-sell, these are the very properties that offer excellent margins for profit. So, you'll need an alternative type of property finance.
How bridge finance for property purchases works
A bridging loan is effectively mortgage finance for the short term: usually a maximum of 12 months for a residential property and up to 18 months (but possibly longer) for an investment property.
They're used to "bridge" the gap until long-term finance (a mortgage) can be arranged, or the property is sold (or you sell a different property or asset to raise the capital).
It gives access to similar amounts of finance as a mortgage, but the borrowing costs are structured for the short term.
Interest is quoted as a monthly rather than an annual figure because it's likely that the borrowing will be repaid in less than a year.
And after the first minimum loan period (usually a month), it's charged daily. So, a bridge loan repaid in a month and a half will have interest charged for one month and 14 days - not two complete months.

5 advantages of using a bridging loan

Speed: Bridge finance can typically be arranged much more quickly than a mortgage - within days or weeks rather than months.

Borrowing power: Bridging loans are secured against the property value (hence, they're unavailable to first-time buyers). The focus on property value rather than your income or credit record can make finance available to you if you have a poor credit history or lower income.

Cost convenience: For regulated bridging loans secured against the value of your personal home, interest will be "rolled up" into the total amount of your loan, to be repaid by your exit strategy at the end. This relieves financial pressure if you're already paying for a personal mortgage. The same option is available to non-regulated investor borrowers to reduce the pressure on your cash flow throughout your renovation project.

Flexibility: Terms can be agreed upon to suit your circumstances and projections. An experienced mortgage broker will advise arranging your loan period for the longest-available terms to allow for unexpected delays. Still, it's possible to access bridge lending with no early-repayment penalties if you're ready to exit sooner.

Loan size: It's possible to secure high loan-to-value (LTV) financing with a bridge loan. Many lenders are willing to offer 75% LTV terms, with some offering up to 80% or even 100% LTV with additional security. The ability to source such a significant percentage of the finance needed gives borrowers effective leverage in buying property in Scotland.
What can a bridging loan be used for?
The flexibility of bridge finance is one of its great advantages to borrowers. The specialist, off-the-high-street lenders who offer it frequently specialise in different lending areas and can take a more bespoke, nuanced view of your needs and circumstances.
The two main uses are residential and commercial properties:
Bridge loan to buy Scottish residential property
The outdated reputation of bridging loans as a niche, largely inaccessible form of finance for only professional developers and investors no longer reflects the current property finance market.
If you want to buy a property for your personal residential use, a bridging loan can be a fast and very effective way to secure the property you want. And at a cost which - within the overall picture of property finance - is less expensive than you may anticipate. Plus, it will save you valuable time, which could be critical to your purchase.
Here are 3 great example uses of residential bridge loans:
Residential purchasers moving to Scotland from overseas or different parts of the UK will be under pressure to purchase within a short time frame. Bridge finance can enable you to buy before you've sold a property elsewhere, taking the additional stress out of the process.


Unique, historic or bargain-priced repossessed properties ripe for investing time and care in as dream-home renovation projects often only come up for sale by auction. Unless you're a cash buyer with appropriately deep pockets, bridge finance will be your only option to complete a purchase within the required 28 days.


If you want to downsize and your existing property has not yet sold, the great advantage of access to bridging loan equity is that it can buy you a comparatively painless transition. You can arrange a seamless one-move, delay moving into your new home until renovations are completed, or take your time to allow your old home to achieve its market value.
Related: Our guide to comparing the best bridging loans.
Bridge loan to buy property for investment or commercial use
Using a bridging loan may be your best option if you're looking to buy a commercial property such as a shop or restaurant.
Unlike traditional lenders, who require a lot of documentary evidence to approve a loan for a commercial property, bridging loan lenders will be focused on your ability to repay. What you need is a robust exit plan.
Finding purchase finance for a mixed-use property, such as a shop or pub with a flat upstairs, can be difficult. But a well-connected mortgage broker can find you bridge finance to achieve your purchase and find an exit solution with you.
How much does a bridging loan cost?
Here are some of the latest bridging loan interest rates we've secured for recent clients:
Residential
Buying Before Selling?
Rates from:
0.50% pm
Downsizing/Upsizing

Releasing Funds From Your Home

Short-Term Lease Finance

Auction Purchase

As at 8th June 2023
Development & Refurb
Fast Finance
Rates from:
0.50% pm
Light & Heavy Refurb

Finance For Unmortgageable Properties

Land Purchase with planning

As at 8th June 2023
Residential
Large Bridging Loans
Rates from:
0.50% pm
Up to 80% LTV

Minimum Loan £500k

Minimum net income £100k

As at 8th June 2023
Contact Us
Thank You for your interest - please complete the form below and a member of our team will be in contact.
How can I get a bridging loan in Scotland?
If you want to buy property in Scotland, we can help.
And if you're unsure whether a bridging loan is more appropriate for you than a standard mortgage, we can identify the best option.
Clifton Private Finance has a wealth of experience in providing bridging finance for properties across Scotland, including Glasgow, Edinburgh, Fife, Dundee and Aberdeen.
Our strength as a specialist property finance broker is our extensive network of lenders we work with daily to secure the best financial solutions for our clients.
To discuss your purchasing options using bridging finance, call our team to arrange a convenient time for you:
Or book a consultation with us directly: