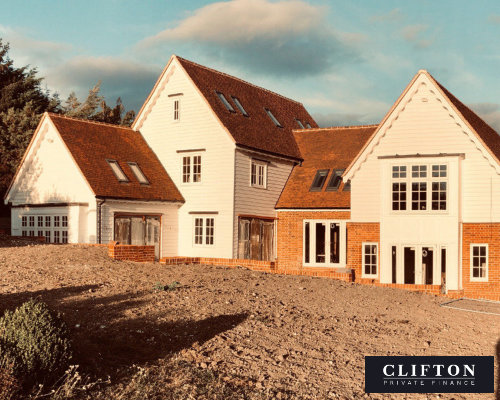 £1M-Plus Development Finance in Essex to Finish and Exit
We arranged exit finance for another scheme by this developer, and he was delighted for us to set up a similar solution on this project.
The Scenario
The property was a high-spec luxury home (six bedrooms, four bathrooms, big garden…) being built by our HNW experienced developer client. It's just outside the picturesque medieval market town of Saffron Walden, an hour's commute from London.
His properties are finished to a high standard - there was no more than three to four weeks' work remaining to be done on this scheme: final fix, the completion of decoration, plus landscaping and installation of electric gates.
But there was a hard deadline to getting this finance in place. Our client's £1.05M development finance was coming to an end, and in less a month his borrowing currently costing 1% a month would go onto his lender's default rate.
This wasn't the right structure of lending for this client: a 12-month deadline on new-build finance is very restrictive, even for an experienced builder-developer. His current lender wasn't willing to extend the loan term by even a few weeks, and their default rate is punitive.
The challenges: standard bridging finance wasn't an option because the project wasn't yet at practical completion.
And many financers aren't keen on large single asset lending – they like the safety net of having their risk spread over a number of residential units which could be sold off to recoup their capital, if necessary.
The Solution
We work with a specialist lender who has developed a niche finance solution for exactly this kind of situation.
Within two days we had an offer of finance for the £50K needed to complete the building works, plus the £1.05M our client needed to repay his original lender. Lending was offered at 0.99%, secured against a valuation of the property in its current state at £1.5M.
The GDV on completion was valued at £1.6M, giving our client the option to exit onto a buy to let mortgage at 75% loan to value.
He's very pleased, and we're proceeding with refinancing his other development sites.