Categories
New Mortgage Launch: High LTV At 10 Year Fixed Rate
26-May-2022
26-May-2022 16:44
in Private clients
by Sam Hodgson
An 80% LTV mortgage product with a 10 year fixed rate is available with the option to pay interest only as well as make repayments. It is ideal for aspiring professionals earning bonus or dividend income, buyers looking to upsize, and first time buyers who may have the income to support a large mortgage but lack the funds for a substantial deposit.
Most lenders only offer this type of mortgage, also known as a part and part mortgage (part repayment, part interest), at a fixed rate for 2 years. Securing this type of mortgage for a whole 10 years gives buyers the confidence to borrow more, and still have enough money to live on, with the option to make repayments when the opportunity arises - perhaps with a pending pay rise, end of year bonuses, or dividend income.
In this post, we look at:
How does a part repayment, part interest mortgage work?
What are the advantages of this new part and part mortgage?
Are there any drawbacks?
Who qualifies, and how to apply?
How does a part repayment, part interest mortgage work?
Part repayment, and part interest mortgages combine both interest-only and repayment mortgages. Typically, mortgages are either one type or the other, but in this case, the borrower can make set repayments each month towards part of the mortgage balance while also making interest payments on another chunk of the loan.
One of the main advantages of a part and part mortgage is that monthly repayments are lower than a standard repayment mortgage, but you still have the option of making some repayments over the mortgage term.
Here's an example of how this new part and part mortgage works:


If you purchase at £1M, with 80% LTV, your mortgage loan is £800,000. You borrow £300,000 on repayment and £500,000 on interest only.



You would pay the £300,000 in monthly instalments over the term of your mortgage, at a fixed rate. The remaining balance of £500,000 is paid at the end of the term.


Over a 25 year term and at a fixed rate of 3%, your payments will be £3,340.79 per month.




This compares with a monthly payment of £4,742.00 on the same loan on a repayment only basis. So you'll be saving £1,401.21 a month.


* This particular product is offered on purchase only, not a remortgage
Mortgages with part and part payments are an excellent choice if you want to lower monthly payments and maintain your disposable income. You'll also have a lower debt to pay off at the end of the mortgage term than if you had a full interest-only mortgage. If you know you can pay off part of your mortgage with investments, but not all of it, this mortgage makes a lot of sense.

What are the advantages of this new part and part mortgage?
This new part and part mortgage has some unique features that other similar mortgages currently don't offer.
Extended 10 year fixed rate (this type of mortgage usually only comes with 2 years)
In an inflationary environment, this is hard to beat. Homebuyers can enjoy much more certainty over a longer period of time. You'll know exactly what you have to pay month on month and give yourself crucial time to build your income and investments and plan your pension.
Option to make repayments
Having the flexibility to repay as you can is one of the great features of this product. So, if bonuses or dividends come in, you can pay off the interest part of the loan as your circumstances allow - you don't have to wait until the end of the term.
Strong 80% LTV
This is a strong LTV considering the long fixed rate and the market leading pricing
50% interest, 30% repayment
Part and part mortgages usually come with a higher repayment requirement. This split in interest and repayments enables buyers to keep more disposable income on a monthly basis.
Flexibility to transfer the mortgage to a new property
If you want to move within the mortgage term, you can.
FREE valuation and £999 lender's fee
This particular part and part mortgage product is being offered with a FREE valuation and a lender's fee of £999.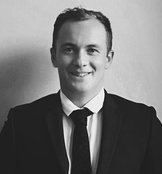 Luther Yeates
Head of Private Clients
This is a great product for young professionals and those looking toward retirement planning, offering stability in a volatile and inflationary market. The rate provided is highly competitive, with a free valuation and low fees.
Are there any drawbacks?
Part and part mortgages have no major drawbacks, but there are certain things you should keep in mind.
There can be an outstanding payment at the end of the mortgage term so it's important to have a strategy in place to make this payment.
The balance of your mortgage reduces at a lower rate owing to the interest only portion
It may take longer to repay your mortgage.
Early repayment charges last longer, but, you do still have the option to overpay in the fixed period.
A part and part mortgage is a good compromise between a repayment mortgage and an interest-only mortgage. It allows you to keep monthly repayments down while also paying off a portion of the outstanding balance.
Who qualifies, and how to apply?
As with all interest only mortgages, a repayment is made at the end of the mortgage term so it is important that you can demonstrate a viable exit strategy/vehicle as well as meet standard mortgage application criteria:
An acceptable exit plan to pay off any outstanding debt at the end of the mortgage term
Income and affordability - you'll need to prove you can make repayments on this part of the loan
Your credit history
Your age
Type of property you are purchasing
To apply for this part and part mortgage we strongly advise booking a free consultation with one of our expert mortgage advisors who will be able to explain the product in more depth and help you understand if it is the right fit for you.
You will be given expert advice, and after a full evaluation of your individual circumstances and identifying your specific needs, we can determine if this particular part and part mortgage will serve you best, or if another product might be better.
Book a FREE and no obligation consultation at a time to suit you:
You may find this interesting: How to get a mortgage 5 or 6 times your salary