Categories
How to get finance to buy a property at auction
13-December-2016
13-December-2016 19:59
in Bridging
by Jennifer Stevenson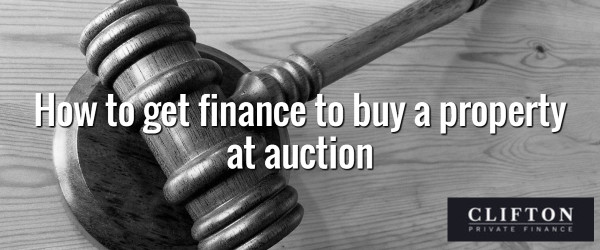 When buying properties at auction, you usually have a maximum of 28 days (or 20 working days) from the date of the auction to complete the sale. This means you must either have the maximum price you are willing to pay for a property available before you bid, or be able to quickly secure the necessary finance after you win a lot.
Although many people who buy at auction prefer to pay in cash, it is often possible to borrow the money you need to complete on an auction purchase. A traditional mortgage is generally not an option, for two reasons.
Firstly, if you apply before the auction date and then don't win the property you wanted to bid on, the application costs for the mortgage will have been wasted.
Secondly, if you choose to wait until after the auction when you have won a property, the application process for a normal mortgage is likely to take too long. This means you won't be able to secure the money in time to complete your purchase.
Fortunately, many lenders offer an alternative form of short term finance known as a bridging loan. These allow you to similar amounts to with a traditional mortgage, but can be arranged much faster, allowing you to move forward with a purchase within the necessary timeframe for auction finance.
How to apply for short term auction finance
Obviously it would be risky to bid on a property at auction without knowing whether you will be able to raise the finance you need to pay for it if your bidding is successful. Fortunately, most lenders will be willing to make an offer in principle for a bridging loan before an auction.
An offer in principle should give you a good idea of exactly how much you will be able to borrow and what the repayments are likely to be.
It is important to remember that the exact terms you are offered when you go forward with your loan application may differ slightly from those included in the offer in principle, especially depending on the exact outcome of the auction.
To receive an offer in principle your lender will need to know:
Which lot you will be bidding on
The maximum bid you are willing to make
What you plan to do with the property in question
How you intend to repay the bridging loan
Once you win a lot at auction, you need to let your lender know the final sale price and any other issues which may have come to light on the day of the auction. They will then make a final offer including the exact repayment terms you will be expected to abide by.
How long does it take to get a bridging loan?
Exactly how long it will take from making an enquiry to having the money in your account will vary depending on your circumstances and which loan provider you use.
Many lenders will be willing to make a decision over the phone within minutes and some may be able to get the money into your account within as little as 5 working days.
How long it takes the money to reach you will depend on the complexity of your individual situation. Getting an offer in principle before the auction can help to speed up this process.
How long do bridging loans last for?
Bridging loans are intended as short term finance, so are usually designed to last for 12 months or less. However, some lenders may be willing to lend for up to 3 years depending on the circumstances.
How long you have to pay will normally be agreed up front and you may agree a specific repayment date or else a date by which the loan must be paid back, although it can be paid any time before this. There will usually be significant penalties if you do not repay a bridging loan on time and your property may be repossessed to cover the debt.
How much do bridging loans cost?
Bridging loans generally come with fairly high interest rates. This means they can be an expensive way to borrow if you do not have a plan in place to repay the loan promptly.
Rolled-up interest – Depending on the lender as a borrower you can sometimes choose to have interest payments rolled up. This means that you do not have to service the interest every month but instead pay the rolled up interest at the end of the bridge term. This is suited to borrowers unable to make monthly interest payments. In these circumstances, interest is typically compounded. So, while you will not pay interest monthly, the repayment at the end of the term will be larger.
As well as interest on the loan there will usually be a lender fee typically between 1% to 2% of the loan. Some lenders may also charge an exit fee. Other fees include broker fees, valuation fees and solicitor fees. These charges will all be covered in the terms provided to you before you decide to go ahead.
How are bridging loans repaid?
Generally speaking, bridging loans are paid off in one of two ways.
Either by selling the property on or
refinancing with a more traditional mortgage
It is worth bearing in mind that some lenders will not give a mortgage on a newly purchased property for at least six months, so this should be factored into your plans.
Find the best rates on auction finance
If you need to find auction finance fast but still want to take advantage of the best rates available, it is highly advisable to use a bridging loan broker.
They should have the knowledge and experience to match your borrowing requirements and personal circumstances with the lenders offering the best deals for you. That way you can get the money you need, when you need it at a rate you can afford.
Our highly experienced team can help you access the best deals on short term auction finance from across the market. To find out more call us on 0117 959 5094 or request a callback