Categories
Property Development Finance For A Bristol Residential New Build
10-January-2018
10-January-2018 9:41
in Development
by Admin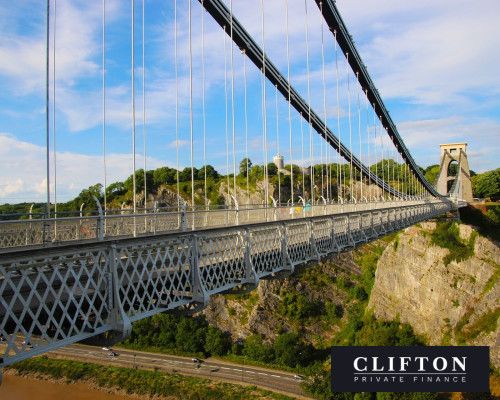 A growing market
The latest reported figures from the Office of National Statistics suggest that 80 people are moving from London to Bristol a week.
This has had a significant effect on Bristol's population. In 2017 Bristol County Council reported that the population of the city had grown to an estimated 454,200 people. The council predicted that if this trend continues the city's population will increase to over half a million by 2027.
As the number of people moving to and living in Bristol increases, so does the demand for housing. This influx of people in need of places to live is a great opportunity for property developers in Bristol.
Funding a new residential build
If you are a property developer in Bristol, 2018 may be the time to capitalise on the city's growing popularity and begin another project such as a residential new build.
The difference between a successful property development and a failed project may be readily available finance.
Building a new residential property has a multitude of expenses including land purchase, solicitor costs, professional surveyor fees, insurance and development costs
One of the biggest hurdles that developers face is getting adequate funding for their development.
If you wish to build a new residential property in Bristol, you may want to consider the following property finance options.
Issues with high street lenders
Some property developers will initially consider getting the funding they need from a traditional lender such as a high street bank.
If you are tempted to approach a high street bank for property finance, you should familiarise yourself with the process and the issues that developers face with traditional lenders.
All the time in the world …
Property development can be an expensive business, budgets can be tight and you are bound to incur some unforeseeable costs. Unforeseeable costs are something that you may have to accept; however, you can minimise other factors that can increase the overall cost of a development. An unnecessary delay is a sure-fire way of adding further cost to your new residential build.
A common complaint in relation to traditional lenders is how long and stressful their applications are. An application with a traditional lender can take up to several weeks or even months to process.
Waiting up to several months to receive the funding you need can stop your development project in its tracks and you may find yourself waiting longer than you had planned to start construction.
The larger the delay, the longer your project will take to complete and, ultimately, the higher the cost.
Refuse to fund the entire project …
Unless you have a large amount of capital that you are prepared to use, you may need a significant amount of finance to start your residential development. It should be noted that typically traditional lenders are reluctant to fund an entire project. It is more likely that they will agree to provide a percentage of the development costs for a new build.
This could be an issue. For example, if you secure 60% of the costs from a traditional lender, you may be forced to use your own capital and/or approach another lender to make up the remaining 40%.
Stage release funds …
Not only are traditional lenders often prepared to provide up to a certain percentage of development costs, but they are likely to only release it in stages following periodic inspection of your project.
Releasing funds in stages may be frustrating for a number of reasons. The lender may only be prepared to release the funds after certain work is done, which can put you in a difficult position because you may need the funds to complete said work. Also, the need for inspection (and sometimes re-inspection) may cause significant delays and could increase the overall cost of your development.
Talking about experience …
Finally, traditional lenders are not prepared to grant property development finance to everyone. The lender's appetite to lend will depend heavily on the developer's experience and their personal financial circumstances. Therefore, if you have not got a proven track record of successful residential projects then you may struggle to secure property finance from a traditional lender.
Need for a Broker
Although traditional lenders can make getting property finance difficult, it is still possible to source the funding required from other lenders.
If you want property finance for a residential build in Bristol, but you want to avoid the many issues traditional lenders can cause, it is advisable to contact a broker.
As a specialist property finance lender, Clifton Private Finance can get the funding you need for your new residential build. We have access to a wide range of financial products that could provide the right solution for your set of circumstances.
We are approached by property developers often and have a wealth of experience in assisting them reach their goals.
Clifton Private Finance Case Study
Our client, a Bristol based property developer with 12 years' experience, wanted to purchase a piece of land and complete a 6 unit development.
The land was worth £220,000 and the client needed £350,000 for development costs, they estimated the project would have a gross development value of £800,000.
The client approached a bank hoping for £280,000 for an 18 month term. Their bank was only prepared to lend the client up to 60% of the development costs and wanted the client to invest all his capital in first, meaning that they were happy to fund the project but only on a strictly in arrears basis.
Under the agreement with the bank, the overall cost of the development was projected at £620,000: £220,000 land cost, development fees of £360,000, £20,000 bank interest & fee, £10,000 professional fees and £10,000 selling fees.
So the client was being asked to put in £248,000 up front to satisfy the remaining 40%.
After consideration, the client realised that following the land purchase they would have serious cash flow issues for later in the development.
The bank was only prepared to release the funds in stages and, while credit agreements can be arranged with building suppliers, it would have put them in an unstable financial position.
The client approached us looking for finance that would minimise the cost and put him in a more secure financial position.
We were able to find funding for the gross development value of the whole project with funding being made available at the key stages of the build.
Accessible property finance
The case study above illustrates that there are many other routes to new build property finance.
---
Flipping Property?
Buying, Renovating & Selling (or Letting)
Finance Rates from
0.44% pm
1 - 18 months

Rates up to 80% LTV

As at 21st June 2019
Ground Up Development
New Builds
Finance Rates from
0.335% pm
Up to 30 months

Rates up to 70% of GDV

As at 21st June 2019
Existing Development?
Refinance & Exit Finance
Finance Rates from
0.335% pm
1 to 18 months

Rates up to 75% LTV

As at 21st June 2019
---
Below is a breakdown of the different financial products that you may want to consider for your new residential build.
Bridging loans for new residential build
Bridging loans may be viable option for your property development. A bridging loan is a type of loan that is specifically designed for short term usage; it is a fast, short term loan that can 'bridge' the gap where there is a shortfall in funding, until a more permanent type of funding can be obtained.
Property development and bridging loans...
Property development in particular lends itself to bridging loans, as bridging finance can provide between £50,000 to £25m with terms of finance from 1 to 36 months.
If you wish to start your residential development as soon as possible, you may want to consider a bridging loan because you could access a potentially large amount of money in a short time. There are even some lenders who are prepared to provide funding within 7 to 14 days.
Bridging loans also have certain features that might make them an attractive type of finance.
Easier and straightforward ...
Securing a bridging loan may be easier and more straightforward than other loans.
Where traditional lenders property finance focus on your present financial situation, bridging loan lenders focus on your ability to repay the loan.
This is why bridging loan lenders require a clear exit plan in place before granting a loan. An exit plan is the strategy in which you intend to use to repay the loan. An exit plan for you could be using the proceeds of the sale of your new residential build to repay the loan.
Interest to suit you...
It should be noted that interest rates with bridging loans are usually higher than other loans; however, bridging loans can also be more flexible in terms of interest repayment.
The majority of bridging loans come with the option to 'roll-up' interest to pay at the end of the term of finance. This allows you to avoid servicing monthly interest payments and direct your entire loan on your project.
Therefore, with a clear exit plan, you could repay the loan and interest all in one go.
In addition, there are some lenders who are even prepared to release the funds in stages and only charge interest on the capital taken. This could be a way to minimise the cost of borrowing for your project.
Bridging loan lenders typically work through intermediaries such as brokers. A good broker will be able to find the best bridging loan for you and negotiate favourable terms to suit your development.
Development finance for new residential build
Development finance provides another alternative method to fund your new residential build.
Up to 100% development finance…
There are some lenders that are prepared to fund the entire property development, also known as 100% development finance.
Lenders, who are willing to provide both the purchase price and the development costs, will only do so for developers with a portfolio of successful projects.
The prospect of up to 100% development finance may be appealing to developers, as it frees up their capital and could enable them to invest in another development.
Development finance feature …
If you have a strong track record of property development, through development finance, you could secure loans from £50,000 to £25m over a term of 3 to 24 months.
Development finance may be an option for you to use to fund your project. Even if you are unable to obtain 100% development, some lenders are prepared to provide loans up to 70% gross development value.
Although some lenders are prepared to lend to less experienced developers, if you are new to property development it is unlikely that you will be able to access the money you need through development finance.
The amount of funding that you can secure through development finance will depend on your application and negotiation, which is why many property developers use a broker.
Mezzanine finance for new residential build
Mezzanine loans are useful for shortfalls in funding. Building a new residential property can be unpredictable. Even the best developers go over budget at times and find themselves in need of more property finance.
Mezzanine loans are appropriate to use where you already have finance in place with a prime lender and you require further finance to finish your project.
A mezzanine loan sits behind the prime lender's loan as a second charge and will have a slightly higher percent of interest to reflect the additional risk to the lender.
Mezzanine gross development value…
Although mezzanine loans are a good way to increase your budget for a development, it should be noted that lenders will only provide up to 20% of the gross development value.
Therefore, it is likely that a prime lender will contribute 70%, a mezzanine lender 20% and the developer will provide the remaining 10% of the total costs.
Experience…
Similarly to development finance, mezzanine loans are only available to those with extensive experience in property development.
Mezzanine loans are not often advertised on the high street or on comparison websites; therefore, if you want a mezzanine loan, it is advisable to contact a broker.
Contact Clifton Private Finance
If you need development finance to build a new residential property in Bristol, call us today on 0117 959 5094 or use our simple contact form to get in touch.