Categories
Looking for property finance on the Cote d'Azur? How to access mortgage and short-term development funding
24-November-2019
24-November-2019 9:38
in International
by Jennifer Stevenson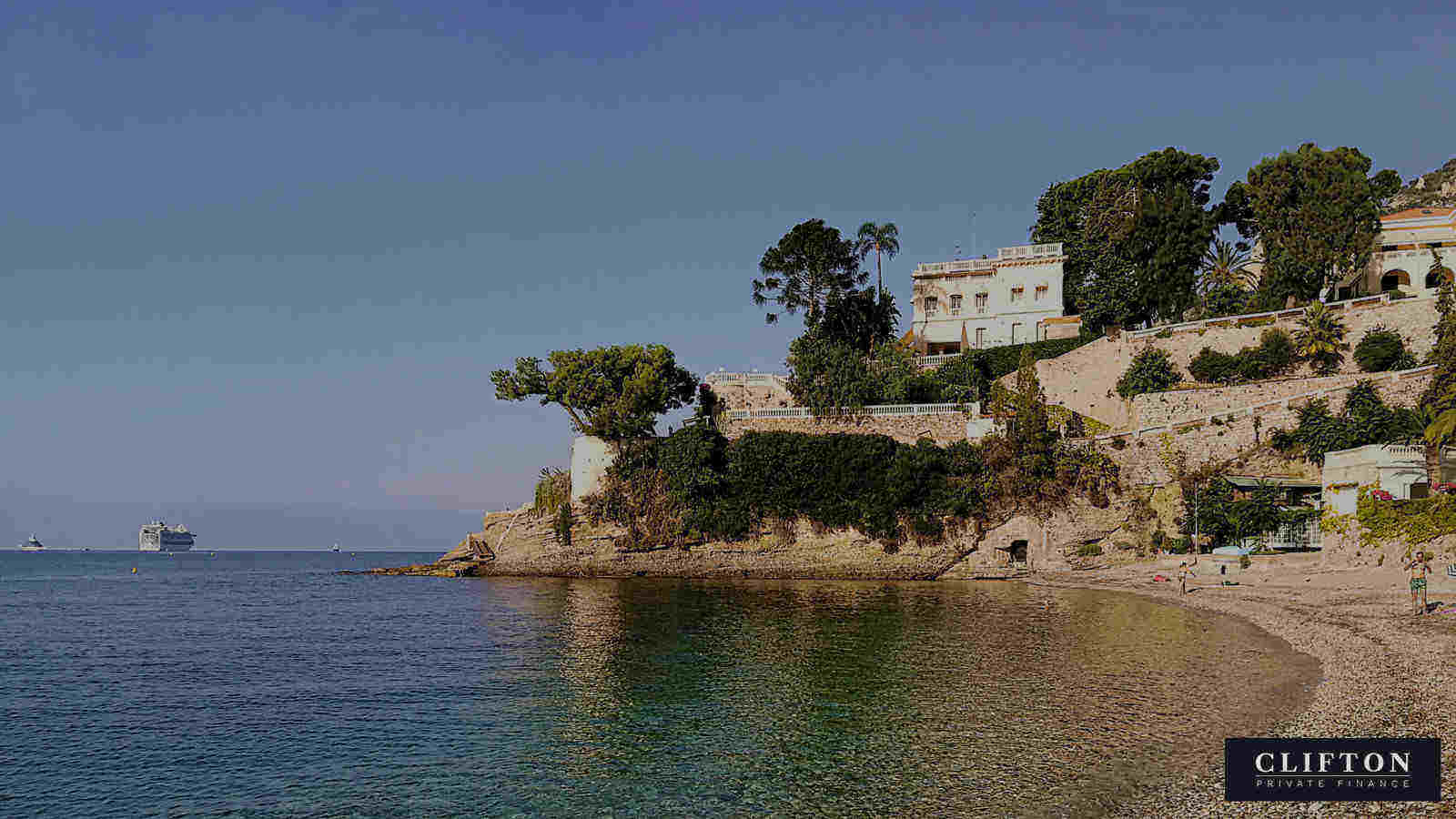 Owning property on the Côte d'Azur, or the French Riviera (as it's known to the English) buys a share in the most famous address in the world. From Saint-Tropez to Cannes, Juan-Les-Pins, Antibes, Nice, Cap-Ferrat and Monte Carlo, these are the most desirable villas and apartments it's possible to buy.
The steep coastline, with the famous hairpin turns of its Grande Corniche and Moyenne Corniche autoroutes providing spectacular views of the glittering Mediterranean (and equally glittering real estate) is mirrored in the depth of the coastal waters, which provide generous anchorages for the largest yachts of the world's superfleet.
Every year, half of all the world's superyachts will moor off these resorts, awaiting their owners' pleasure, or gathering for the annual Monaco Yacht Show each September
An unmatched location
The mountain backdrop protects the Riviera's classically Mediterranean climate: warm, sunny summers (200+ days of sunshine a year) cooled by sea breezes, and mild winters protected from cold northerly winds.

"People buy here because of the climate, the sea, the stunning scenery, magnificent food and accessibility," says Tim Swannie, Director of Marseille-based luxury property specialists Home Hunts. "There are superb beaches and the Alps are just behind, so it is a real year-round destination."
Property opportunities on the Riviera / Côte d'Azur
This is the world's most expensive, and most exclusive, property market in the world. Super-prime properties – the Belle-Epoque villas on extensive waterfront estates - rarely come on the market. They're largely family assets, passed on from one generation to the next.
Needless to say, the funding required for purchase is substantial. The palatial Le Cèdres mansion on Saint-Jean-Cap-Ferrat, owned by the Marnier-Lapostolle family of the Grand Marnier dynasty, was the world's most expensive residential property when it came on the market, complete with its 35 acres of gardens, for €1billion in 2016.
To the east, on the other side of Monaco, on the private estate of Domaine du Cap Martin, there are only 30 historic properties. In 2019 Le Figaro Properties was offering a sumptuous 10-bedroom Belle-Epoque villa with 4,000 sq m of gardens for €47.7M.
Away from these exclusive, gated estates, discerning buyers look for opportunities in prime areas such as Villefranche-sur-Mer, Èze and Roquebrune-Cap-Martin.
Conditions in the Côte d'Azur property market
Prices on the Côte d'Azur are currently on a high plateau, according to Savills World Research.
Demand for the most desirable residences comes from the international second-home market, and has more in common with other top-tier global locations than with the rest of France.
Effects of the GFC
The market slowed significantly as a result of the global financial crisis in 2007, though there were few foreclosures.
In the sub-superprime market this encouraged a focus on rental return for property investors on the French Riviera, rather than capital appreciation.

Beauchamp Estates' founder and managing director, Gary Hersham, observes that the price slow-down "has made some buyers look more at lifestyle purchases, rather than pure investment, particularly above €8 million."
Strengthening prices
In line with other prime markets, prices did improve in 2011 with buyers from merging markets (particularly the Middle East and Russia). The election of French President Francois Hollande in 2012 dented confidence, and demand fell again in 2014 as a result of falling commodity prices and a slowing French economy.
According to Paul Tostevin, associate director of Savills World Research, the election of Emmanuel Macron in 2017, and a new tax environment, was seen as a turning point.
Room for negotiation on premium Riviera properties
"Thanks to an improved national economy, demand is returning to the Côte d'Azur. However, stock levels are high, meaning it is a buyer's market," says Savills' Tostevin.
According to Savills' 2018 Spotlight: Côte d'Azur:
Purchasers are looking for prime properties
Hard negotiating on resale properties are gaining discounts of 10% - 30% on asking price
Rising numbers of younger, wealthy buyers
Highly-serviced new-build apartments are meeting the demand for high-quality, low-maintenance accommodation
Average prices per square metre have remained broadly static - close to 2006 levels

Visitors and rental returns
The Côte d'Azur has strong tourism appeal: 200 private beaches, 15 spas, 21 golf courses, 36 marinas and 17 casinos (including five in Monaco).
More than 10 million visitors come to the Riviera each year, staying a total of 65 million tourist nights.
More than half the visitors come from outside of France
British and Irish top the foreign visitor rankings
American visitors outnumber Italians and Germans for the first time in 2019
Nice Côte d'Azur Airport is connected to 96 international destinations in summer, with a 5.5% increase in passenger traffic at the start of 2019.
An all-year market
During the 19th century the Riviera "high season" (as established by aristocratic British and European visitors) was during the winter and spring months. It was only after the First World War and with greater numbers of Americans arriving that the "High Society" scene became a summer season.

From the start of December, Nice, Cannes, Antibes and Saint Paul de Vence host Christmas markets
Cagnes-sur-Mer racecourse runs a winter programme through to mid-March: trotting, flat and jump racing
Nice Carnival, mid-Feb-March (Europe's answer to Rio – the biggest in France)
The Lemon Festival, Menton, mid-Feb-March
International Cannes Shopping Festival Feb 25-28
Cannes Film Festival, mid May
Monaco Grand Prix, end May
Monaco Yacht Show, end September
Finance for property investors on the Côte d'Azur
"The high-net-worth purchasers buying second, third or fourth homes at this level aren't stretching for mortgage finance," says director of Clifton Private Finance James Caldwell.
"Nonetheless, they may need short-term funding to finance the purchase of a highly-desirable property that has become available, before the value of other assets can be liquidated."
High net worth clients also approach Clifton Private Finance looking for additional funding to carry out the quality of renovations that properties of this quality demand, says Caldwell.
"Or they may wish to access some of the equity tied up in these long-held family estates to fund further property purchases elsewhere."
To access funding from private banks, specialist lenders, family offices and private investor fund groups for a wide variety of purposes, call Clifton Private Finance at any time to discuss your needs:
More about our international property finance service at Clifton Private Finance