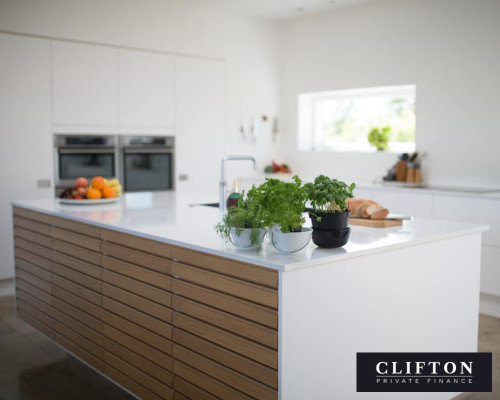 Superfast exit to a mortgage from short-term borrowing
The Scenario
Our clients needed bridging-style short-term finance to buy a heritage property in London that had suffered flood damage. The kitchen had been removed and taken back to the bare plaster, and there was no hot water supply – which made the property unmortgageable.
We found them a short-term loan that works in the same way as a bridging loan to cover the cost of purchase plus the building works necessary to bring a property up to mortgageable standard.
Like all bridge finance secured against the value of the borrower's home, it's a regulated loan.
Regulated lending can't be serviced monthly: to reduce monthly repayment pressure on borrowers the interest must be rolled up into the total amount of the loan.
All well and good – but that means the cost of interest is taken out of the funding that's available to a borrower to spend on their renovation works.
For these clients the amount of borrowing they needed was pushing close to 75% LTV. An £862K loan is pricey at that LTV, even at the extremely competitive 0.25% monthly rate we'd found for them.
Plus, record low interest rates and some pre-Brexit jitters made them keen to get locked on to a fixed-rate long-term mortgage as soon as possible.
So right at the outset we were planning to exit our clients as quickly as possible across to a mortgage with a 5-year fixed rate of 1.59%.
The Solution
We discussed all the possible hold-ups which can delay refinancing, and got all our ducks lined up ready for the day of completion.
Avoiding delays to building works: Our clients arranged access to the property pre-completion, called in all their quotes on the kitchen and plumbing works, ordered fittings and had their kitchen installer ready to start work the day after completion.
The essential renovation works were scheduled to take two weeks.
Getting a quick valuation of completed works by the mortgage lender: The purchase completed on a Friday and we submitted the application for their 5-year fixed rate mortgage the next day: on the Monday.
Having the application in the system meant that the borrower would schedule a visit by their valuer. (We could delay the valuation inspection if necessary.) The lender we went with offers free valuations, so the clients weren't having to pay for another inspection after their bridging loan valuation.
Speeding up the legal work: There's not a lot we can do about this element. The legal work is essential for a borrower's security. And the size of this mortgage meant the lender will be requiring more extensive local authority searches, which can take a couple of weeks.
We always recommend using an experienced specialist solicitor who will keep chasing up progress. But this lender offers free legal costs by having their solicitor do your legal work as well, which also makes things faster.
Address verification: This is a very basic part of a lender's application process, which is surprisingly complicated by the fact that (obviously) you will just have moved house.
Pre-empting delays in this part of the mortgage application meant finding out in advance exactly which documents the bank would want as confirmation of address, and doing what we could to get them sorted out in advance.
Our clients updated the addresses on their bank statements the same day the sale went through.
And utilities accounts in their names were set up for the day of completion.
Updating credit checks: These include address verification and also details of outstanding borrowing.
Credit reports are usually updated once a month, which meant that our client's mortgage on their previous home would still show on their credit record, and the new borrowing on this house wouldn't appear.
Applying for the exit mortgage the day after the purchase was completed with the bridging loan means that neither the sale of the previous house, nor the finance on the purchase of the new house would show on the credit file.
So we prepared copies of all the documentation which would show our clients' latest credit position. Refinance was in place within weeks of their short-term finance being paid out.
Mathew Phillips
Finance Broker
Bristol
0117 959 5094
Are you in a similar situation? I specialise in bridging finance at Clifton Private Finance - I will find you the best funding solution for your property transaction.
Alex Chambers
Senior Finance Broker
Bristol
0117 403 4324
Are you in a similar situation? I am a specialist in residential and investment property finance for UK and international clients at Clifton Private Finance. Please don't hesitate to get in touch for a no-cost discussion of the finance you need.
Luther Yeates
Senior Finance Broker
Bristol
0117 244 5561
Are you looking for a similar type of property finance? I have extensive experience finding residential and investment property finance for UK and international clients. Please get in touch and we can arrange a time that's convenient for you to discuss your situation.
Sam ONeill
Senior Finance Broker
Bristol
0117 959 5094
Is your situation similar? I am a bridging finance specialist at Clifton. I can find a quick, cost-effective solution for the funding you're looking for.
Robert Gibb
Senior Finance Broker
Bristol
0117 959 5094
Are you looking for mortgage or short-term finance for residential or buy-to-let property (including HMOs)? I have extensive experience in finding property finance solutions for UK and international clients, both as individuals and limited companies. Please give me a call and let me see what I can do for you.
Adam Arnott
Associate Director
Bristol
0117 205 0214
Is your situation similar to this? I have extensive experience of advising clients who need creative property finance solutions. Please get in touch and we can arrange a time that suits you for a detailed discussion of your requirements.