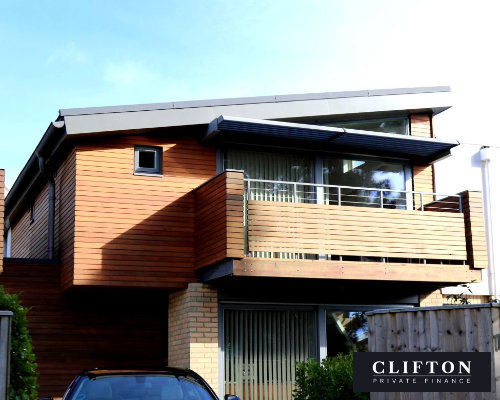 Large self-build mortgage to rebuild Grand Designs family home
The Scenario
Our clients are a high-earning young professional couple who bought not-quite-the-worst house in the best street: a corner plot on a leafy road overlooking Hove park, just seven minutes from the Brighton seafront.
Three years later they were planning to knock their home down and build their own Grand Design.
The current three-bed house, valued at £850K, was never going to win an architectural awards. But other properties in the street had been redeveloped with some design flair, so there was some leeway from the planning authority to be bold with a modern design and materials.
Our clients were planning to spend £750K to get the five-bedroom home they'd envisioned, which would eventually be valued at £2M.
The Solution
In the meantime they were looking at a build project of up to a year. During which time the value of their property would be slashed while the house was reduced to a hole in the ground.
They needed a lender comfortable with that level of risk, who'd offer affordable finance that would be available in staged tranches, so they wouldn't be paying for money they weren't using.
The couple were originally looking at development finance. But they had the capacity to pay off their mortgage, which opened up the field of possible lenders. And they had high-enough monthly income to pay the monthly costs of servicing a self-build mortgage, so that's where we went looking.
We found them a two-year, interest-only self-build mortgage deal from a private bank. There are no early repayment charges, so as soon as the build is complete they can remortgage.
The rate was a very manageable 3.25% over base rate (adding up to just on 4%pa at current rates), with a 2% lender's arrangement fee.
The interest rate for conventional development finance, by contrast, would have been at least 2.5x higher, plus as a regulated loan on a personal home there would be no option to service the interest monthly, and it would be compounding over the loan term.
Our clients are now getting packed up to move out, and get the demolition works underway.