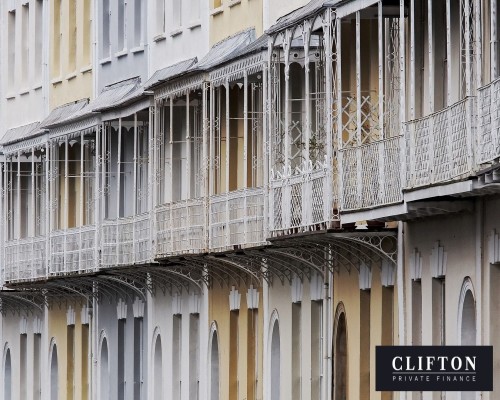 Fast UK Mortgage for home purchase for returning British expat and foreign national partner
We're always going to push a lender if we think a client's situation could fit their criteria.
When an application is easy for them to say No to, it pays to anticipate any objections that may be raised, and have all the backup paperwork in hand.
The Scenario
Our clients work for an international professional services firm: initially in London but seconded to Indonesia for the past two years. They were preparing to move back to the UK and wanted to buy a home in Bristol where the husband's family lives, and an easy commute to London.
They'd found the property they wanted: a prestige Georgian terraced house on a square in Bristol's Clifton. Now they were back in Indonesia and wanted to get the purchase completed in seven weeks, in time for their relocation back to Britain.
The husband is British and had owned a property here which was providing the deposit for this purchase. But the key features of their situation ruled out many lenders, or meant that they would be treated as expat borrowers:
The wife is American: eligible for UK residency on a spousal visa, but nonetheless classed as a "foreign national"
They hadn't been in the UK for the two years prior to purchase
They would be out of the country when the purchase was completed
They were earning in rupiah
The loan size was approaching £1M
The Solution
Commonly, lenders will consider local lending terms for ex-UK expats only when you've been back in the country for six months.
If the application includes a foreign national partner they're generally looking for you to have been back in the UK for 12-24 months.
We knew there was only one bank who would let the lending go through before they were in the country without classing them as expat borrowers. A foreign national spouse might be a stretch for them, but we could show:
They're both working (and will continue to work) for reputable international company
They had both been working in the UK two years ago
The wife had worked in London for five years before their move to Asia (on a Tier 2 skilled visa)
When we first contacted the lender and got a doubtful reception we urged our contact to talk to their underwriters. He was slightly surprised to come back with a positive response: "We can make an exception…"
We had an AIP for our clients the same day they'd contacted us, subject to valuation, and their purchase offer was accepted two days later.
Meanwhile we were second-guessing any employment continuity queries the lender might have on full app, and gathering supporting evidence from both our clients.
Our client's offer was accepted two days after they had their AIP, and we had their full application submitted that afternoon.
We knew this lender works quickly: the valuation was booked for three days later, and the report was back the same day.
The deal we got for them was definitely the best possible for their setup:
1.39% for a two-year fix (they may be looking at moving again after two years)
A fixed product fee from the lender, rather than a percentage
Free mortgage valuation from the lender
By comparison, if they'd had to go with a conventional expat loan with another lender, they'd have been looking at:
3.14% for a two-year fix
1% product fee from the lender
Paying for the valuation