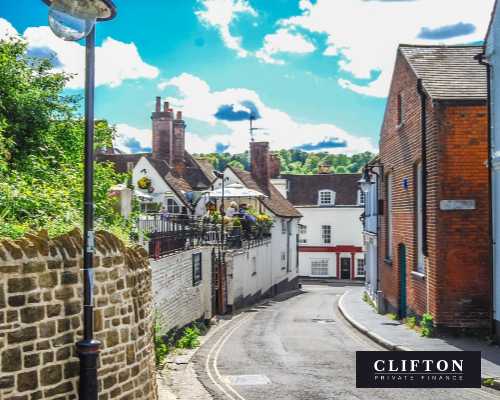 Fast and flexible 95% LTV mortgage for London law firm partner for modern Winchester residential home
London law firm partner presented us with a challenge we met - only for the property to fall through, but we rose to the second challenge presented of a tricky high LTV loan.
The Scenario
Our client is a partner in a law firm who had found his ideal modern home in Winchester, about an hour's commute from London. When he approached us, he already had a mortgage agreed with one of the most prestigious banks in the UK, but he wanted to see if we could find something to beat this offer.
The other deal was already at the point of valuation – this meant that if we found a better deal he wanted to go with, the client ran the risk of losing his property.
Also, because of this client's job as a partner in a law firm, he wanted a very specific payment plan that some lenders may be unwilling to provide- at this point it was a 90% loan to value (LTV) of £1.25M.
We found a bank which would happily lend at the ideal rate for this client which beat his previous agreement. We arranged a face to face meeting between lender and borrower the next day, to the provide the advice and also submit the full application.
So, within a week we were able to bring the client to the same position he was with the existing bank, but on much better terms.
At this point, this client was happy to move across.
The challenges: Unfortunately, the previous property was lost due to a chain break – but, the client and his wife quickly found another within a matter of months.
Because they had been so happy with the speed of our previous arrangements, they approached us once again with a request to find the exact kind of loan they wanted.
This new property was worth £1.35M – the client wanted LTV of 95% with monthly payments kept as low as possible.
Ideally, the client wanted the loan structure of 75% LTV on an interest only mortgage basis, and the remaining portion – up to 95% - on a repayment basis.
This was a challenge – many lenders would not be happy with providing terms on this basis.
The Solution
The process from start to finish was quick – even for us.
With the previous property, we found this client a lender, and they met the next day to confirm the mortgage at a better rate than previously agreed – on cheaper terms. Because we were so quick in getting the terms together for the first property, our client decided to come back to us for this second property.
Once again, our client was very pleased with the speed at which we were able to move this process.
This arrangement was on a 75% LTV interest only basis, and the remainder of 20% on a repayment basis. This provides the client the flexibility to pay down this capital balance annually. The rate of intertest charged for this loan was a competitive 2.6% APR. This will achieve 75% LTV after 5 years after capital repayments.
The deal we arranged meant that the arrangement fee was 0.5% lower than the other bank's offer, and only required the client cover their own legal fees – saving our client £6,500 in fees.
The interest rates from our bank were also 0.3% lower than the other – meaning over a 5-year period, our client saved approximately £20,000 in interest.
This meant that, by coming to us instead of sticking with the previous lender, this borrower saved a total of £26,500 – plus legal fees. Our client is delighted, and now ready to move into their home.