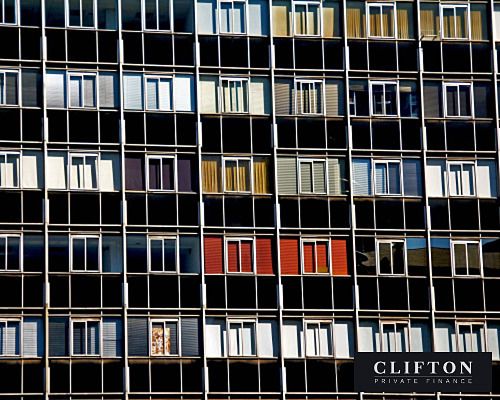 Challenging a surveyor's opinion on Grenfell-type ACM cladding for a mortgage on a central London apartment block
This was a case of not-taking-no-for-an-answer on a mortgage application on a London flat with exterior cladding that looked un-fireworthy to a lender's surveyor.
The Scenario
Our HNW client was referred to us by an associate of hers who was pleased with the work we'd done for him on his own challenging property purchase.
She was trying to buy a second flat in a slightly unprepossessing purpose-built block in London's very desirable FitzWest / Fitzrovia where she and her husband already live.
She's American, earning £300K+ per year, he's Australian, and they have a young child: they wanted additional accommodation for family when they come over to visit. As she says:
We could buy a place in the country, but this is convenient for where we work, and it works for us.
Further down the line they hope to buy a third flat in the block, for a nanny to live in.
The most immediate issue that presented for this client was her visa status.
As a non-UK citizen, this would be a concern for any lender – they're reluctant to grant mortgages to clients with limited right of residency, in case they leave the UK with arrears outstanding.
Our client was previously sponsored by her employer for a Tier 2 visa (which allows for five years' stay, extendable for a maximum of six years). She was now on a spousal visa, with the right to live and work in the UK for a maximum five years (expiring in 2021) before applying for Indefinite Leave to Remain (ILR).
The Solution
The client had come to us looking to improve on the mortage offer she had in hand from her current lender.
Being aware that she already had one mortgage, and might be looking to take on a third set of monthly payments in the foreseeable future, we went looking for lowest-outgoings, with the most advantageous mix of interest-only and repayment mortgage.
The maximum cap on borrowing for a borrower without ILR is 75%, but within that constraint we found a bank who would lend 50% of the property value as interest-only, with the other 50% as repayment.
But when the bank's surveyor inspected the property they reported that the exterior cladding panels on the building were aluminium composite material (ACM): the same type of panels implicated in the Grenfell Tower fire.
The bank weren't willing to lend unless there was a full fire risk assessment and structural survey – at our client's expense – detailing the remedial costs of replacing the panels on the entire block of flats.
Having bought their first flat in the block only 11 months previously, our client was absolutely confident that the cladding was not ACM. And renovations currently underway on their flat had clearly shown them its composition. This just looked like a surveyor having a bad day, and our client was reluctant – to say the least – to foot the bill for further surveys.
We felt that the way out of this impasse was not with assurances from the local fire service but information from the management company of the block.
Together with our client we devised a cost-free way of getting the information we needed to allay the lender's concerns, that would be robust enough to challenge the judgement of their surveyor.
With clear confirmation that the cladding panels were not ACM, the application was able to proceed. Despite the various complications we secured a full offer in just over two weeks.
Mathew Phillips
Finance Broker
Bristol
0117 959 5094
Are you in a similar situation? I specialise in bridging finance at Clifton Private Finance - I will find you the best funding solution for your property transaction.
Alex Chambers
Senior Finance Broker
Bristol
0117 403 4324
Are you in a similar situation? I am a specialist in residential and investment property finance for UK and international clients at Clifton Private Finance. Please don't hesitate to get in touch for a no-cost discussion of the finance you need.
Luther Yeates
Finance Broker
Bristol
0117 244 5561
Are you looking for a similar type of property finance? I have extensive experience finding residential and investment property finance for UK and international clients. Please get in touch and we can arrange to discuss your situation at any time that's convenient for you.
James Palmer
Senior Associate
London
0203 900 4322
Are you looking for similar property finance? I specialise in development and commercial finance for Clifton - I can find creative and commercially effective solutions for your project.
Sam ONeill
Senior Finance Broker
Bristol
0117 959 5094
Is your situation similar? I am a bridging finance specialist at Clifton. I can find a quick, cost-effective solution for the funding you're looking for.
Robert Gibb
Senior Finance Broker
Bristol
0117 959 5094
Are you looking for mortgage or short-term finance for residential or buy-to-let property (including HMOs)? I have extensive experience in finding property finance solutions for UK and international clients, both as individuals and limited companies. Please give me a call and let me see what I can do for you.
Adam Arnott
Associate Director
Bristol
0117 205 0214
Is your situation similar to this? I have extensive experience of advising clients who need creative property finance solutions. Please get in touch and we can arrange a time that suits you for a detailed discussion of your requirements.