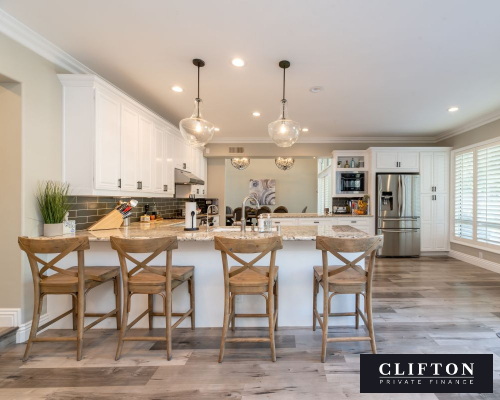 Bridge finance for Yorkshire developer to buy one of his own houses at build price
Our client is an independent developer who specialises in small, high-spec residential projects in rural Yorkshire, reflecting local architectural styles and materials.
His most recent development was four houses in a village on the edge of the Howardian Hills, built in the local sandstone, with pantile roofs.
The Scenario
Two of the "mews style" houses were sold, the third was on the market, and he wanted to keep the fourth – a four-bedroom modern barn-style house – for himself.
He'd had the house independently valued at £750K, and was looking to buy it from his development company for a build-cost price of £500K.
He was looking for £400K of bridge finance to cover the gap before his current house was sold.
The Solution
We established that the most affordable finance would be if we secured the lending against both the property being purchased and his current home, to get the lowest possible rate.
But this case was still a bit of a challenge: lenders weren't keen.
The first finance house we approached simply said it didn't "meet their criteria". We managed to establish that they were uncomfortable about the fact that our client was buying the property from his own company.
A second lender was unhappy about a purchase price that was substantially below market valuation. They were prepared to lend – but at a significantly higher rate.
Persistence paid off, and we found a lender who was willing – at a good rate: 0.65%.
And they would accept the valuation our client had already paid for on his purchase property, instead of making him pay for another. Plus he could use their in-house solicitor, to keep the legal costs down.
The exit will be the sale of his current home, plus a small mortgage on the new barn. A good result.