Bridging Finance is a short-term funding option. It is primarily used to 'bridge' a gap in funds, for a set time. Bridging finance is a short term loan, usually for 12 months or less, that can be used by individuals and businesses for any purpose, including commercial and residential property, until some form of permanent funding becomes available.
The finance is normally secured against a residential property, commercial property or land. For residential property it is typically used when there is a gap between the sale and completion dates in a chain.
One of the main selling points of bridging finance is speed. It is generally much faster to apply for and receive a bridging loan; a regular loan or mortgage can take months to complete - bridging finance can be arranged in 5 to 14 days depending on the complexity of the case.
Call us today on 0117 959 5094 or complete our callback request form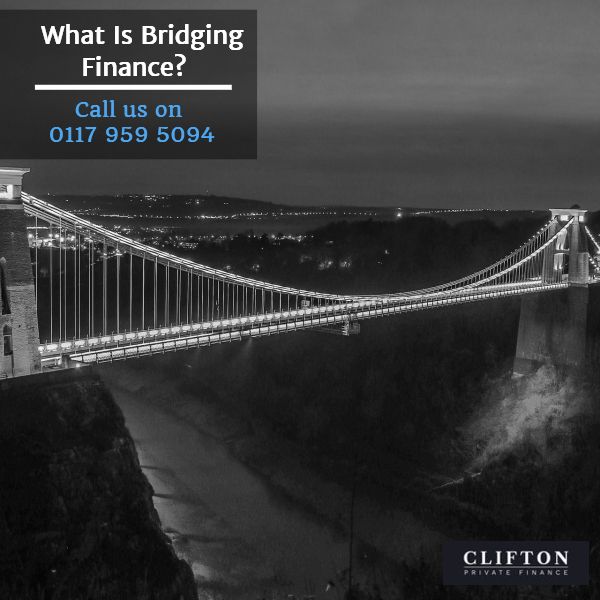 What is bridging finance used for?
Bridging finance is designed to help in a number of different ways:
To help people to purchase a property before they have sold their existing home. This allows the borrower freedom to continue with the purchase while also having the flexibility to sell the property when convenient
It's very useful for property developers as they are able to use the loan to purchase the space and make the necessary refurbishments before selling the property to pay off the loan
Bridging finance can also be useful for renovations and home conversions
Using Bridging Finance at a property auction can be incredibly useful as you're often required to put down a large deposit within a short space of time. If you haven't sold your existing property yet, bridging finance can provide you with the freedom to purchase the property rather than lose it to someone else
If there's a need to complete the transaction quickly. This might include property developers, who often have the opportunity to secure a great deal if they can complete quickly
If someone would like to purchase an uninhabitable property as traditional lenders will not lend on a property that does not have standard living facilities, such as a kitchen or bathroom, and running water
It can also be useful if you need to get planning permission as in order to obtain planning permission and secure the development funding, the developer may need instant access to finance
It is very useful for people who are downsizing their property and therefore, don't need a mortgage. Bridging finance allows people to buy a property before their existing property is sold. Allowing them the option to move faster
What does bridging finance Cost?
While bridging finance can be very convenient, it's not necessarily the cheapest way to borrow.
Typically,
Bridging finance interest rates are normally in the range of 0.6% to 2% per month depending on the loan criteria which is higher than other forms of medium and longer term borrowing
Bridging fees vary again depending on what is required - speak to us to discuss your requirements
While there are many benefits to bridging finance make sure it's right for your situation.
During the application, you may be able to choose to 'roll up' your interest which means you don't have to pay interest every month but instead pay the interest at the end of the term. This may suit borrowers who cannot make the monthly payments.
You can also choose to 'retain' the interest from the loan amount in advance, to cover the interest payments. However, interest will still be charged on this retained amount.
How do I get bridging finance?
From any reputable bridging finance broker with a proven track record.
Once you've selected a regulated bridging finance broker (hopefully us!), you can usually apply over the phone, although some providers may require that you come in to see them. Aside from your personal details, information they need could include:
The purpose of the loan
The security the bridging loan will be secured on and any outstanding finance
Loan amount
Term of the loan
A detailed explanation of how you intend to repay the loan (exit strategy e.g. sale of a property etc.)
Call us today on 0117 959 5094 or complete our callback request form
What can Bridging Finance offer?
A straightforward, short-term lending facility that can be obtained faster than a regular bank loan.
Options that can solve financing requirements on all types of residential and commercial property transactions
Another option when high loan-to-value (LTV) mortgage finance is not available
The sum of money you can borrow will depend on the lender's criteria but borrowing is typically based on loan to value with 70% LTV being a standard ceiling for more bridge lenders. Higher borrowing is possible if other assets are available. There are two kinds of repayment terms:
Closed bridge: This is when the date of the loan repayment has been confirmed. This would suit a borrower who has a known date of when they will receive their money, i.e. though the sale of a property and so know when they will be able to pay off their bridging finance.
Open bridge: The open bridge will allow a proposed time period with a clear cut-off point when the loan will have to be repaid but there is no specific date. This is better for people who know they will come in to money at a certain time but can't commit to a fixed date.
Our Bridging Finance Service
Special features of what we offer include:
Market leading bridging finance from £50,000 to £25m
Rates from 0.44% pm
Lower rates for £1 million+ finance
Terms from 3 months to 3 years
LTVs up to 80% (can be more if other assets in the background)
Interest roll up options
Residential (On a regulated basis), buy to let, HMO, investment and commercial properties considered
Light refurbishment finance (currently uninhabitable, under permitted development rules, require internal refurbishment)
Heavy refurbishment finance (extensions, basement digs, loft conversions, commercial to residential, barn conversions)
Bridging finance for business purposes (Pay HMRC tax bill, purchasing land or new premises, deposit for new purchase, business growth)
Alternative assets considered e.g. pension, investment porfolios, fine art, classic cars
Automated valuation option for properties under £1m
We provide a friendly, professional service to help you get the money you need at the best available rates
Call us today on 0117 959 5094 or complete our callback request form