Categories
Kitchen renovations: how to get a loan for UK's most popular home improvement
22-August-2019
22-August-2019 19:21
in Mortgage
by Jennifer Stevenson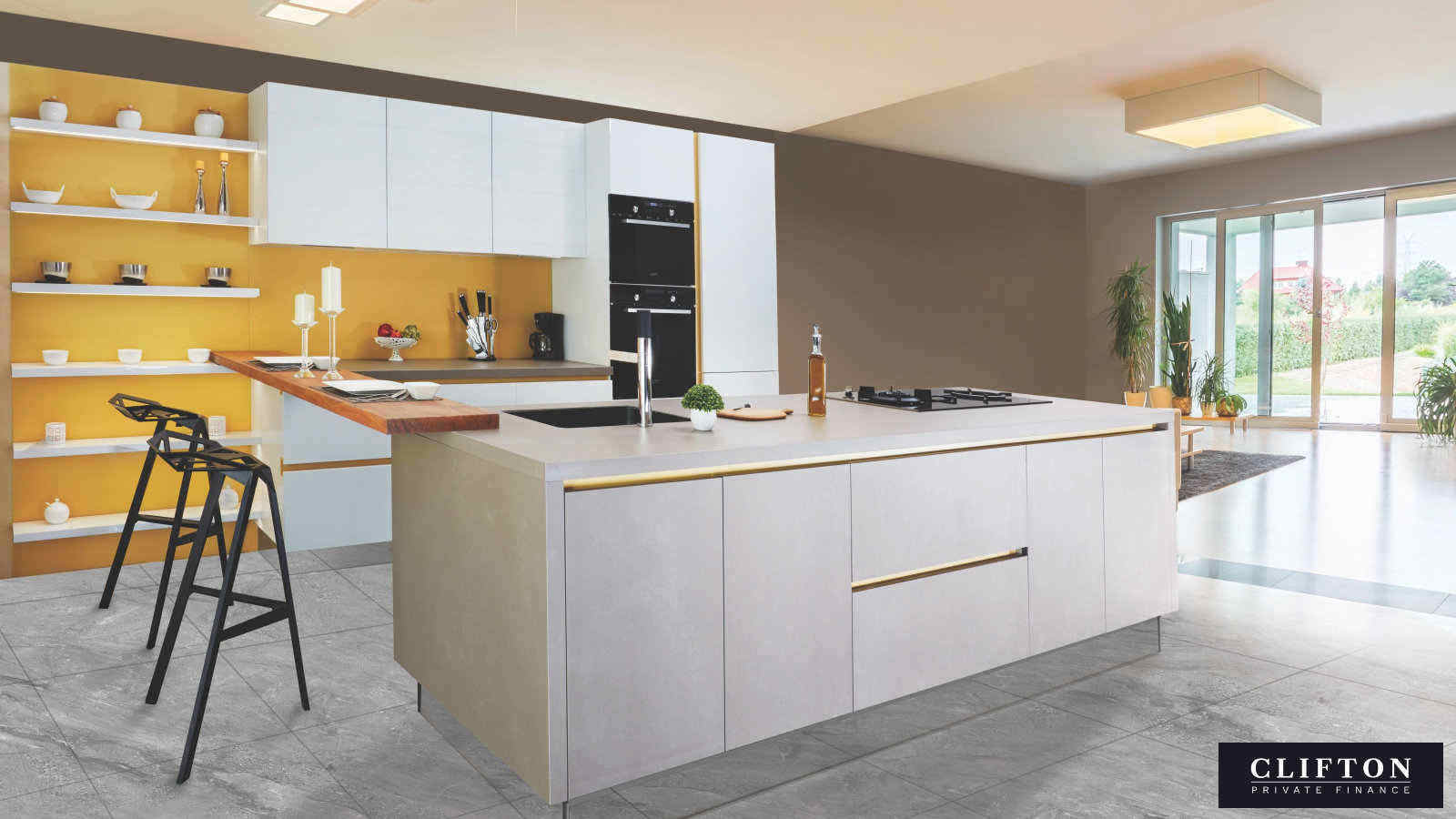 Remodelled kitchens and bathrooms, loft extensions and garden makeovers… Which building works add most to the value of your property, and what's the most cost-effective way to pay for them?
The latest research from NAEA Propertymark, the estate agents' professional body, reveals that kitchen makeovers are the most popular home improvement in the UK.
And Post Office Money has found that new kitchens have been the most common home improvement over the past five years.
You don't need to be spending as much as Gordon Ramsay's £500,000 kitchen (with its £67,000 Rorgue cooker dropped in by a crane) to be enjoying updated layout and facilities - and an uplift on your home's market price.
The league table of most-popular home improvements
According to the NAEA's survey of home-sellers, the home renovations most frequently undertaken are:
kitchen renovations (65%)
new bathrooms (29%)
extension (22%)

Which renovations add most value to a property?
According to house agents Sellfast.uk:
Kitchen renovation: +5.5%
Repainting throughout: +3.1%
New roof: +3.1%
Bathroom renovation: +2.6%
Garden improvement: +1.4%
And if you're planning a more substantial extension:
Additional bedroom: +11.2%
Loft or kitchen extension: +10.8%
Basement conversion: +6.7%
Conservatory: +6%
New bathroom: + 5.7%
But adding more space (a loft, basement or kitchen extension) doesn't necessarily add the most value. A survey by Anglican Home Improvements of homeowners and estate agents found:
Homeowners believe building an extension adds most value
Estate agents say making living space open-plan is most appealing to future buyers

How much will it cost?
Property developer and home-makeover TV presenter Kunle Barker advises that build costs can be approximately:
£1,200 per square metre for a loft or above-ground extension
£3,500 per square metre for a basement extension
"You have to be in an area that warrants that kind of work."
Rupert Reeve from estate agent Carter Jonas says reconfiguring can be more cost-effective than extending:
"We advise clients to think creatively as to how they can adapt the accommodation they've already got.
"It's worth considering removing internal walls to open up the ground floor, rather than going down the pricier route of external structural work."
Move or improve?
According to the Hiscox Renovations and Extensions Report 2018 (which surveys homeowners, estate agents and planning records around the UK):
Why stay put and renovate?
According to the Hiscox survey:
A change in personal circumstances: 36%
High prices of property you might want to buy: 25%
The cost of purchasing: stamp duty is still too high: 13%
Brexit uncertainty: 8%
Concern about rising interest rates: 8%
Will I get my money back?
"You can't say I've spent £20,000 on a kitchen and that will add £20,000 to the value of my home," says property developer Barker. "It just doesn't work like that."
A developer renovating a property to sell will approach the specs and costings of a kitchen renovation very differently to a home occupier.
If you'll be living in the property for some years to come, you'll enjoy the benefit of the standard of improvements you make, and you should allow for that in your ROI calculations.

What's the best way to pay for home renovations?
Key questions to ask yourself to decide the right kind of borrowing:
How much do you need to borrow?
For sums of less than about £25K you may be able to get an "unsecured" personal loan if your credit rating is good. A personal loan can be quick to arrange – you may be able to apply online. But it's also an expensive form of borrowing.
If you need to borrow more than £25K, for a substantial renovation that involves structural work, and perhaps extending your property, for a larger loan a lender will be looking to "secure" their money against concrete assets – the value of your property.
You will need to know the remaining balance on your mortgage – this will give you the Loan to Value (LTV) you can achieve.
The maximum LTV most lenders will consider for a second charge mortgage is 75% (ie you've built up 25% equity in your property).
But it is possible to secure 85% or more, depending on your circumstances.
For larger loan sums (for example, above £50,000) a lender may ask for evidence of the purpose of the loan.
Spending on home improvements, and building up the value of an asset, is a well-approved purpose.
How's your credit rating?
If you have some negative scores on your credit rating, or you don't have a sufficient income to support additional borrowing, you could struggle to get personal lending secured against your income.
In which case, a loan secured against the value of property – either an extension of your current mortgage, or an additional mortgage – may be the solution for you.
A "homeowner loan" or "second charge mortgage" is an additional mortgage "sitting behind" your current mortgage loan. It's structured like a mortgage, and repaid over the same kind of term.
The "security" of this kind of loan is for the lender, rather than you, the borrower. There is a risk that you could lose your property if you can't keep up with payments.
And interest paid out over the lifetime of a mortgage can prove costly in the long run.

How long is your current mortgage rate fixed for?
The cheapest way to get the additional borrowing you need is probably to "extend" the amount of your current mortgage, assuming that the cost of the works will increase the value of your home so your mortgage company's funds will be secure.
BUT… it's unlikely that your mortgagor will just add this sum on to your current borrowing arrangement.
They will usually want to set up a new mortgage agreement, which means that if you're currently on a very advantageous low fixed-term rate, you'll lose it.
A second-charge mortgage arranged with a different mortgage lender won't affect your current first-charge mortgage terms.
The second-charge loan will be at a higher interest rate, because it's a riskier form of finance for a lender. (If anything goes wrong and your house has to be sold to reclaim the mortgage debt, the first-charge lender gets repaid first.)
A good mortgage broker will be able to advise you whether it will be advantageous for you to set up an additional second-charge mortgage rather lose the current rate you already have on your much larger original mortgage.
Will your current mortgage company agree to a second charge?
The first thing you'll need to establish is that your current mortgage holder is willing to have an additional mortgage attached to the property.
How quickly do you need the loan?
Major renovations often seem to be months, or even years in the planning, and then suddenly your chosen contractor has a gap in their schedule and could start on your project in a matter of weeks.
If you're hoping to extend your current mortgage it can take a frustrating amount of time to be approved.
A second charge mortgage is surprisingly quick to set up, because the new lender is largely depending on the primary mortgage-holder's valuation of your property.
Second-charge funds can be available to you within five to 10 working days, if you've got all your application paperwork in order.

How long do you need to repay?
Do you have the income to be able to afford to repay a loan quickly, or would you like to spread out the cost of your borrowing over a 15 or 20-year mortgage term?
If you have an uneven pattern of earnings, or you know from your past payment record that you may need some flexibility on your payment schedule, ask your broker to look for a second charge mortgage that allows a "payment holiday" option.
And if you might be able to repay your second charge loan early, there are some lenders who offer second charges with no early repayment charges (ERCs), or where the ERCs end after 12 months.
Get advice on your borrowing options
Finance for property and home improvements is complex. As you can see, the most obvious option isn't always going to be available to you. Or it may not be the best answer for your circumstances.
Our advisers can talk to you about second-charge lending and how it might work for you. Give us a call on:
More about our second charge mortgage service
And if you've found this blog useful do pass it on...