Categories
How To Get Development Finance For A New Build
21-September-2017
21-September-2017 10:54
in Development
by Admin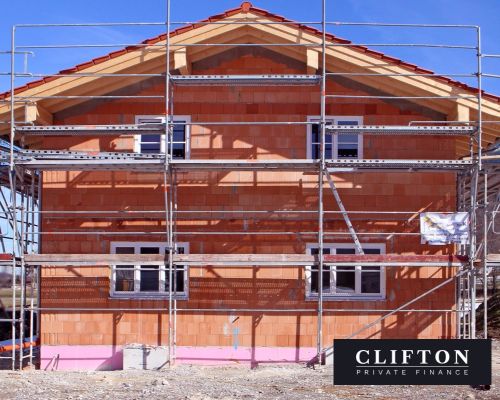 Whether you are a looking to build a new build, put a second home on your plot of land or you wish to build multi units, you need adequate finance in place to begin your project.
High Street Finance
You may think that approaching a high street bank for development finance is your best option. This may not be the case, as generally high street lenders are often not prepared to provide the entire cost of development for a new build. Typically, high street lenders are only prepared to provide a certain percentage of the costs and may require you to service the debt on a monthly basis rather than allowing you to roll up interest into the final repayment.
Not only will high street lenders only provide a percentage of the costs, but may only release the finance in stages following periodic inspection. The need for an inspection may cause significant delays because there could be times in the development of your new build where you have to wait for work to be completed before receiving more funds.
It should also be noted that applications with high street lenders may take up to several weeks or even months before they are processed. This can cause substantial delays to the construction of your new build and potentially increase the overall costs of the project.
Ultimately, getting development finance from a traditional lender may be a time consuming and stressful process. If you are looking to start building a new build and you need to act quickly or you require a significant amount of the development costs, it is advisable to use an independent finance broker who understands the options best suited for your project.
See similar: Securing a Land Mortgage: What You Need to Know
Alternative Routes to Development Finance
As a result of the traditional lenders inability to meet the needs of those who wish to develop new builds, developers have taken a more innovative approach to funding their projects.
Bridging Loans
Bridging loans are a type of short term finance that can provide a large amount of money in a short period of time e.g. within 7 to 14 working days. Bridging loans can be used for new build to bridge the gap in funding until a more permanent type of finance can be secured, such as a mortgage.
Bridging loans are an increasingly popular tool for developers as they provide:
Fast, short term finance when time is of the essence
Terms of finance between 1 and 36 months. For residential bridging finance the maximum term is 12 months where the borrower is going to live in the property on completion of the build..
Finance from £50,000 to £25m
Flexible terms to suit your needs
If you are looking to develop a new build, a bridging loan may be an ideal type of finance because they usually come with the option to 'roll-up' interest to pay at the end of the term of finance. This enables you to avoid monthly payments and focus your entire finance on the new build itself.
In addition, some bridging loan lenders do provide the option to take the money in instalments and only pay interest on the capital already taken. This may keep the cost of borrowing down, while still ensuring you have the enough money at the right time.
It should be noted that before granting a bridging loan, lenders will require you to have an exit plan in place. An exit plan is the method that you will use to repay the loan. An example of an exit plan for a new build is securing a permanent type of finance, such as a mortgage, upon completion of the project.
Development Finance
If you have experience in developing or you have a strong property portfolio, you may be able to secure up to 100% development finance.
There are some lenders that are prepared to provide the entire cost of the development of a property.
This may be an attractive type of property finance, as it could free up the rest of your capital for another new build or to invest in different project.
Development finance may provide:
Loans from £50k to 25m
Funding up to 70% Gross Development Value
Terms of finance between 3 and 24 months
As lenders require a certain amount of development experience, you are unlikely to be able to access up to 100% development finance if you are a new developer or have not built a new build before.
Mezzanine Finance
Another way that you can access additional development finance for a new build is through mezzanine finance. You may come to a point in your new build where you realise that you do not have enough in your budget to complete the project you envisioned.
A mezzanine loan can be used in the event that you already have finance in place with a prime lender but you need more to finish your project. Mezzanine loans sit behind the main loan as a second charge.
The majority of mezzanine loan lenders are prepared to provide up to 20% of the gross development value. This may be a helpful boost to your finances during development.
It is commonplace for the breakdown of funding to be:
Prime lender: 70% of the total cost
Mezzanine lender: 20% of the total cost
Developer: 10% of the total cost
Mezzanine loans:
Allows you to increase your borrowing – up to 90% of the project costs
Enables you to secure further finance – up to 70% of the gross development value
It is important to note that mezzanine loans are not available to everyone. Mezzanine lenders reserve their funding for experienced developers only. This means that if you do not have a strong portfolio of property developments or new builds then you will not be able to source a mezzanine loan.
Next Steps
If you require property finance for your new build project, you may benefit from contacting a specialist property finance broker. The financial services industry can be complex and unless you have an in-depth knowledge of the financial market, it may be difficult to find the right finance for your new build.
Not only can a property specialist finance broker explore the options available to you and find the best financial solution for your new build, but they may have access to lenders that are not available to the general public.
If you need development finance for a new build? Call us today on 0117 959 5094 or use our simple contact form to get in touch.