Categories
Our new low-cost development finance solution: more time – and cash – to finish a build project when other lenders have walked away
22-February-2020
22-February-2020 11:09
in Development
by Jennifer Stevenson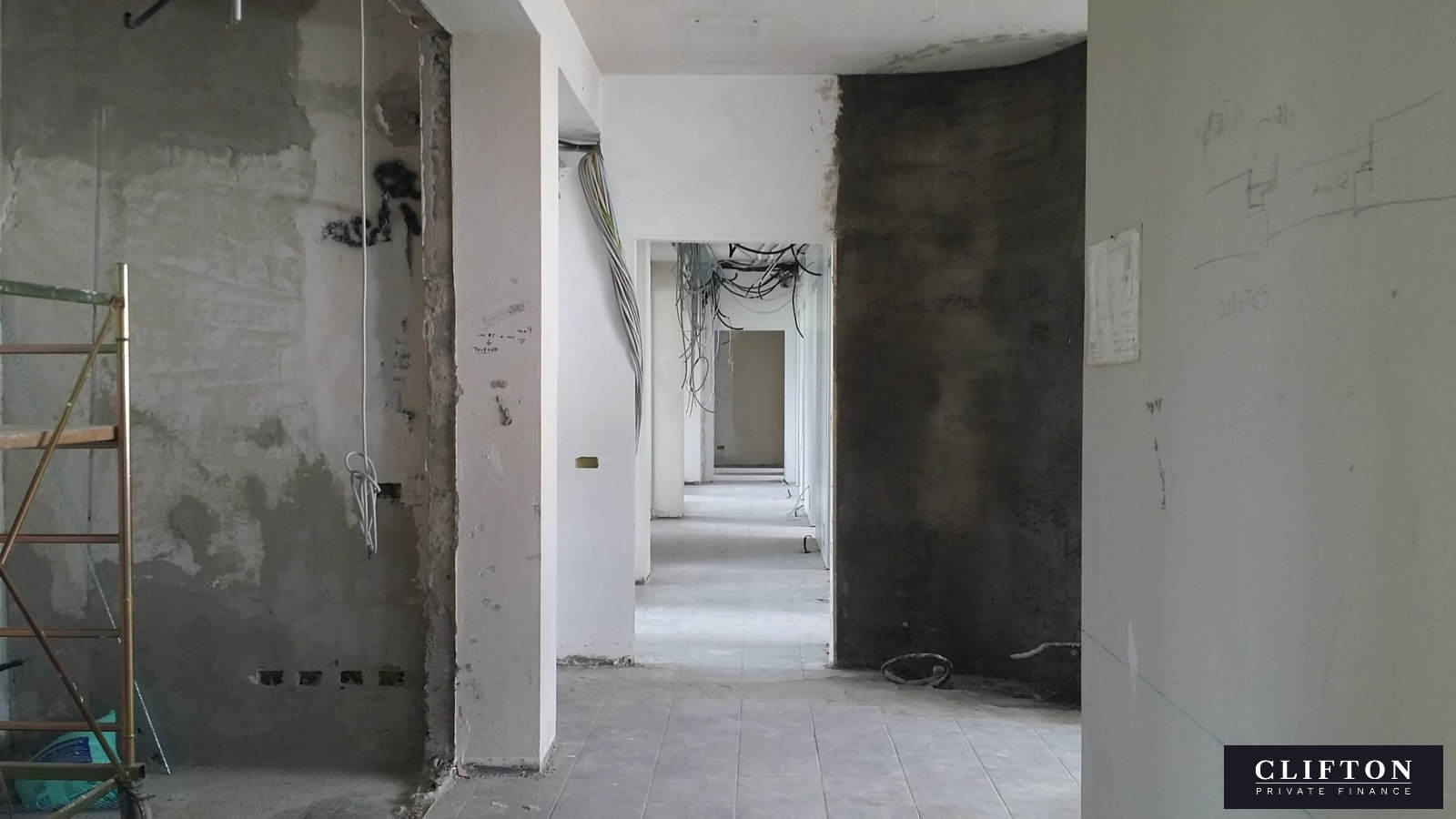 Mind the gap: are you running up against your end-of-funding deadline? Do you just need a few more weeks (or, realistically, a few more months) to get your project finished and sold – or refinanced onto a mortgage?
But your current lender won't extend your term…
Welcome to the club: a lot of clients were coming to us in this situation. They've asked their current lender to give them a bit more time, or more funding, but they haven't been willing because the project was only at wind and watertight stage.
Breathe easy: in this blog we're going to lift the covers on a couple of hybrid finance solutions we've developed in partnership with two of our specialist lenders: to help developers who've run out of time and money before practical completion.
They cover a wide range of project types.
And the costs may be much lower than alternative finance you've been offered.
Take heart, and read on.
Why won't current lenders give an extension?
Perhaps the term was too tight in the first place?
The average development finance term is usually 18 months, usually with a defined split of 12:6 for building works and sales, but terms can be as short at 12 months in total (that's very tight, from go to whoa).
The current slower sales environment means that some development lenders are requiring redemption earlier than developers are able to deliver.
Peer-to-peer lenders can be reluctant to go back to the same pool of investors for more money in case they get spooked. (Private lenders investing their own money can be more enterprising.)

So then you're looking somewhere else for finance…
But here's the catch:
There are plenty of lenders who are willing to offer standard finance to help you finish your project, so long as you meet their fairly limited criteria:
On a homeowner build, if building is in "habitable" or "mortgageable" condition.
On an investment development, if you're at "practical completion"
This is an unregulated build, ie it hasn't been, and it isn't going to be, your home (or the home of a close family member) – and the finance isn't tied to your own home.
Quite a few finance advisors might assure you that it's going to be possible to arrange mortgage finance to repay your original lender and get your building works finished.
It's only when the surveyor's report comes back (which you've paid for…) that your application is turned down.
Clients have found it almost impossible to find affordable refinance when a property is only wind and watertight.

Adam Arnott, Associate Director (Development), Clifton Private Finance
What is a Habitable property?
Owner-developers may be very willing to camp out in a home undergoing extensive renovations, but mortgage lenders are less hardy. They're concerned about whether a property could be sold now to new occupiers.
No lender will grant a mortgage unless a property has:
A working kitchen (with cooking and storage facilities)
A working bathroom (with all appliances)
A functioning boiler and running hot water
In addition, some lenders may specify
A completed bedroom
A completed living space
What is Practical Completion?
The definition of what counts as practical completion is far more variable. But it has very important implications for the finance of a new-build project, so it should be specified in the terms of your original development finance.
It's usually the stage when:
The building is complete, except for minor defects which could be remedied while the property is occupied.
Responsibility for the site is handed back from the contractor to the owner (or "employer").
The owner pays a percentage (usually 50%) of any retention monies to the contractor and the "defects liability period" begins.
Many lenders aren't willing to offer finish and exit refinance on a project until it's at practical completion.

My build project is Wind and Watertight: can I get refinance?
This is a much earlier stage of a new-build project, or a renovation. The definition is pretty much what it says on the tin, and will usually be:
Waterproof roof
Windows in (though securely boarded window openings might be considered
The site doesn't necessarily have to be lockably secure if there are no valuable fixtures and fittings in yet.
This is usually the earliest minimum stage that has to be achieved before a new lender will come on board. But there are far fewer willing lenders in this area of the market so you really need good advice from a well-connected mortgage broker to find the right one who's going to offer an affordable package for your project.
We've got two hybrid finance solutions for properties that are Uninhabitable or only Wind and Watertight
Option 1: A super-low rate for cleanskin developers and owner-builders
Borrowing £100K to £50M
For up to 6 units
Property just needs to be wind and watertight
Borrowers must have a clean credit report
No complications with planning or building regulations
Ground-up builders need to know who will issue their build warranty
Decision in Principle within 24 hours
Realistic completion time: within 4 weeks
No exit fee
Option 2: not-as-low rate but super-fast and very flexible (for non-homeowner developers only)
Borrowing £100K to £5M
Wide range of projects considered EXCEPT regulated homeowner builds
Property just needs to be wind and watertight
Adverse credit issues can be considered
Capital raised can be used for any business purpose, including paying bills
Non-binding offer within 48 hours
Realistic completion time: within 2 weeks
No exit fee

How can our hybrid finance help you?
1 It's going to work
It's a type of bridging finance rather than development "finish and exit finance".
You might have been assured that finish and exit finance is going to be available to you, but development funders aren't willing to come on board unless you're at practical completion.
2 It's probably going to be a lot cheaper
For starters, the valuations are going to cost less.
Classic development finance finish and exit funding will usually include:
A land valuation (which could cost anything up to £4.5K)
Plus a quantity surveyor (QS) assessing the value of the building works and the materials used and on site (which could cost up to £3K)
Monitoring QS before any subsequent tranche payments are drawn down
A bridging finance valuation is not a full "redbook valuation" (a 30-50 page valuation based on the red guidance book issued by the Royal Institution of Chartered Surveyors' (RICS) ).
usually around one-third of the cost of a development finance valuation
And the rates can be very competitive:
For our Option 1 above: from 0.45% per month (for borrowing less than 50% LTV). This rate is exclusive to Clifton Private Finance.
For our fast and very flexible Option 2 above: from 0.99% per month (for borrowing at 75% LTV)
So now you're thinking: this looks like the finance I need…
Give us a call at Clifton Private Finance and we'll set up a no-fee first discussion to talk in detail about what you need:
More clients we've helped with development and renovation finance
Our other blogs about development funding
More about our development finance service
And if you've found this blog useful do pass it on...