Categories
Property Renovation Finance – How To Fund Your Building Conversion
09-April-2018
09-April-2018 12:03
in Development
by Jennifer Stevenson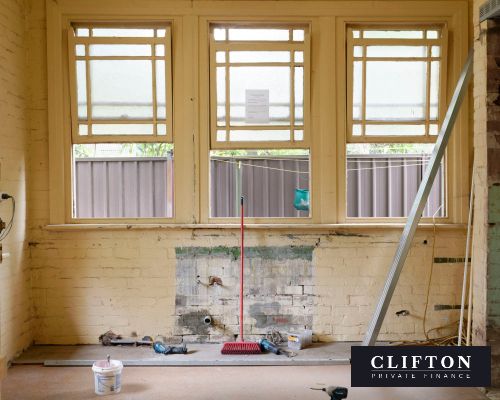 Property renovation can provide an opportunity to obtain healthy investment returns if done correctly
If you are thinking about buying and renovating an existing building then you may want to carefully consider your budget.
Property development costs can include the following:
The property purchase price
Solicitor costs
Professional surveyor fees
Renovation costs
Insurance
Marketing and sales costs (if you are looking to sell as an exit)
Longer term finance costs if you are looking to let out the property
Unless you have a large amount of capital available, it's likely you will need finance in the form of a renovation loan to help cover the costs above.
Getting your hands on the finance you need may be more challenging than you think.
There are many different options that you could take to secure the money you require to fund your home renovation or building project. In order to find the best finance for your set of circumstances, you may want to consider the following property finance options.
The hurdles with traditional mortgage lenders
It is common place for new or inexperienced property developers to initially approach a traditional lender such as a high street bank for a renovation mortgage.
However, before looking to secure the finance you need from a high street bank, you may want to familiarise yourself with the process and the issues that developers face with traditional lenders.
Lender criteria
Many high street traditional mortgage lenders simply do not provide borrowing options for people looking to renovate property for investment purposes. For those looking to renovate for their own personal use there are more options.
Issues with application time...
Property renovation can bring with it unforeseen costs. Unforeseen costs are something that property developers will face at some time or another. If you cannot get the finance you need quickly, you may experience delays; an unnecessary delay is a sure-fire way of adding further cost to your project.
When time is of the essence, approaching a traditional lender for property finance may not be the best strategy to access the funding you need. An application with a traditional lender can take up to several weeks or even months to process. This sort of delay is not uncommon with finance from a traditional lender and more experienced developers tend to avoid high street banks for this very reason.
Waiting up to several months to receive the funding you need can stop your renovation project in its tracks. If you require finance to purchase the building (s) the ability to come up with finance quickly can make or break the deal.
If you are relying on finance to fund the renovation costs delays in securing funds will mean you may find yourself waiting longer than you had planned to start construction. The larger the delay, the longer your project will take to complete and, ultimately, the higher the cost.
Lender Criteria: experience ...
Not only do traditional lenders take a long time to process applications, but they will not provide property finance to everybody.
The lender's willingness to provide finance will hinge on factors such as property location, type of property e.g. is it listed, and the amount of finance you require.
Traditional lenders will often require an in-depth review of an applicant's property portfolio, before granting a property renovation loan, to ensure the applicant has a proven track record of successful property development projects.
Finance with a ceiling...
To fully fund your project from start to finish, you will likely need a fair amount of capital. Typically, traditional lenders will not entirely fund a project and will only grant renovation finance up to a certain percentage of the purchase & development cost.
Traditional lenders often only lend up to 80% of the purchase & construction costs, which could leave you in need of more finance. This may necessitate approaching a third party to obtain the remainder of your project's renovation costs.
This could result in unnecessary delays and increase the overall cost of your project.
Inspections and traditional lenders' timetable...
If you secure renovation finance from a traditional lender, bear in mind that you will receive the funding in stages following completion of periodic inspection. This means that in order to receive the finance for your development, you will need to pass the traditional lender's inspection.
Releasing funds in stages may be frustrating for a number of reasons. The lender may only be prepared to release the funds after certain work is done, which can put you in a difficult position because you may need the funds to complete the same.
Also, the need for inspection (and sometimes re-inspection) may cause significant delays and could increase the overall cost of your development.
Other routes to renovation finance
If you need renovation finance for your building project and traditional lenders cannot satisfy your financial needs, then you should consider other property renovation finance options.
There are plenty of alternative funding solutions available, which could be well suited to your project. The majority of these funding options are provided by specialist lenders, which do not often deal directly with the public and usually work through specialist finance brokers.
If you need finance from a specialist lender, it is advisable to contact a broker. A good broker will be able to give you a clear breakdown of the finance options available and identify the most suitable for your project.
Renovation Bridging finance
Often referred to as renovation mortgages, bridging loans may be a viable option for short-term finance for your building project. A bridging loan could be suitable for your renovation project, as it is a type of loan that is specifically designed for short term usage; it is a quick, short-term loan that can 'bridge' the gap where there is a shortfall in funding, until a more permanent type of funding can be obtained.
Our bridging finance service...
Here at Clifton Private Finance, we can provide you with a bridging loan to suit your set of circumstances. Our experienced specialist property finance brokers can offer the following:
Market leading bridging loans from £50,000 to £25m
Rates from 0.44% pm
Lower rates for £1 million+ loans
£99 valuation option for properties up to £1 million
Terms from 3 months to 3 years
Residential (On a regulated basis), buy to let, HMO, investment and commercial properties considered
Light refurbishment loans (currently uninhabitable, under permitted development rules, require internal refurbishment)
Heavy refurbishment loans (Extensions, basement digs, loft conversions, commercial to residential, barn conversions)
Bridging loans for business purposes (Pay HMRC tax bill, purchasing land or new premises, deposit for new purchase, business growth)
Unique features...
Bridging loans are different to other types of finance, as they often come with unique features that make them well suited to short-term projects such as property renovation.
Exit plan: A specialist lender will not grant a renovation bridging loan without a clear exit plan in place. An exit plan is simply the method you wish to use to repay the loan at the end of the term of finance; it provides peace of mind to the lender and the borrower that the loan will be repaid within the agreed timescale.
An example of the exit plan you could use is repaying the loan with the proceeds of the sale of your completed new build.
Rolled-up interest: The majority of renovation bridging loan lenders offer the option to pay interest monthly or roll it up to pay at the end of the term of finance.
Rolling-up interest may be beneficial, as it could allow you to direct your entire finance on the project and not on servicing monthly interest repayments.
In addition, you could pay both the capital and interest of your bridging loan upon completion of your exit plan.
Application: Renovation short term finance lenders often have a more straightforward and faster application process than ones found with traditional lenders' finance options. This is because renovation bridging loan lenders are not concerned with applicants' income and focus more on their exit plan.
Also, bridging loans typically have a higher loan to value and they do not necessarily release funding in stages. Some lenders we work with are prepared to release funds quickly depending on your set of circumstances.
The need for a broker: Clifton Private Finance
The majority of alternative property finance is not available on the high street or advertised on the internet. If you want finance to fund your building project, you will need a broker.
As a specialist property, Clifton Private Finance can get you the funding your project needs.
We have access to high street and private banks, specialist lenders, family offices and wealth managers. We also have access to private investor funds, which can be utilised for short-term finance.
The client approached us looking for finance that would minimise the cost and put him in a more secure financial position.
We were able to find funding for the gross development value of the whole project with funding being made available at the key stages of the build.
Next steps
If you need short-term finance for your building project, call us today on 0117 959 5094 or use our simple contact form to get in touch.