Categories
How to get a large mortgage
09-March-2017
09-March-2017 13:51
in Private clients
by Jennifer Stevenson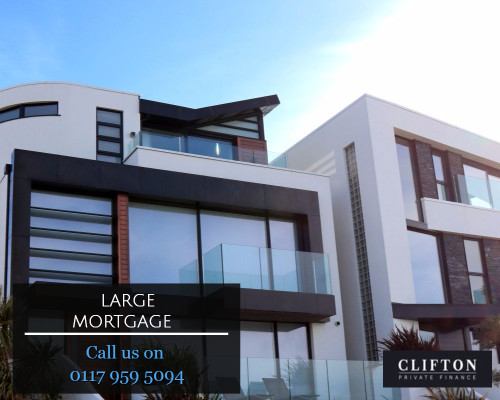 Getting a mortgage can be complicated for any number of reasons and, in general, the higher the value of the mortgage, the more complex it will be.
If you need a particularly high value mortgage, for example, £1million or more, there are various issues that can make it harder to access the money you need.
When looking for a million pound plus mortgage, you need to understand all of your options to give you the best possible chance of success. We explain the best ways to go about finding the high value mortgage you need.
High street banks versus private lenders
The first thing to understand is that when it comes to larger mortgages, your standard high street banks are generally not the best places to go.
This is because they will not be used to dealing with mortgages of such high value and tend to have much more rigid lending criteria which can limit the amount you can borrow.
Instead, you are likely to be better off dealing with a private bank or other type of private lender.
This is because they will be used to handling large mortgages and will judge their lending on a case by case basis.
As a result, issues such as complex income streams and non-UK residency, which would see you normally rejected by a high street bank, need not be a problem with a private lender.
One thing to be aware of when using a private lender is that many of them only work through intermediaries.
This means to access their services you will need to work through a specialist mortgage broker.
In fact, whether you choose to go with a private bank or not, it is highly advisable to use an independent mortgage broker for any high value mortgage.
A good specialist finance mortgage broker will have access to a whole range of lenders, and should be able to help you find the best option to suit your needs.
A specialist mortgage broker can help identify the lenders best matched to your borrowing requirements and personal circumstances, as well as those offering the best interest rates.
This means you can usually find the money you need faster, cheaper and with less effort if you use a mortgage broker.
---
2 Year Fixed
Up to £1.5m
2.54% APR
Fixed until 2/9/2024

Subsequent rate 4.25%

LTV - 60%
APRC 4.1%*
Product Fee £999

Early Redemption Charges - Yes

Free valuation

As of 16th June 2022
5 Year Fixed
Up to £1 Million
2.45% APR
5 Year Fixed (Remortgage)

Subsequent rate 4.40%

LTV - 75%
APRC 3.7%*
£850 cashback

Product Fee £995

Early Redemption Charges - Yes

As of 16th June 2022
10 Year Fixed
Up to £1 Million
2.73% APR
Fixed until 31/8/2032

Subsequent rate 4.49%

LTV - 60%
APRC 3.4%*
Product Fee £995

Early Redemption Charges - Yes

As of 16th June 2022
*Overall Cost For Comparison
---
Getting all of your income taken into account
An issue that commonly affects borrowers looking for mortgages in excess of £1million is that they tend to have more complex incomes than your average high street borrower.
If your income derives from a variety of sources, such as stocks and shares, other investments and pensions, is wholly or partially from abroad or in a foreign currency, or is in any other way more than just a simply salary, some lenders may not take your full earnings into account when deciding how much you can borrow.
This is another advantage of using private lenders, as they will be used to dealing with customers with more complicated income streams. A private lender will therefore be more likely to take your full income into account when deciding the affordability of a large mortgage, allowing you to borrow more.
Choosing the right type of large mortgage for you
With any large mortgage, and particularly mortgages over £1million, the interest rate you pay makes a really significant difference. You therefore need to make sure you are getting the best possible deal on any high value mortgage.
With interest rates currently so low, fixed rate mortgages are particularly popular with high value borrowers, but the right choice for you really will depend on your personal circumstances.
To find out more about getting a large mortgage, call Clifton Private Finance today on 0117 959 5094 or use our simple contact form to get in touch.
Recent Case Studies & Editorial: