Categories
How To Get A Property Development Loan For A House In London
07-June-2018
07-June-2018 12:18
in News
by Jennifer Stevenson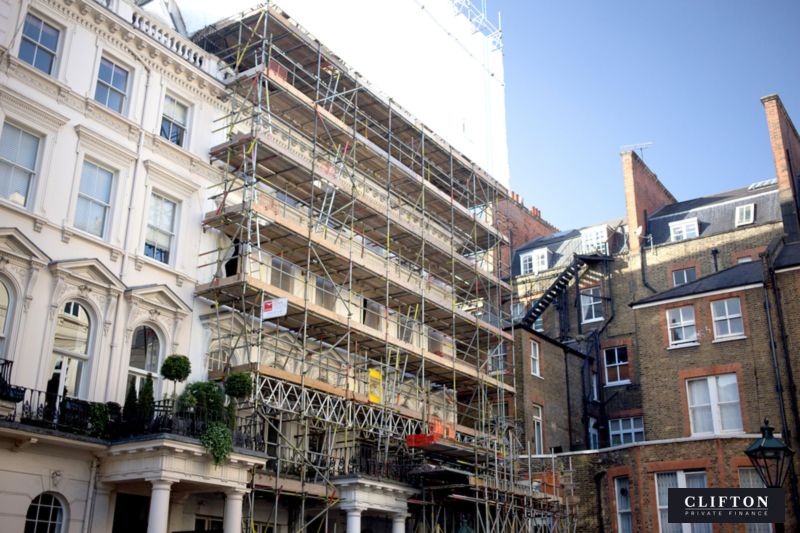 Many of the enquiries that we assist our client with at Clifton Private Finance are for property development loans for houses in London. Why is this?
Historically the residential housing market in London, despite the occasional slowdown, is more buoyant than in the rest of the country.
London is the wealthiest part of the UK and the population of the city grows year on year as people from Britain and around the world are attracted by the work and leisure opportunities available.
It is also one of the country's worst kept secrets that the pace of new house building is not keeping up with the increase in the number of people living in the city.
These factors combine to create a market with a constant high demand for housing.
What do property developers do?
Property developers buy residential properties which they believe they can either…
sell for a significant profit, or,
rent out to tenants
…once they have completed a program of renovation and refurbishment.
There are property development companies and private property developers. Although Clifton Private Finance helps both, in this article we consider the options available to private property developers, both new and experienced.
5 reasons why a particular residential property may be attractive to a property development investor?
Low relative value to other homes in the same location
Many property developers look for the "worst house in the best street" because the costs involved in renovating the property may be significantly less than the increase in the value of the home once the work has been completed.
Up and coming areas
As housing becomes too expensive in one part of London, housebuyers and renters then start to consider neighbouring areas. Many property developers look to invest in the refurbishment and upgrade of properties in these areas in the anticipation of greater proportionate rises in prices or rents in the coming 3-5 years.
Relatively inexpensive improvements adding significant value
Research by the Federation of Master Builders and the HomeOwners Alliance showed that property developers in London could add £48,417 to the value of a home by removing an internal wall to create an open plan kitchen and a further £14,525 by converting part of a master bedroom into an en suite facility.
Adding floorspace
Bigger bathrooms and kitchens, increasing the number of bedrooms, and the construction of an extension is a proven way to increase the value of London property. Speaking to BuildIt magazine, Amos Goldreich from Amos Goldreich Architecture described how one client who added a 25m2 extension to a home in addition to a full renovation of the property "increased the home's value by about £300,000".
Conversion to HMO
Houses of Multiple Occupancy (HMOs) are residential properties in which tenants live in individual rooms sharing the living room, bathroom, and kitchen with other occupants. HMOs, in many cases, generate higher yields for investors than properties they let out on a single tenancy agreement.
How can a broker help secure a property development loan?
Generally, it is easier for experienced private property developers to secure property development finance than those who are new to the sector. The more successful projects you have completed, the wider the choice of lenders who will want to work with you.
For inexperienced developers, lenders are unlikely to consider any direct approaches.
You would better speak to an independent property development broker (like Clifton Private Finance) who will be able to talk you through the options available to you. If your project is viable, your broker will then "package" your proposal and present it to the lenders most likely to seriously consider your proposal with a view to acceptance.
Please be sure to work with an FCA-regulated broker on your property development project.
By doing this, you will be afforded a much greater level of consumer protections than by using an unregulated broker.
Should you set up a company for property development projects?
There are pros and cons to developing property as an individual (whether on your own or as part of an unincorporated partnership) or a limited company.
As a private individual, there will be more lenders willing to work with you – you will have a greater chance of getting your project off the ground in the first place.
However, if you do so as a limited company, you will pay lower taxes on the profit you make when you come to sell the property – 19% corporation tax versus 28% CGT on residential properties. However, if the value of your company's residential property portfolio is worth more than £500,000, you will pay the Annual Tax on Enveloped Dwellings (ATED) – important if you intend to hold onto the properties for rental income.
Make sure you consult with an accountant prior to choosing the business structure you use for your property development project.
Property development loans – what's available
Property development loans are arranged to cover the cost of a wide range of building projects, including new homes, converting offices into flats, and renovating of existing residential property.
These loans are normally short-term and are used for:
renovation projects or change of use projects where the property, as is, is currently mortgageable,
build-to-let projects, and
developing existing properties to sell.
These loans, often called "bridging finance for property development" will offer you up to 70% of the value of the property you wish to develop, subject to a minimum facility size of £100,000.
They can be arranged in a few weeks and have a term of between 1 month and 36 months. In order to help borrowers, most lenders "roll up" the interest on the loan so that it is paid off at the end of the term.
There are a few lenders who will provide bridging finance for inexperienced lenders, all of which Clifton Private Finance work with.
You may also wish to partner with a more experienced developer on your project. Specific funding called "joint venture property development finance" is available for this. Lenders themselves may become part of the joint venture for which they will take a share of the profits on exit.
As with bridging finance, interest can be rolled up to the end of the loan period allowing available cash to be spent on the project instead.
Joint venture property development finance can fund up to 100% of the building costs on a project (a lower percentage will be offered to inexperienced investors). A facility of £250,000 or more (£150,000 for inexperienced investors) can be arranged within seven days with terms of between one month and twenty-four months.
One important consideration for your lender is the "exit" potential. They'll want to know that, when you come to sell the property, that it will achieve the price you expect. Likewise, if you plan to rent the property out, they'll want reassurance that the rental income you believe you can achieve is realistic.
Clifton Private Finance works with both experienced and new property developers to secure the best finance facilities for their project by placing deals with the lenders most interested in your specific type of project.
Who does Clifton Private Finance work with on property development loans?
Clifton Private Finance arranges property development finance through specialist lenders as well as high street banks, including Lloyds, Barclays, HSBC, and NatWest.
We also have access to an extensive network of private banks and wealth managers with whom we have arranged many business mortgages and commercial investment mortgages in the past.

Examples of London property development projects Clifton Private Finance has help with
Recently, we helped a property developer purchase a property in London who wanted to convert the property into four separate flats. Planning permission had already been secured however, given the location of the property, demand among investors was expected to be high and our client needed us to act quickly.
Despite no having any suitable assets against which to secure a loan, we found a lender who was prepared to offer a bridging loan of £1.75m.
The gross development value (GDV) is an estimation of what a property will be worth once all the development works planned on it have been carried out.
Working with the lender, we negotiated an 18-month facilities (12 months to complete the build and 6 months to sell the property or refinance the deal at a competitive interest rate. Click here to read how we helped provide development finance for flats in London on this project.
Another private developer who had had no success finding £330,000 of finance to complete a development project approached us for help. We worked with a specialist lender which took the second charge on a buy-to-let property our client owned worth £470,000.
Having received the reassurance they needed, the lender released the funds to our client over a 12 month period with no exit fees upon repayment.
Working with Clifton Private Finance
Clifton Private Finance can give you a same-day in-principle decision on a property development loan application. If you'd like to speak with one of our consultants about a property development loan, please call our finance team on Bristol 0117 959 5094.