Categories
5 Key Questions When Buying And Renovating a Property To Sell
03-January-2019
03-January-2019 11:27
in Bridging
by Jennifer Stevenson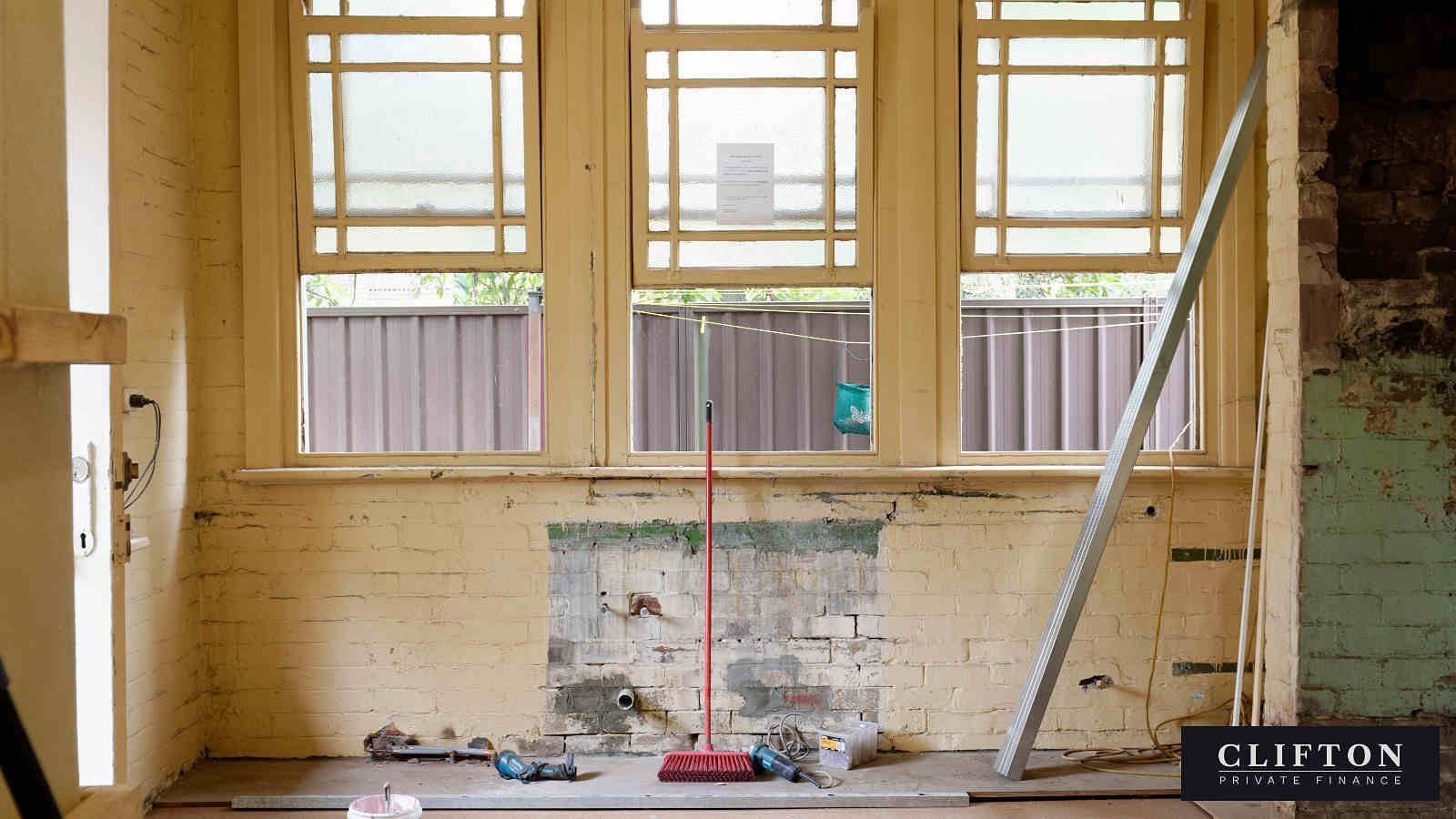 There are still good profits to be made in property renovation for wise developers who stay focused on the investment essentials and don't get carried away with gold taps and mosaic tiling.
If this is your first "fix-and-flip," the most important thing to understand about this project is that you're not renovating to suit either your taste, or the taste of an imaginary super-rich buyer who'll pay over the odds for a built-in wine fridge and a basement sauna.
Your end result should be… average. With some attractive low-cost details to get potential buyers over the threshold. Leave it to your eager purchasers to paint a feature wall in Crimson Plum.
1 What to buy
You're looking for the property that will appeal to the greatest number of potential buyers in the area you're looking at. In a residential suburb with good schools: two to three bedrooms and a garden. In the inner-city: a secure flat with bicycle storage.
The old adage "buy the worst house in the best street" still applies: you want to be taking advantage of property market trends, not trying to make a new area fashionable.
But if the "best streets" don't offer any development opportunities, look for closely comparable neighbouring streets.
Properties sold at auction can offer good returns, because they're unmortgageable (see below), or after debt foreclosure.
But don't stint on pre-auction searches and surveys. Avoid listed buildings and properties in conservation areas that may constrain renovation work. Avoid buildings with structural damage such as subsidence, or which need joists and timbers replaced.
The ideal property doesn't need extensive rebuilding, but can be projected into a higher price bracket with largely cosmetic work: new bathrooms and kitchen, redecoration, perhaps a wall knocked through to make a kitchen-diner.
Potential bargains
A property that has had long-term tenants
An owner who needs to sell quickly or is facing repossession
You're able to offer a quick purchase
A deceased estate
2 How to finance a property renovation
You'd expect a property finance company to say this is a key issue to consider. But there are important restrictions on funding for a short-term property purchase (which is the essence of buy-to-sell, or property "flipping"). And financial solutions have been developed specifically to suit them.
Conventional mortgages are designed for long-term property ownership, for periods of up to 25 or 30 years. There are penalty charges if you want to exit the mortgage early, certainly within two years.
They also take up to six weeks or more to get approved, which can lose you the deal if other buyers are circling. Auction properties usually need to be paid for within 28 days.
And standard mortgages can't be used on "unmortgageable" properties: such as those without a bathroom or kitchen, or requiring extensive structural work.
Finance for short-term property ownership
Short-term finance, also known as bridge finance, is quickly-arranged, and flexible. Usually provided by smaller private banks and financers, the lending criteria are less rigid, and a mortgage broker (such as Clifton Private Finance) can match you to a lender who will consider the type of property you're buying, and your financial background and development experience.
How much you can you borrow / how much will it cost?
These are critical components in your profitability calculations, and you need to be clear about your options before you go property shopping:
Short-term finance is available for amounts of up to 75% of the loan-to-value (LTV) of your property purchase price.
Finance can be available for 1-12 months. If a renovation and sale isn't completed within that time, it's possible that the loan period can be extended, but this is a finance product that's priced for short-term use.
Dependent on the amount of equity you have in the project, rates range from 0.38%pm (as at 10 December 2018).

Your finance "exit strategy"
Every short-term lender will want to see a well-substantiated repayment strategy for your lending: usually a realistic sale price that can be achieved before the end of the loan term. (See below for When to sell, and contingency planning.)
3 How much to pay for a renovation property
Experienced property developers will tell you that your profit is in the buying, not the selling.
You're not the only person who can spot a run-down bargain: much of the skill in profitable renovation is in finding development opportunities before they come to market, and beating everyone else to put the cash down.
This may call for a slightly ghoulish attentiveness to potential distressed sales, or deceased estates.
If you're not a builder yourself you may find yourself competing against builder-developer buyers who can do the renovation works themselves.
What's your advantage on this project: have you got the equity that's going to make your finance cheaper, or turn the project around faster?
You have to buy at a discounted price to allow room for a profit margin after you've paid all your costs.
Do all your price research
Thanks to Rightmove and Zoopla it's now easy to see what homebuyers are paying in each area and street. You just need to be careful to look at truly comparable properties and not be unduly optimistic.
If the purchase price on a renovation project is edging up towards what owner-occupiers would expect to pay themselves, be prepared to walk away. Another more profitable property will come along.
4 How much to spend on renovations
This is an amount that needs to be strictly controlled once the purchase price is determined, and you have a clear idea of how much buyers are prepared to pay for a house that's ready to move into.
Just proceeding ad hoc with "what needs to be done" and hoping to recoup the costs of all the works you undertake because "that's what a buyer would have to do anyway" is too optimistic. Many buyers are willing to do some upgrading work themselves over the years they live in a property, and their purchasing budget will reflect that.
In a very hot property market the price advantage of improved properties can disappear, when buyers are prepared to pay as much for unrenovated properties that they can renovate to their own taste.
And in cool markets everyone likes to think they've nabbed a bargain: they don't want to feel they're paying over the odds for gold taps.
Plan for a projected Return On Investment
A reasonable rule-of-thumb for your ROI is 20%: if there are unexpected problems, you can halve your profit margin and still earn a respectable 10%.
ROI is a straightforward calculation of Profit divided by Cost.
Don't waste money on…
High-spec bathroom furniture
Designer taps (go low to mid-range)
Fancy kitchen tiling (it's depressing for buyers to think of replacing new tilework they don't like)
Carpeting living areas (stripped boards look appealing: purchasers can carpet later)
Expensive garden planting (cleared, empty beds are inspiring)
Do spend money on…
Any issues that will come up in a buyer's survey: roof problems, damp, wiring…
Prioritise the works that will make the property mortgageable, just in case you have to sell early: rewiring if necessary, kitchen, bathroom(s) and central heating.
Read estate-agents' sales descriptions and tick as many boxes as you can achieve within your budget: upstairs bathroom, separate shower, USB charging points…
If your budget can stretch to it, plan for a few "glamour" features which will look good in the photos: porch over the front door, island bench in the kitchen, free-standing bath…
Installing central heating in a 3-bedroom Victorian / Edwardian house: £4,000+
New bathroom: approx. £6,000 - £16,000+
New kitchen: £8,000 - £16,000+
"Knocking through" a 5m-wide loadbearing wall to make, for example, a combined kitchen / diner: £1,000-£2,000
Relocating gas or electric meters: £300-£400 per meter
5 When to sell
In an ideal world you'll plan to have your renovation project completed as quickly as possible, to minimise your finance costs, and get the property on the market in time for the peak spring house-buying season.
If the property just isn't finding a buyer, or you hit planning or building delays and you're running close to the end of your finance term, you need a contingency plan.
Your lender will be in touch with you to discuss your exit strategy and any help you may need to achieve it.
This is when you're going to need to weigh up the costs of extending your finance, perhaps at a higher rate, or possibly selling the property in a pre-finished state, or dropping the price to meet the market demand.
Or if you feel the market is suffering from Brexit jitters and you want to sit it out until prices recover, you may calculate that the best option is to let the property out in the meantime. In which case your exit plan will be refinancing with a Buy To Let mortgage.
Start looking for your first project…
Considering the finances of a property renovation investment may either seem so straightforward it's a mystery why everyone doesn't get involved. Or so dependent on variable factors that it's a wonder any developers make a profit at all.
The fact is that many people are cautious, and prefer to earn their money in salaried employment and allow other people to manage their investments.
But if you have an entrepreneurial streak, and you can be cool-headed about calculating potential returns, enthusiastic about your relationships with builders and contractors, and relentless in your management of a development timetable, you can have a very rewarding time managing a renovation for sale.
And the finance and management of the next project will be even easier.
Arrange your property renovation finance
The cost and structure of your funding is critical. We're experienced in finding the right lenders to suit clients' different project needs: