Categories
Mortgages For Dentists: How Much Can I Borrow?
14-October-2022
14-October-2022 16:42
in Mortgage
by Jennifer Stevenson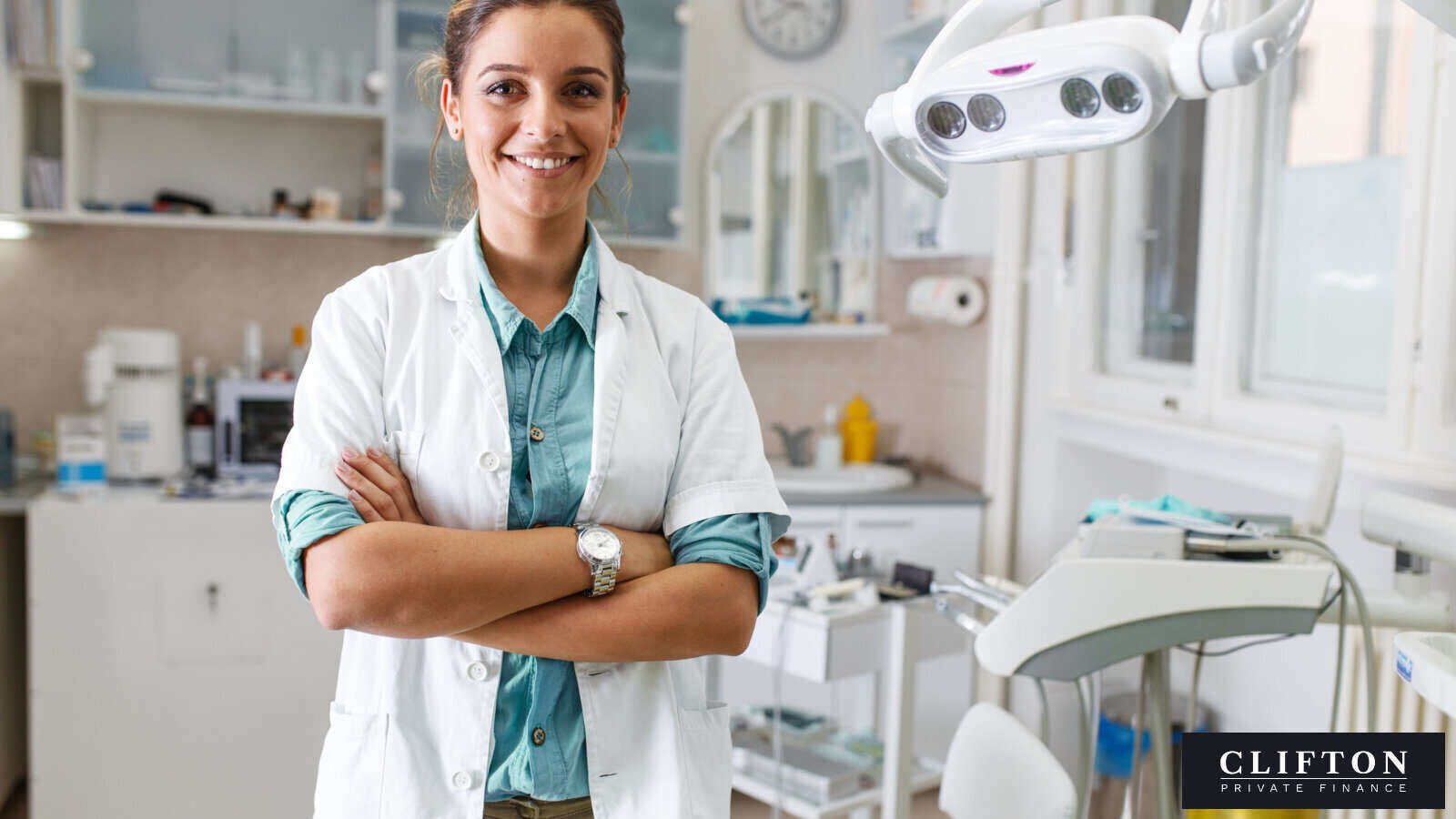 Has any profession faced more financial challenges in recent years than dentists? Many mortgage lenders understand the value of the years of training you've invested in and offer generous salary multipliers and preferential rates based on your future income potential.
The wrangling with HMRC about whether associate dentists are classified as self-employed has caused enormous uncertainty for young associates hoping to buy their first home, remortgage, or build some financial security by investing in a buy-to-let.
But life plans don't have to be put on hold. Whether you're a foundation trainee, a salaried NHS dentist, an associate dentist or a practice owner wanting to maximise your borrowing power and speed up your mortgage approval, we'll show you how the right advice can address the 5 fundamental issues you'll be facing:
1 Finding a mortgage lender who understands dentists' earnings
2 Being able to prove your income for a mortgage application
3 Leveraging your future earnings as a dentist
4 Flexibility to suit your borrowing needs
5 Property investment opportunities for dentists
We'll also cover
How much dentists can borrow, and Will student debt affect your borrowing power as a dentist?
How a mortgage broker can help
Most banks and building societies are keen to woo clients who work within professions such as dentistry which have well-established earnings progressions.
But in amongst the welcome hoopla, can you be sure that the loan maximum you're being offered, and the terms and rates, are the best available to you from the hundreds of banks and building societies in the UK?
The job of a mortgage broker experienced in arranging dentist mortgages (such as the specialists at Clifton Private Finance) is:
To identify the lenders who will look most favourably upon your circumstances, including the type of property you want to buy, and your current and projected earnings
To know what information will assist your application (and which additional details will cause confusion or delay)
To package your application to speed the approval process, ensuring that it meets all of this particular lender's criteria
The 5 key issues for dentists applying for mortgages
1 Finding a lender who understands dentists' earnings
Dentists' income can be complicated for inexperienced high street banks or building societies to understand. For a successful application, they mustn't be led astray by the normal stops-and-starts of dental careers:
Not every well-qualified dentist succeeds in getting an FT post the first time around
Nonetheless, FT dentists' salaries (currently set by the Department of Health at £32,796) are now more than £8,000 above the average graduate starting salary
Many deaneries still require dentists in three-year Core Training Posts to reapply each year in open competition for follow-on courses

2 Being able to prove your income for a mortgage application
Newly qualified dentists working as associates need to get up to speed quickly on the complexities of being self-employed, operating either as a sole trader or as a limited company.
But time and again, successful young dentists run into problems with their mortgage applications because of self-employed accounting issues:
Many high street lenders require at least two years' accounts as proof of self-employed earnings.
However, this requirement is more relevant to contractors working in the IT, project management and creative industries, where earnings are dependent on winning a series of short-term contracts.
For associate dentists working in dental practices on approved BDA / DPA contracts, paying their regular share of lab fees and classed as self-employed for tax purposes, a good broker should be able to demonstrate that only proof of the previous year's income should be required. And in some cases (see below), a lender will be willing to offer based on projected earnings.
There may be a discrepancy between sole trader accounts and your HMRC SA302 summary of income tax paid. This would usually be a "red flag" for lenders. But an experienced broker may be able to present a persuasive explanation, such as your having taken advantage of a 100% tax deduction for capital allowances.
3 Leveraging your future earnings as a dentist
An experienced broker presenting your case to the right lender may be able to get you mortgage approval before you start your associateship, based just on your signed contract and projected future earnings.
The right lender will be willing to take a long view of your career earnings and may also have an eye to future lending – to purchase a practice or buy-in as a partner.
Projections for dentists' earnings vary widely:
averages for salaried NHS dentists range from £41,000 to £87,000

self-employed dentists in general practice (mixing NHS and private work) earn from £50,000 to £110,000

private-practice-only dentists earn £140,000+

NHS dental consultants earn from £80,000 - £108,000

4 Flexibility to suit your borrowing needs
You will probably expect to move around at the start of your career: to an approved practice to do your FT, a practice that can offer you an associateship, or to an NHS appointment, which makes deciding where and when to buy a first home more complicated.
You may need the flexibility of knowing that you could let out your home for some time, in which case you need a mortgage provider who will be willing to grant a consent-to-let or a mortgage product without early exit fees.
Or you may want to buy a second property as your home and convert your first mortgage to buy-to-let.
Mortgage advisors can access more flexible lenders
An experienced mortgage advisor will look at the mortgage finance available to you from high street banks and building societies, specialist lenders who are not constrained by rigid qualification criteria and can take a more flexible, nuanced view of dentists' current and future financial situations.
These specialised lenders are "intermediary-only" – only available to broker intermediaries, not to walk-up clients.
Mortgage brokers do a lot of the pre-application work for these lenders in matching the right clients to lenders' criteria, so no one's time gets wasted, and packaging mortgage applications for speed of approval.
As a result, brokers often get better rates that they can pass on to their clients, plus lower set-up costs or more suitable terms than applicants would have been able to find.
How much are dentists able to borrow?
A minimum of 4.5 times income is available to most mortgage applicants. Dentists can expect to access 5 times their income, and some lenders will be prepared to go up to six times income for senior partners, practice owners and consultants - depending on the deposit size you can offer.
This is where a mortgage broker experienced in finding the right mortgage lender for professionals with complex earnings can get you access to specialist lenders who can offer you the level of borrowing you're looking for on the most favourable terms.
Read our blog: Can I get a mortgage for 5 or 6 times my salary?

Will student debt affect your borrowing power as a dentist?
With most BDS degrees taking five years instead of three, the average dental graduate carries more student debt than their liberal arts counterpart. But student loans are different to other types of debt and don't appear on your credit rating.
An outstanding student loan only features on a mortgage application if your lender asks for monthly student loan repayment details as part of their standard affordability checking. The total debt amount is not considered. And because student loan repayments are directly related to current earnings, dentists are no worse off applying for a mortgage than any other graduates.
At this level of earning, other factors, such as deposit amount and credit history, maybe much more significant
5 Property investment opportunities for dentists
If the tax status uncertainty of recent years and the effect of the Covid lockdown on dental practices have shown dentists anything, it has been the necessity of having some diversified income.
Your professional prospects still put you in good standing with lenders, and for dentists who can access affordable finance, the Covid downturn does offer opportunities:
Astute buyers should be looking for bargains beyond their home patch to find the rental properties offering the best returns (unless you intend to be a professional, hands-on landlord).
Prime regional cities, including Birmingham, Bristol, Leeds and Manchester, offer substantial returns, with the secondary regional cities even stronger.
Buying rental property potential near city-centre hospitals
Dentists know from their own experience the strong demand for good-quality, convenient accommodation near hospitals. This investor identified a property coming up at auction that was ripe for conversion. Read more »
Time-poor professionals need experienced mortgage advice
Dentists are among the most time-pressured of all the professionals we work with sourcing property finance. Which all too often means that essential investment decisions get pushed down the priority list.
Dentists do have particular professional circumstances which call for bespoke financial solutions. But most importantly, we have found the need for qualified, personalised advice available at a time that suits you.
You can contact us at Clifton Private Finance at any time, and we'll arrange a detailed discussion – outside of hours or at the weekend if that's what suits you. Just give us a ring on 0203 900 4322 or book a time for us to call you back.
More about our mortgage service for professionals
And if you've found this blog helpful, please do pass it on...