Bridging loans are becoming increasingly important as a tool in facilitating fast property transactions in the UK. They offer flexibility and financial freedom to make large purchases quickly. Bridging loans are designed to be a short term solution to a cash flow issue, normally aimed at property buyers.
Often used to 'bridge' the gap between selling one property and purchasing another. A bridging loan is a short term loan (12 months or less) that can be used by individuals and businesses for any purpose until some form of permanent funding becomes available.
Most bridging loan lenders will want to see a clear exit strategy before offering finance terms.
While the Loan can be used for any purpose, the most common reasons include:
Quickly buying a home
Building a new home
Converting a Barn or other renovations
Property development
Investing
Un-mortgageable properties
---
Residential
Buying Before Selling?
Rates from:
0.41% pm
Downsizing/Upsizing

Releasing Funds From Your Home

Short Term Lease Finance

Auction Purchase

As at 16th June 2022
Development & Refurb
Fast Finance
Rates from:
0.45% pm
Light & Heavy Refurb

Finance For Unmortgageable Properties

Land Purchase with planning

As at 16th June 2022
Residential
Large Bridging Loans
Rates from:
0.27% pm
Up to 80% LTV

Minimum Loan £500k

Minimum net income £100k

Serviced monthly interest required

As at 16th June 2022
---
How does it differ to a Regular Loan?
One of the main reasons the bridging loan differs to a regular loan is the time frame. It is generally much faster to get a bridging loan, in some instances finance can be arranged in 24 to 48 hours. Whereas a regular loan can take weeks or months to complete, bridging finance can be arranged to ensure you are in prime position to act quickly if speed is of the essence.
However, like most short term finance solutions the interest rate is much higher than a regular loan and therefore, must be considered carefully. Interest rates are typically between 0.60%-1.5% per month.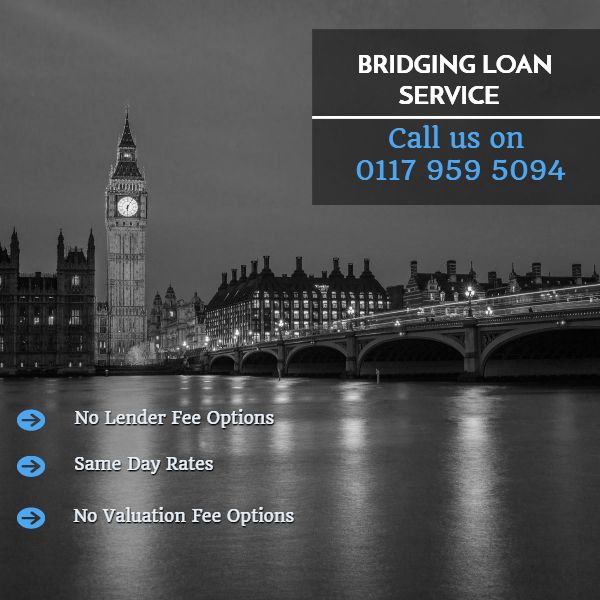 You would normally be able to pay off the loan at any time during the agreed time period.
1. Closed bridge: This is when the date of the loan repayment has been confirmed. The borrower has a fixed date of when they will receive finance and so can confirm a specific repayment date.
2. Open bridge : The open bridge will allow a proposed time period with a clear cut-off point when the loan will have to be repaid but there is no specific date. This is better for people who know they will come in to money at a certain time but can't commit to a fixed date.
Fixed and Variable Bridging Loans
Similar to mortgages, bridging loan rates can be fixed or variable.
A fixed rate means the same interest rate is applicable across the term of the loan, so each monthly payment will stay the same.
A variable rate means that the interest rate may change, so your bridging loan payments could go up or down.
During the application, you may be able to choose to 'roll up' your interest, meaning you don't have to pay interest every month but instead pay the interest at the end of the term. This suits borrowers who cannot make the monthly payments.
You can also choose to 'retain' their interest from the loan amount in advance, to cover the interest payments. However, interest will still be charged on this retained amount.
Our Bridging Loans Service
Special features of what we offer include:
Market leading bridging loans from £50,000 to £25m
Rates from 0.43% pm
Lower rates for £1 million+ loans
Terms from 3 months to 3 years
LTVs up to 80% (can be more if other assets in the background)
Interest roll up options
Residential (On a regulated basis), buy to let, HMO, investment and commercial properties considered
Light refurbishment finance (currently uninhabitable, under permitted development rules, require internal refurbishment)
Heavy refurbishment finance (extensions, basement digs, loft conversions, commercial to residential, barn conversions)
Bridging finance for business purposes (Pay HMRC tax bill, purchasing land or new premises, deposit for new purchase, business growth)
Alternative assets considered e.g. pension, investment porfolios, fine art, classic cars
Automated valuation option for properties under £1m
We provide a friendly, professional service to help you get the money you need at the best available rates
We can provide a mortgage solution once the bridging loan is no longer required if applicable.