Categories
Looking For Property Development Finance In Birmingham?
01-October-2018
01-October-2018 15:36
in Bridging
by Jennifer Stevenson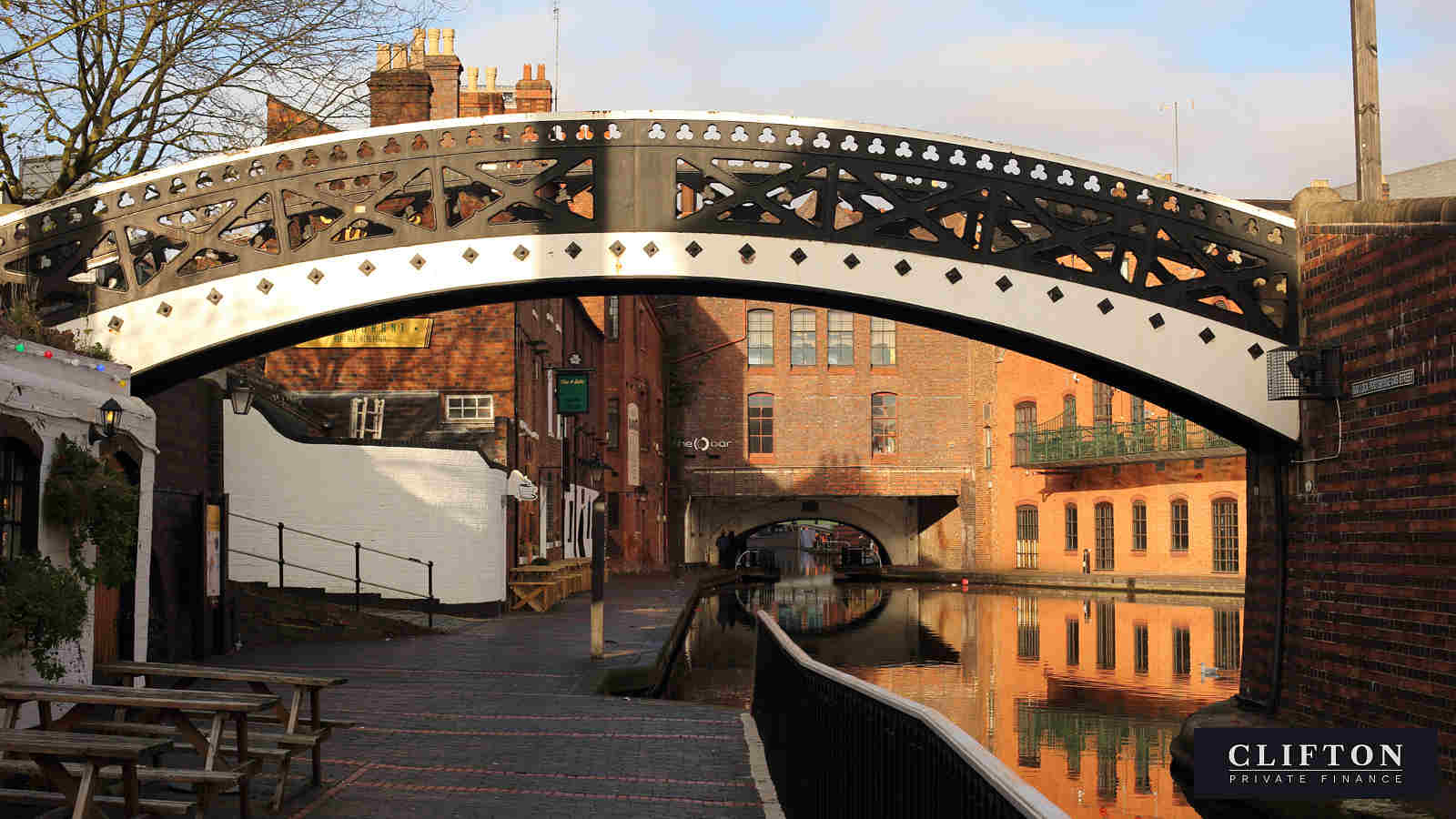 Follow the smart money which is buying up Brum even before the first HS2 trains swish into Curzon Street in 2026. Three of the UK's top seven property hotspots are now in Birmingham, and house prices are rising faster in the West Midlands than anywhere else in Britain, according to the UK's biggest mortgage provider, the Halifax.
Traditionally this was a centre of engineering and the "city of a thousand trades" – from banks to BSA, Bakelite to MG Rover.
The billions of pounds of investment attracted by the prospect of the high-speed rail link is fuelling a regeneration of Britain's second city into finance and insurance, education, health, defence and other industries.
New neighbourhood branding
If a property boom needs millennial-friendly wharves, mills and "quarters", Birmingham has plenty of them.
The original Pebble Mill tv studios is now a centre for health industries. The Mill Digbeth (actually more warehouse and railway arches than mill) is a new music venue. And Sarehole Mill is a real, working tourist attraction.
With more canal mileage than Venice, investors can pick from waterside developments from Sherborne Mill to King Edwards Mill to Washington and Snow Hill mills.
And for geometrically-branded neighbourhoods, Birmingham has the Jewellery Quarter ("JQ"), the Chinese Quarter, the much-loved Balti Triangle as well as the city's vibrant "gaybourhood," the Gay Village.
The top 3 locations to buy residential property in Birmingham
Hall Green
South west of the city centre past Sarehole Mill and the Shire Country Park: city estate agent Melvyn Danes says this is the place to buy houses at a ten to 15 percent discount on comparable houses in Shirley.
Hodge Hill / Shard End
East of the city, this is the fifth hottest to-buy postcode in the UK, boosted by the amenities of Kingfisher Country Park, Shard End Lake, and two big playing fields.
Hall Green
One of the leafiest parts of a city reputed to have more trees than Paris, with a Waitrose at its centre, plus Trittiford Mill Park and Sarehole Mill.

Birmingham's development hotspot suburbs
1 Kings Heath and Moseley
They're lively and bohemian, and Birmingham's business-focussed first metro mayor, ex John Lewis MD Andy Street, pledged to get work started on the rail line out to Kings Heath underway before the end of his first term in office in 2020. Highly desirable as places to live and for small businesses.
2 Edgbaston
The old Pebble Mill BBC studios have been reinvented as the beating medical heart of the city, with a private hospital and care home, school of dentistry and dental hospital, and medical "hubquarters" for more than 550 medical companies.
Selling fast: the Broadway Residences and The Tower of Broadway, a five-minute walk from HSBC UK's new head office at One Centenary Square, due to open later this year, adjoining Richard Seifert's 1970s Alpha Tower.
3 Harborne
The place to live and eat for families and young professionals. Property in high demand thanks to proximity to the QE hospital and research centre.
4 Holloway Head
The major redevelopment project has been sold on, but this is the site to watch for prime city-centre real estate, close to all the central development including The Bullring, The Mailbox, Grand Central Station and the planned HS2 link.
The nearby Paradise development aims to create a new pedestrianised heart for the city with 1.8 million square feet of retail, civic, leisure, hotel and commercial space (including offices for PwC).
5 Jewellery Quarter
"JQ" is the focus for media and tech industries, with busy restaurants and bars, so property opportunities is at a premium and developments like St George's Urban Village warehouse-style Summer House apartments are already sold out.
6 Erdington
Just five miles northeast of the city centre, with a thriving high street and its own identity, its location in-between Birmingham centre, Sutton Coldfield, the M6 and Birmingham International Airport makes it the suburb to watch.
The SevenCapital development Nexus Point, aimed at young professionals and sited close to Erdington train station, is already sold out.
FINANCE PROBLEMS YOU MAY NEED TO OVERCOME
Accessing finance for unmortgageable properties...
If the property you need finance for is:
derelict
has structural issues
doesn't have a functioning bathroom or kitchen
valued under £50,000
it will be defined as "unmortgageable" by high-street banks and mainstream lenders. They will not be willing to provide finance secured against it, and you will need access to alternative financers, some of whom will be broker-only.
Lack of track record…
You may be required to submit a portfolio of profitable property projects to establish your borrowing credentials.
High-street banks often have rigid lending criteria and may only consider applicants with a history of successful developments that meet their profitability requirements. Without the help of an experienced broker, if you're not aware of a lender's criteria at the outset you can waste valuable time in submitting applications that are never going to be approved.
Delays in accessing finance…
One of the biggest issues that developers face in approaching traditional lenders is how long the approval process takes. It's not uncommon for high-street banks to take several weeks or even months to process an application.
Any delay in getting the finance can prove extremely costly on a development timeline, and impact on all your contractors' commitments.
Losing control of project management…
Staged release of development finance funding can cause significant delays to a project, and sometimes even prevent progress.
Development projects can be worth less part-way through than they were before commencement, and lenders commonly want to be assured that their investment is protected by staged release of funds.
The requirement for inspection (and sometimes re-inspection) that specified work has been completed before each tranche of funding is released can take longer than anticipated.
Developers can find themselves in a double-bind where their lender will only release funds after a specified piece of work has been completed, but they need the withheld funding in order to finish the work.
In these situations you may need short-term finance from another lender to achieve inspection sign-off and release the next stage of funding.
FUNDING SOLUTIONS FOR DEVELOPERS
A range of finance options have been developed by the market that can overcome these issues for you.
1 Bridging loan
Short-term finance is more expensive than standard mortgaging, but with a defined repayment vehicle in place it offers developers a quicker way to access development finance.
We work with lenders who can provide finance within as little as seven working days as a short-term solution to "bridge" the gap of any shortfall in funding.
Bespoke bridging loans can be tailored to specific purposes and lending terms, but they are commonly used for developments such as:
purchase at auction
buying commercial property
land purchase
conversion work
self-build projects
purchasing residential property
Bridging exit plans
Every bridging loan lender will require you to have a clear exit plan in place before providing finance. This may be the arrangement of a mortgage after essential works have been completed, the proceeds of the sale of finished houses or apartments, the lease of a finished commercial property or the sale of land.
Rolled-up interest
As a commercial developer you will have the choice of either servicing your bridging loan with monthly interest payments or easing cash-flow by rolling-up the interest to pay at the end of the term of finance.
The option to pay the interest at the end of the term enables you to use all of the loan on your development, repaying the entire amount upon execution of your exit plan.
Light refurbishment bridging loan
Usually with slightly lower interest rates, these are tailored for smaller development projects. There is no strict definition of a light refurbishment project, but usually it is one where:
There is no change to the nature of the property
Planning permission is not required
Building regulations do not apply
Heavy refurbishment bridging loan
These are offered as finance for larger development projects, where the lender's risk and administrative involvement is greater – consequently their interest rates are higher.
A Heavy Refurbishment bridging loan will be appropriate for projects where:
The light refurbishment criteria do not apply
Structural refurbishment is required
The development costs more than 15% of the value of the property or land
Our bridging loan service
Through our specialist property finance broker service, we can provide:
Bridging loans from £50,000 to £25M
Terms from 3 months to 3 years
Interest rates from 0.44% per month
Lower rates for £1M+ loans
£99 valuation fee option for properties up to £1M
Loan-to-value (LTV) ratio loans up to 80% (a higher LTV may be approved if there are additional assets which can be considered)
Bridging loan calculator
Use our ready-reckoner to see how much finance you could secure for your Birmingham development project:

2 Development finance
Development funding is commonly reserved for experienced property developers: lenders will usually require evidence of a proven track record of successful projects. But there are some lenders we work with who are happy to provide development finance to less experienced borrowers if your project satisfies other criteria.
Gross development value (GDV)
The estimated open-market value of your finished property or development is a key metric in development finance (along with development experience and your personal financial situation).
Most development finance lenders are comfortable with granting development loans up to 65% of the GDV, if they are satisfied with the project plans and financial projections.
Up to 100% development finance
A number of lenders in the development finance market are prepared to provide the entire funding for the purchase of property/land plus development costs to borrowers who qualify for development finance.
If the cost of servicing a 100% loan is not an issue this can be an extremely useful scale of funding for your project, allowing you to invest in other projects at the same time.
3 No-experience finance options
If you lack the necessary experience or assets to secure development finance, there are still other ways you might fund your development.
Joint venture partnership
We work with joint venture partners who are prepared to provide funding for projects in Birmingham.
A joint venture brings together two or more developers to pool their resources: you will be expected to contribute something to the pot, such as a deposit or the land for development.
Most joint venture partners will lend up to 50% of GDV. Depending on the project, this may include up to 100% of the building costs.
Access finance, build portfolio
One of the major advantages of joint venture partnership is that it in addition to providing funding otherwise unavailable it helps inexperienced developers to gain the necessary experience for future development financing.
Split profits
To reflect their risk profile, the majority of joint venture partners will insist on splitting the eventual profits derived from a development. (The percentage of profit share will depend on the JV lender.)
HOW TO ACCESS FINANCE FOR YOUR DEVELOPMENT PROJECT
The majority of the finance options detailed above are provided by lenders who work through finance broker intermediaries.
At Clifton Private Finance, our strong relationships with private banks, specialist lenders, family offices and wealth managers, means that we can look at the widest range of funding available to find the best solution for your Birmingham development.
To discuss your plans, and access bridging or development finance, contact Clifton Private finance: