How To Get A Property Development Bridging Loan
26-January-2018
26-January-2018 11:15
in General
by Admin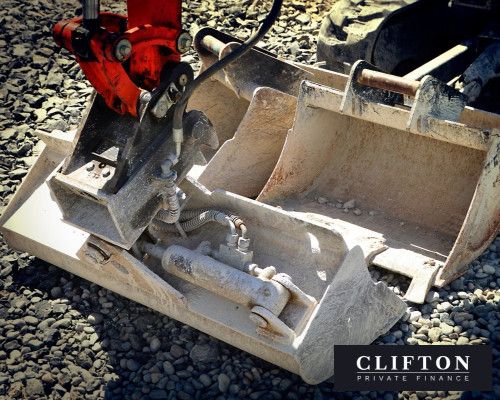 There are various short-term property development finance options on the market. However, the majority of these financial products are not advertised on the high street or featured on comparison websites.
In this article, we explore the products on offer with the lenders we work with and the scenarios they would be appropriate for.
Short-term finance to buy land
If you intend to buy a piece of land, you should review the financial options available to you. Getting the right finance could expedite the purchase process and decrease the overall cost of borrowing.
Avoid the high street...
It is often the case that those looking to purchase a piece of land will approach a traditional lender, such as a bank or building society.
The reality is that traditional high street lenders that offer finance will do only offer mortgages where they will want to secure finance on a residential habitable property – not land in isolation. Land is not a security that will be considered in its own right. You will be wasting your time going down this route.
A mortgage from a traditional high street mortgage lender is simply not an option to buy land.
Bridging loans...
A viable alternative property development finance option for land purchase could be through short term finance often referred to as bridging finance. Bridging finance can provide the ability to purchase an asset relatively quickly which could be useful if time is against you.
There are short term finance lenders that will consider providing finance for land purchase only. Many will want to see that planning approval has been given for development. There are handful of lenders that will consider providing bridging finance before planning approval where there is a strong likelihood that planning will be given. As you would expect this finance is expensive and the loan to value will be no more than 50% LTV.
A bridging loan is typically offered on a 3 to 12 month basis but longer terms are possible.
Exit strategy…
In order to access bridging finance, you need to show the lender that there is a clear exit strategy in place. An exit strategy is the method which you intend to use to repay the loan.
The requirement for an exit strategy is to ensure the loan is fully repaid and give both the lender and yourself peace of mind. An example of an exit strategy is where you use the proceeds of the sale of the land to repay the loan.
Flexible interest…
The flexible interest payments may be an advantage when buying a piece of land. Bridging loan lenders usually provide the option to "roll-up" interest to pay at the end of the term of finance.
This would allow you to avoid monthly interest payments and repay the loan upon execution of your exit strategy. "Rolling-up" the interest on your bridging loan could enable you to focus all of your finance on the purchase of the land and not on servicing monthly interest payments.
Short-term finance to fund a new build
If you have acquired land and your are looking to fund a new build development there are a range of finance options open to you.
You may already have funded the land purchase and planning and cash may be tight to cover the development costs. The land cost and planning may already have required debt financing. So what are your options?.
Issues with traditional lenders...
Your options are limited with high street lenders when it comes to short term finance products for new build development.
If you are looking to build your own home then a number of lenders particularly building societies offer self build mortgage products. This type of product can be a low cost way of financing the build of a single dwelling for residential purposes for yourself. These are term products and are like standard mortgages where the cost of the finance is based on a repayment term e.g. 25 years. Finance is made available in stages as the build progresses.
If you are looking to build more than one property and you are doing it for investment purposes then with high street lenders you might find it harder to source what you need.
Some of the high street banks may be able to provide new build short term development funding but will often require the debt to be serviced on a monthly basis and some will want your cash contribution to go in first which can be an issue if cash flow management is a priority. The application process for funding can be slow as you are dealing with a bank or building society where the wheels often turn slowly.
The good news is that there are some very good development finance lenders who specialize in the ground up development space. Bridging finance is also an option for certain types of project where speed is a factor and where other assets can be used to secure finance.
Bridging finance for development...
Instead of approaching a traditional lender and have to endure staged released funds, you could utilise a bridging loan for your new residential build.
Bridging finance could be a good option for your residential build, as lenders do not require certain work to be done before the release of funds. You can access a substantial amount of funding within a short space of time to ensure that you can progress with your new build without delay.
Lenders will want security for the finance which can be land but typically existing property.
Up to 100% development finance...
It is possible to secure up to 100% development finance. We work with some lenders who are prepared to provide the entire development costs on the basis that the land is already owned and secured.
100% development finance could be the financial product for you, especially when looking to build a brand new property. Securing a loan to cover the full costs development could free up your own capital to save or invest in another project.
It should be noted that lenders that are prepared to provide up to 100% development finance, but usually only to experienced developers.
Short-term finance to refurbish your existing property
If you want to progress your refurbishment project, then you might want to explore your additional property finance options.
The right financial product will depend heavily on what type of refurbishment you want to complete.
Traditional lenders portfolio issues...
Getting a refurbishment loan from a traditional lender may seem straightforward. However, accessing a loan for the purpose of refurbishment may not be as simple as you first thought.
Traditional lenders will typically review a property developer's portfolio. This is to ensure that the borrower has a proven track record of successful refurbishment projects. Also, traditional lenders will often scrutinise the borrower's financial position to assess whether they can afford the loan repayments.
This could make securing a refurbishment loan from a traditional lender difficult, especially if the lender is unsatisfied with your financial position or you are inexperienced.
Delays…
Approaching a traditional lender for a loan could also take a lot longer than you expect. It is not uncommon for applications to traditional lenders to take several weeks or even months to process. This could cause significant delays, which could increase the cost of your refurbishment overall. When it comes to refurbishments, time is usually tight and delays should be avoided at all costs.
Specialist lender refurbishment loans...
There are some specialist lenders that offer bespoke refurbishment loans to those who need short-term finance for their refurbishment project. The best loan for you will depend on the type of refurbishment you intend to complete.
Light refurbishment bridging loans...
A light refurbishment bridging loan is often utilised for smaller projects. The difficulty some people have is determining whether their project is a light refurbishment or not.
This type of loan is appropriate for the following:
When there isn't a change in the nature of the premises
For permitted developments (where no planning permission required)
Where the building regulations do not apply
This means that a light refurbishment loan could be used for permitted developments around a residential property or interior works on an HMO buy to let.
Heavy refurbishment bridging loans...
Heavy refurbishment loans are reserved for more substantial works.
This type of loan is appropriate when:
The cost of refurbishment is more than 15% of the property's value
There is a change in the nature of the premises
Planning permission required
The building regulations apply
This means that a heavy refurbishment bridging loan is more suitable for property extensions, significant structural developments or conversions, for example a large house into a care home.
Due to the tailored nature of refurbishment bridging loans, this may be the most suitable short-term finance for your refurbishments.
Heavy refurbishment loan case study…
An experienced developer, with a background in office conversions that completed projects across England, acquired an old office block in Birmingham for £1.2m.
With planning obtained for conversion into 12 new residential apartments, finance was required to move from the client's existing loan facility. In addition, the client needed increased financing to cover the cost of the refurbishment.
Heavy refurbishment finance was sourced for the client from a specialist lender on attractive terms. The facility was put in place to allow the developer to complete the work and sell the flats with a £3m gross development value (GDV).
Replacing existing finance
If you are in need of short-term funding to replace your existing finance, then you might want to consider development exit finance.
Development exit finance...
Development exit finance enables you to switch to a lower cost loan in the middle of the term of finance, which could save you money.
If you already have finance in place with a lender, but you are close to the end of the term of finance, you could face financial penalties if you cannot repay the loan in time.
Development exit finance allows you to replace your existing finance and avoid incurring potentially high penalty charges.
In addition, development exit finance also could enable you to find a more suitable financial solution for your development needs with a lower interest rate, which could ultimately decrease the overall cost of borrowing.
Development exit finance case study…
The client, a home owner in Harpenden, was looking to develop his property to increase its value to £1.7M with the view to selling it on.
The client did not have the necessary funding to carry out the development himself, so he approached a lender and secured £250K with a 12 month term of finance.
Unfortunately, the client's builder caused some significant delays and the client had to find an alternative builder to finish the project.
The client's development finally began four months into the term of finance. As a result of the delay, it was unlikely that the client would be able to sell the property to repay his lender within the agreed 12 months.
In danger of being in default with his loan, the client approached us for assistance.
The client was close to the end of his term of finance and needed to pay £300K to his current lender. We acted quickly, reached a decision in principle within 2 days and secured the required finance within 2 weeks.
We secured the client £300K, which allowed him to complete his repayment of his original loan along with the interest he incurred over the term of finance.
The client completed the development on his property, with a GDV of £1.7M.
Next steps for short-term finance
If you require short-term finance, the best course of action is to contact a specialist property finance broker.
Here at Clifton Private Finance, we have strong professional relationships with private banks, specialist lenders, family offices and wealth managers. We can utilise our network of lenders to identify the best short-term finance deals for you and your development project.
Call us today on 0203 900 3040 or complete our callback request form.