How To Get A Large Mortgage Loan
16-April-2018
16-April-2018 15:02
in General
by Admin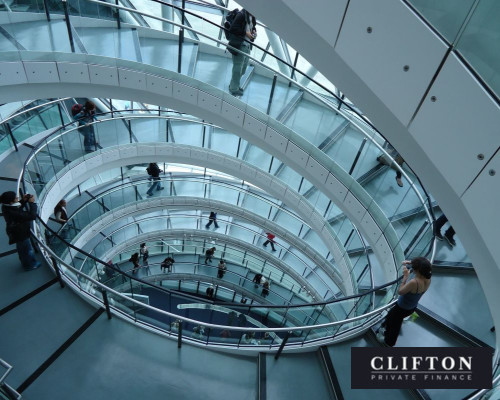 Those looking to buy a UK house or apartment in what is today referred to as the 'luxury market' will find that there is no shortage of choice.
This is especially the case in London and parts of the South East where there are far more homes priced at around the £1 million plus mark in these locations than ever before.
There is no denying that house prices in the capital have shot up over the past couple of decades – although it is believed the luxury sector, in particular, has reached its peak.
Whether this flattening of the high value market is a reaction to Brexit - where overseas buyers are awaiting the outcome of negotiations - or is simply down to recent property legislation such as increased Stamp Duty, remains to be seen.
In the meantime though, despite the rise in luxury properties there hasn't been a corresponding rise in the number of high street finance institutions willing to lend in the form of mortgage finance. And for that reason more individuals, couples and property investors are finding themselves turning to private banks when it comes to remortgaging or applying for a new mortgage on a property – regardless of whether the loan is for a commercial venture or personal investment.
---
2 Year Fixed
£1 Million Interest Only Deal!
1.48% APR
2 Year Initial Rate

Subsequent rate 3.99%
APRC 3.60%*
Product Fee £1499

As at 8 June 2018.
5 Year Fixed
£1 Million Interest Only Deal!
1.87% APR
5 Year Initial Rate

Subsequent rate 3.99%
APRC 3.30%*
Product Fee £1499

As at 8 June 2018.
10 Year Fixed
£1 Million Repayment Deal!
2.49% APR
10 Year Initial Rate

Subsequent rate 3.49%
APRC 3.0%*
Product Fee £999

As at 8 June 2018.
*Overall Cost For Comparison
---
High street banks only provide general lending criteria
The reason high street banks and buildings societies prove disappointing when it comes to lending large mortgage or other personal money is because many of these finance institutions put a cap on what they will lend.
The maximum amount they will be prepared to give, for instance, is based on an individual (or couples') main income source and other specific criteria, such as Loan to Value (LTV), size of deposit and amount of existing equity in a property or properties.
Put simply, there is a set formula which is applied to every applicant, unlike at a private bank where an individual's circumstances will be considered on their own merit. In other words, the latter will look at a bespoke solution rather than a general 'one for all' scenario.
High street lenders prefer to 'play it safe'
Another reason why your typical high street lending institution is reluctant to become involved in signing off large mortgage loans is because these can prove too much of a risk. As far as these lenders are concerned; they would rather not put all their eggs in one basket ie they would prefer to spread the risk by splitting a £1 million mortgage loan to three people – as three separate mortgage loans - rather than an individual or couple taking out a single loan.

Private lenders can offer as much as £5 million
The reason private lenders are prepared to offer much higher mortgages – up to £5 million on occasion - is because they will spend a considerable amount of time looking at an application on its individual merits. This means taking in to account future earning considerations, as well as income from various sources (rather than from just the main means of employment), the profits as a sole trader and the salary and dividends of a limited company director.
In the case of a company director, a private lender will all consider how much money (net profit) he or she has left invested in the business, in addition to the salary they have chosen to withdraw and the dividends received – making the applicant's income stream much more realistic on the mortgage application and therefore much fairer to the individual involved. At the same time the private bank feels confident that the applicant can afford the mortgage payments so will not consider the loan a risky venture in the least.
Why buy to let landlords should look to private lending
New regulations which have come into force recently have meant that it is more difficult than ever for buy to let landlords to acquire property finance. The main reason is a cut in mortgage interest relief to higher rate tax payers. This is being introduced on a sliding scale, which began in 2017 and is due to come completely in to force by 2020. This means a poorer loan to value ratio for landlords who require a mortgage to buy a new property or remortgage existing flats and houses which they rent out.
Portfolio landlords (ie those with at least four properties) and those on a tax rate of 40 per cent or more will be worst hit – unless they have already established their property interests as a Limited Company whereby they will still be able to claim interest relief while Corporation Tax is currently lower than personal tax and will fall to 17 per cent by 2020.
Buy to let landlords face increased mortgage scrutiny
At the same time the whole process of applying for a buy to let mortgage via the high street or specialist buy to let lenders has become a lot more complicated. This is due to further changes, this time introduced by the Bank of England's Prudential Regulation Authority (PRA) a couple of years ago which state that all buy to let landlords – whether remortgaging or applying for a new mortgage – must give detailed accounts of all assets and liabilities, together with information on other mortgages they might have in the form of a portfolio.
Buy to let lenders and a landlord's business plan
In some cases it may also be necessary to furnish the lender with a business plan so that the buy to let landlords can prove to the lender that they can afford the repayments. They can do this by identifying projected financial goals and outlining how they intend to reach them.
Already successful landlords will find that the business plan will help their lending application. That's because it gives them an opportunity to showcase their experience and skill in the business to any financial lender and in doing so, convince the lender of their ability to meet repayment schedules and amounts.
At the current moment landlords who are basic rate taxpayers (ie 20 per cent) have to ensure their rental income has an Interest Cover Ratio (ICR) of 125 per cent. Landlords who are higher tax rate payers, those who pay additional taxes and companies are being offered separate ICRs.
Light on the horizon for 'good' landlords
It may seem a tad gloomy at the moment, but there is good news on the horizon for buy to let landlords. Because more landlords than ever are expected to be turned down by high street lenders under the new criteria, it means that landlords who do qualify can expect to find pretty good deals out there. Competition always means lower interest rates so extremely creditworthy landlords may find themselves being able to pick and choose the top rates.
Again, private lenders will tend to judge each individual case on its own merits and come up with a bespoke solution.
Large loans for special circumstances
But what if you happen to be a UK property investor who is currently working and living overseas? Or maybe you are not even British but European or American and would prefer to conduct your finances via an offshore vehicle in the form of a Special Purpose Ltd Company or a Trust? Again, there are special solutions for all of these scenarios; it's simply a case of knowing where to turn and who to approach with confidence.
Large loan for personal circumstances
Of course, you may be looking for a large loan for something entirely unrelated to property. In such cases you will always be asked to provide some sort of 'security' against the loan. This is usually in the form of a property, land, commercial premises or a number of valuable possessions such as jewellery, an art collection antiques, a car or boat etc.
Bridging loan to fill a gap
Often referred to as a short term loan because it tends to only be taken out for anything from as little as a few months up to a period of two years, a bridging loan is especially common during a house purchasing scenario. This is because a house buying and selling chain often becomes broken and an individual or couple end up having to pay two mortgages because they have bought a new home without being able to sell their existing property. It is also common in business where a company may be waiting a number of months for a debtor to pay off a large invoice.
Bridging loans can often be high in value because the interest and repayment for it is often combined into the loan and there are no current repayments (since it is expected the money will be repaid in full at the end of the loan term).
Contact us to discuss a large loan today
If you would like to discuss the possibility of tapping in to our team's financial loan knowledge and expertise in order to access a large amount of funding, then do get in touch with us here at Clifton Private Finance. You can call us on 0203 900 4322. Alternatively fill in the form on the contact us page below and we will get back to you ASAP. We look forward to hearing from you!