How To Get A Bridging Loan In Scotland
02-January-2018
02-January-2018 17:18
in General
by Admin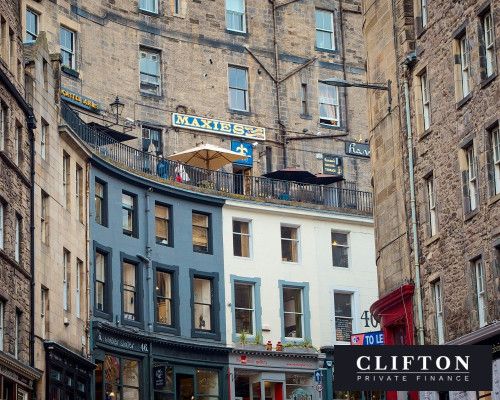 The latest findings suggest that the average top end property price in Scotland declined over the course of 2017. For those looking for property opportunities it may be possible to get more for your money in 2018 but generally speaking being able to act quickly when an opportunity comes up is often the key variable when it comes to a property deal.
The property market in certain parts of Scotland remain competitive and having readily available finance is paramount in being able to follow through when opportunities come up.
Whether you are looking to buy a property in Scotland for commercial or residential purposes, you often need to be able to act quickly or face the prospect of losing out to another buyer.
Traditional Lenders
Often, people who need finance to purchase a property will approach a traditional lender such as a bank or building society. This first port of call is often a high street bank or building society where there may be some existing experience getting finance typically a mortgage or unsecured loan. However, it may be that securing finance from a traditional lender is not the most suitable option for you.
Firstly, depending on whether you wish to purchase a property for residential or commercial use, traditional lenders may ask for a lot of information in assessing whether they are happy to lend in principle.
For example, if you intend to buy a property for commercial use like a buy to let, traditional lenders will require full site of your property portfolio and they will require details of your personal income to ensure affordability rules are not breached. This is to ensure you have the knowledge and experience to take on a commercial property venture and that you can afford to do so. Depending on the lender this assessment process can take many weeks. Time may not be on your side.

Secondly, traditional lenders may be reluctant to provide finance for certain types of property. For example, traditional lenders will not grant a mortgage to buy an unmortgageable property. A property is classified as unmortgageable by a bank if its value is under £50,000, it has structural issues and it does not have a bathroom or kitchen or it is derelict. This may restrict your borrowing options, especially if you were looking to buy a cheap property in Scotland and refurbish it for residential or commercial purposes.
Finally, one of the major issues with approaching traditional lenders for property finance is their lengthy and arduous application process. It is not uncommon for applications to take up to several weeks or even months to secure property finance. This can cause costly delays which can have serious consequences in making the deal a reality.
Property Finance In Scotland
The potential hurdles that approaching a traditional lender can cause have forced people to become more innovative with securing property finance in Scotland.
Competition between buyers has become fierce. If you want property finance but you do not want to endure traditional lenders' time consuming application process, you could consider a bridging loan.
What Is A Bridging loan
A bridging loan is a type of finance that is specifically designed for short term use; it has the ability to provide a substantial amount of finance in a small space of time. Bridging loans are especially useful where there is a shortfall in funding, as it can be used to 'bridge' the gap until long term finance is in place.
Advantages Of Using A Bridging Loan
The potential to secure a high Loan to Value (LTV) is an attractive feature of bridging finance. There are some lenders who are prepared to provide up to 75% loan to value (LTV); it is even possible to achieve up to 80% LTV with the right lender and additional security. The ability to source such a large percentage of the finance can gives you a lot of scope when it comes to buying property in Scotland.
Bridging loans are designed solely for short term purposes and typically lenders will agree a term of finance between 3 and 24 months. The short term of finance lends itself perfectly to scenarios where there is a temporary gap in funding, for example when you are waiting for a property to sell. Short terms of finance allow you to access significant amounts of capital without having to tie yourself into long loan agreements.
In addition to the high LTV and favourable terms of finance, bridging loans often come with the option to 'roll-up' interest to pay at the end of the agreed period. This may be a benefit, as it could enable you to direct your loan to the purchase of the property and avoid servicing monthly interest payments.
You need a clear exit plan in order to qualify for a bridging loan. An exit plan is the method you intend to use to repay the loan at the end of the term of finance. An example of an exit plan is using the proceeds of the sale of your existing property to repay the bridge loan.
What Can A Bridging Loan Be Used For
One of the strengths of bridging loans is how adaptable they can be and many buyers use them because of their flexibility.
Buying a residential property …
If you intend to purchase a property for residential use, a bridging loan may save you precious time and secure the property you want.
For example, if you are looking to downsize and your existing property has not yet sold, you could use a bridging loan. By getting a bridging loan, you could complete the purchase on your new property before your existing one sells. This could be the difference between downsizing to a property you want and losing out to another buyer.
Bridging finance can assist those looking to move to Scotland. If you are living in another part of the UK or abroad and want to move to Scotland, a bridging loan could provide fast finance to realise your dream. Instead dealing with difficult traditional lenders that may be hesitant to grant finance to those living abroad or waiting for your existing property to sell, you could access the funding through bridging finance without unnecessary stress.
A bridging loan may also be useful when you have bought a property at auction. Typically, you have 28 days to complete a purchase of a property at auction. In some cases, this can put you under a lot of financial pressure. Bridging finance can be secured swiftly and ease that financial pressure, some lenders are even prepared to provide a bridging loan within 7 working days; this would give you plenty of time to complete your purchase.
Buying property for commercial use
If you wish to buy a property in Scotland for commercial purposes, a bridging loan could help you finance this too.
Getting finance in place for a buy to let property can be difficult, especially considering traditional lenders have recently made their criteria stricter than ever before Bridging finance could enable you to make an offer quickly and secure the property. A buy to let mortgage would typically provide the exit for the bridge finance in this scenario.
If you wish to purchase a commercial property such as a shop or restaurant, using a bridging loan may be your best option. Unlike traditional lenders, who require a lot of documentary evidence to approve a loan for a commercial property, bridging loan lenders will only focus on your ability to repay the loan. Therefore, you could access a bridging loan for a commercial property, providing you have a good exit plan.
Bridging loans are flexible and can be used for mixed use properties such as a pub with a flat upstairs. Typically, getting finance for a mixed use property can be a struggle. With the straightforward nature of a bridging loan, depending on your circumstances, it may be possible to access the funding you need for your mixed use property. Using a good finance broker can make all the difference in making this happen.
How Much Can I Get With A Bridging loan
If you want to see how much you could get from a bridging loan, use our bridging loan calculator below

How To Get A Bridging Loan
If you want to buy a property in Scotland then we can help.
We have a wealth of experience in providing bridging finance for properties in Scotland including Glasgow, Edinburgh, Dundee and Aberdeen.
Our strength as a specialist property finance broker is our extensive network of lenders that we work with on a daily basis to secure the best financial solutions for our clients.
Through our connections with private banks, specialist lenders, family offices and wealth managers, we can identify and secure the best bridging loan for your property in Scotland.
To investigate your refurbishment bridge loan options, call our team on 0203 900 4322 or use our callback form below