How To Get A Bridging Loan To Buy, Refurbish And Sell A House
22-February-2018
22-February-2018 14:00
in General
by Admin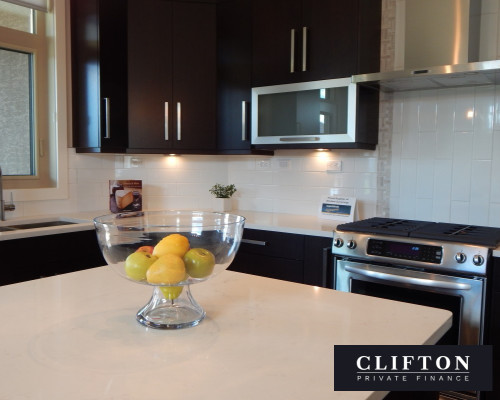 Purchasing and developing a property with the view to sell it on may provide healthy returns, if done properly.
If you have found a property that you wish to buy, develop and sell on, you may require a substantial amount of finance to help you on the way.
The majority of property developers utilise a variety of different sources of finance to complete their development projects.
Unless you have a significant amount of capital that you are prepared to use for your development, you will likely need to apply to a lender for additional finance.
Traditional lenders' finance
Despite their accessibility, traditional lenders such as high street banks typically do not offer the fastest and easiest way to the finance you need.
Although you may think that approaching a traditional lender for finance is your best option, you will likely experience a multitude of difficulties.
If you are looking to apply to a traditional lender for finance, then you may want to review the application process.
---
Residential
Buying Before Selling?
Residential Bridging Rates from
0.48% pm
Downsizing/Upsizing

Releasing Funds From Your Home

Short Term Lease Finance

Auction Purchase
Developer
Fast Finance
Developer Rates from
0.38% pm
Ground Up Development

Light & Heavy Refurb

Finance For Unmortgageable Properties

Land Purchase
Commercial
For Business Purposes
Commercial Rates from
0.65% pm
Fund Business Growth

Property Purchase

Business Opportunities

Auction Purchase
---
Rigid financial products...
Typically, traditional lenders offer a set number of financial products that are geared towards only a handful of circumstances.
The majority of traditional lenders' financial products are well-suited to long-term projects such as residential mortgages; their rigid financial products rarely cater to short-term finance requirements. Therefore, traditional lenders may not be able to get the right finance for your development.
Limited properties...
An increasingly popular way for developers to maximise their profits is to purchase a rundown property at a lower price and develop it to a standard that would attract much higher offers.
Many developers find properties under the market value at auction, which can help them save a significant amount of their development budget.
The properties at auction that are under market value are often in such bad condition that they are deemed as unmortgageable by traditional lenders. This means that there are plenty of properties that traditional lenders will refuse to provide finance for.
It is important to be able to identify which properties a traditional lender will avoid and deem unmortgageable. Traditional lenders will usually classify the following as unmortgageable properties:
Valued under £50,000
With structural issues
Without a functioning bathroom or kitchen
That are derelict
If you intend to buy a property that fits into the criteria above, it is likely that a traditional lender will not provide the finance you need.
You should also bear in mind that traditional lenders set a cap on the number of properties you can have when applying for a loan. This may restrict your borrowing options if you own multiple properties.
In-depth portfolio review...
Traditional lenders will usually complete an in-depth review of an applicant's property portfolio. The review of the portfolio is to ensure that the applicant has a history of successful developments.
In addition, the review is to scrutinise the applicant's financial position. This is to gauge whether the applicant can afford the loan repayments.
Therefore, if you do not have the necessary experience, your portfolio is not as strong as the lender would like or the lender is not satisfied that you can afford the loan repayments, then your application may not be successful.
Lengthy application process...
One of the major reported issues with traditional lenders is how long they take to process an application. It is not uncommon for applications with a traditional lender to take up to several weeks or even months to process. A delay of that length could not only have significant ramifications on your development timeline, but it could mean you lose out on the property you intend to purchase to another buyer.
To minimise the chance of experiencing a delay, you may want to look to another lender to secure your finance.
Alternative routes to finance
Due to traditional lenders' limited financial products, rigid criteria and lengthy application processes, a number of developers are turning to specialist lenders to access the finance they need.
If you have identified a property that you wish to buy, develop and sell, but you want to avoid the traditional lenders' application process, then you may want to explore your refurbishment bridging loan options.
Refurbishment bridging loans
A refurbishment bridging loan is a type of loan that is designed specifically for short-term usage. A refurbishment loan can provide a substantial amount of finance within a short timeframe, and can 'bridge' the gap when there is a shortfall in funding.
Refurbishment loans are becoming increasingly popular with developers, as refurbishment bridging loans often have attractive features that lend themselves to property development.
Significant finance...
Refurbishment bridging finance can provide developers with another way to get substantial funding for their developments.
Some lenders that we work with are willing to grant refurbishment bridging finance from £50,000 to £25 million.
Of course, the amount you can access will be dependent on your set of circumstances and financial position.
Flexible interest payments...
Typically, refurbishment bridging loans come with the option to 'roll-up' the interest to pay at the end of the term of finance. 'Rolling-up' interest can allow you to focus your entire loan on your refurbishment project, as oppose to servicing monthly interest payments.
The ability to 'roll-up' interest for the end of the loan could be an attractive prospect, as it could minimise the amount you have to pay each month, and you could have more capital available for your development.
Bespoke short-term finance...
Unlike traditional lenders, specialist lenders that offer refurbishment loans gear their finance towards short-term projects. Refurbishment loan lenders will often offer terms of finance between 3 and 24 months. The short terms of finance lend themselves to property development, as you can access a significant amount of finance without locking yourself into a long-term loan agreement.
In addition, traditional lenders charge early repayment penalties if a loan is fully repaid before the agreed deadline, whereas refurbishment loan lenders rarely charge early repayment penalties. This means that if you finish your development earlier than expected, you will not be penailised for repaying the loan before the end of the term of finance.
Exit plan...
An exit plan is one of the requirements for a refurbishment bridging loan. An exit plan is the strategy in which you intend to use to repay the loan at the end of the term of finance.
An example of the exit plan you could use is using the proceeds of the sale of your property once the development has finished to repay the loan. The presence of an exit plan gives you and the lender peace of mind that the loan will be repaid by the end of the term of finance.

Light or heavy refurbishment
If you need a refurbishment bridging loan, and you approach a specialist lender, then you will be given the choice between a light or heavy refurbishment loan.
The type of refurbishment loan that you need will depend heavily on the nature of your development project.
Light refurbishment bridging loan
You will need a light refurbishment loan if your development project is relatively small. To identify whether you need a light refurbishment loan you may want to review the criteria below.
Development not covered by building regulations...
One sure-fire way of knowing whether you need a light refurbishment loan is whether the building regulations apply to your development. Almost all minor development works in a property are not covered by the building regulations. For example, it is unlikely the building regulations will apply to the following:
repairs, replacements and maintenance work (except heating systems, oil tanks, fuse boxes and glazing units)
new power and lighting points, or changes to existing circuits (except around baths and showers)
replacements of baths, toilets, basins and sinks
If you have any doubt as to whether the building regulations apply or not, then visit the government website where you will find a comprehensive guide to the building regulations.
Planning permission not needed...
Whether your project requires planning permission is a good indicator as to whether a light refurbishment bridging loan is suitable for your project. It can sometimes be difficult to work out whether you need planning permission for your development, so you may benefit from checking with the property's local council; they will be able to provide guidance as to your planning permission needs.
The purpose of the premises stays the same...
If your development project involves changing the nature of the premises, then a light refurbishment loan would not be appropriate for your development. For example, if you intend to develop a large residential property into a hotel, then a light refurbishment loan will not suffice.
Heavy refurbishment bridging loan
In the event that your development does not fit under the criteria of a light refurbishment loan, then you will likely require a heavy refurbishment bridging loan.
Cost of the development...
One determining factor of whether you require a light or heavy refurbishment bridging loan is the cost of the overall development. If the cost is above 15% of the property's value, then you will most likely need a heavy refurbishment bridging loan.
Structural changes...
You can also decipher whether you need a light or heavy refurbishment bridging loan by the nature of the development. If you plan to make any structural amendments to the property, then you will need a heavy refurbishment bridging loan. This is because the cost of a structural refurbishment will normally be more expensive, planning permission is often required and the building regulations usually apply.
Clifton Private Finance case study
The majority of refurbishment bridging loan lenders often work solely through intermediaries such as specialist brokers. Here at Clifton Private Finance, we have a wealth of experience in helping clients with their property finance needs.
We work with lenders who are prepared to provide the finance your development needs. Below is an example of one of the many times we have assisted a client in need of a refurbishment bridging loan.
The client, a property developer, wanted to purchase a property and sell it on for a healthy profit.
In order to attract the sort of asking price the client wanted, the property needed to complete some heavy refurbishment.
The client did not have enough capital to fund the purchase and refurbishment. They approached a bank for the finance but were unsuccessful, as the bank was reluctant to lend to the client.
Through our strong relationship with a specialist lender, we sourced short-term finance for our client that helped them achieve their goals.
We were able to quickly raise £262,000 to contribute towards the purchase of the property. We then secured 100% of the refurbishment costs, which came to £88,000.
To minimise the cost for our client, we were able to negotiate with the lender and secure a light refurbishment interest rate.
The loan was secured and received swiftly. This allowed our client to finish the purchase and begin the heavy refurbishment of the property without delay.
The client sold the property and repaid the short-term finance with the proceeds of the sale, making them a healthy profit.
Clifton Private Finance
If you have found a property you wish to purchase, develop and sell on, then we can get the best finance to satisfy your needs.
We have strong relationships with lenders offering both light and heavy refurbishment bridging loans. Through our connections with private banks, specialist lenders, family offices and wealth managers, we can identify and secure the best financial solution for you.
To investigate your refurbishment bridge loan options, call our team on 0203 900 4322 or use our callback form below